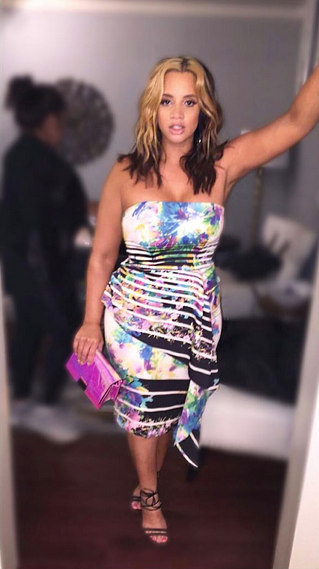 "Orange Is The New Black" star Dascha Polanco says she considers herself an afro-Latina woman in a new interview. She found herself in the midst of a debate on The Breakfas Club recently when she called herself a black woman who is also Dominican.  She also weighs in on Zoe Saldana playing legendary singer Nina Simone. Sound off inside....
"Orange Is The New Black" star Dascha Polanco stopped by Power 105's "The Breakfast Club" to promote her new movie The Perfect Match.
Dascha and the radio personalities began to weigh in on actress Zoe Saldana playing the role of legendary songstress Nina Simone. As you know, the production team darkened Zoe's skin and used a nose prosthetic to transform Zoe into Nina. Folks have been up in arms about it ever since pictures of Zoe dressed in "black face" surface. And Dascha isn't all too happy about it either.
"I have a problem with that too," Dascha told The Breakfast Club. "I think that if we're going to go that route we didn't need to do the extra prosthetic and skin coloring. If that was the issue then there are plenty of actors I think could have played the role.
She continued,
"I don't think Zoe intention was to discredit Nina Simone in any way. I would have loved to see Uzo [Aduba] play that role."
The discussion surrounding whether Latinos identify themselves as black men and black women is typically a hot topic.  So, the topic was addressed.
Angela commented, "Some people would say Dominican people are black." And Dascha agrees. She said,
"I consider myself an afro-Latina. I think we're very black. I consider myself to be a black woman. I think a lot of Dominicans should from what I see, that's what we are."
Check it at the 8:00 mark:
It's interesting to see a Latina woman (rightfully) consider herself black as it almost seems many, not all, go out of their way to NOT identify as such.
To put it candidly, it always seems incite drama when folks discuss their racial backgrounds, especially when someone either accepts or denies their blackness.
So...what are your thoughts on Dascha owning her blackness?
Photos: Dascha's IG