Teyana Taylor was twerking for her life in the club the other night. And we have the videos. Plus, Jay Z just became DJ Khaled's new manager. Peep the videos and get the deets inside….
Sometimes a chick has to let loose, especially a new mom who has been on baby duty non-stop since the birth of their child. And that's exactly what new mom Teyana Taylor was up to the other night.
The "Maybe" singer was tapped to host and perform at Bliss nightclub in Washington D.C. over the weekend. And chick put on a show!
When Rihanna and Drake's new club banger "Work" came on, the 25-year-old singer started getting itAll the way in.  She rocked a super tight dress that showed off all her curves...and her post-baby bod is SICK! Tey has to be crowned the new queen of the snapback!
Peep the clips below:
Get it Tey!
On the business side...
Teyana is doing more than twerking her a** in the club. The "Google Me" singer is set to release her very own shoe collection in collaboration with Reebok Question. She will be releasing an all-red colorway in October. She announced on IG, "God Never Shuts One Door Without Opening Another. I'm Always ready. TEYANATAYLOR x REEBOX x THE ANSWER You know why I'm here. Just wait on it. #October #MyThirdSneaker #Blessed #QuestionMid #AI"
This will be Tey's third sneaker collection after collaborating with adidas and Ewing Athletics previously. Congrats Tey!
In other new deals....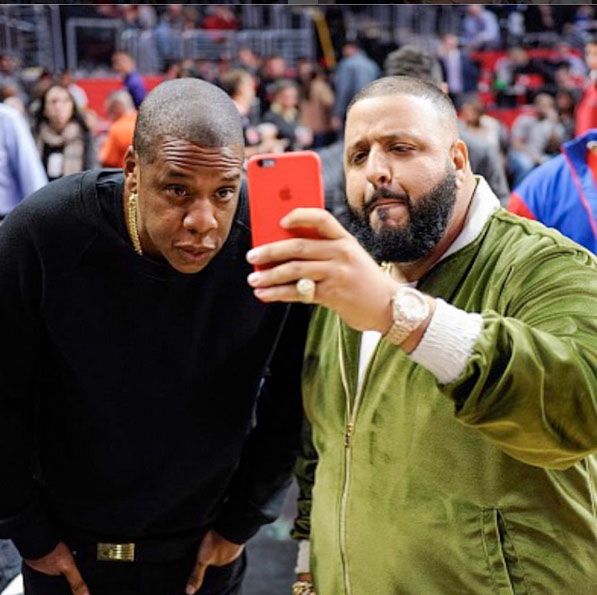 Major key alert! DJ Khaled just announced Jay Z will now be managing his career.
He hopped on Instagram to share a video of him and Hov vibin' out and toasting it up in the studio with a caption that read "DJ Khaled's Manager." Khaled was also rocking an original Roc-A-Fella chain in the clip. Check it below:
The Miami producer captioned:
Allow me to reintroduce myself!!!! Meet my manager. His name is Jay Z. Jigga. Hov!!! Special cloth alert! The blessings coming in have been overwhelming. So much blessings I needed the right team to help me embrace it right. And when I say embrace I mean brand partnership. When two special cloth brands come together history gets made. I'd like to thank fan luv for walking with me thru the journey of more success. They don't want us to win!!!! So what we gonna do is win more. When I say we, I'm talking fan luv! I'm talking my brother Lenny S! Always seen my vision !!I'm talking Chaka!! I'm talking JIGGA NATION!!!!! I'm up to something. I will never stop!!! I will not lose JIGGA VOICE!!! Ride with me thru the journey of more success. God is the greatest! Bless up. #WeTheBest #JAYZ #Rocnation @wethebestmusic JUS KNOW IM WORKING ON NEW MUSIC !!
Remember when we spotted Hov on Khaled's SnapChat at the Clippers vs. Heat game back in January where they were having "mogul talk?" Yep, they likely were putting the final touches on their new collaboration.
Jay Z's Roc Nation welcomed Khaled to the team tweeting:
Welcome @DJKhaled to the @RocNation family! #RocNation#WeTheBestpic.twitter.com/wNZx6b62E0

— Roc Nation (@RocNation) February 29, 2016
Nice! This news comes weeks after Khaled announced a new deal with Apple Music for his own show called We the Best. The SnapChat King also signed a new deal with United Talent Agency. As Khaled would say, BLESS UP!
Khaled also recently sat down with Fast & Furious producer Neil Moritz. Hmm...will Khaled be making a cameo in one of the upcoming new films? Time will tell...
In other Jay Z news….
Reports popped up recently that Jay Z and TIDAL were dealing with some legal issues over royalty payments.
TIDAL was reportedly facing a $5 million class-action lawsuit from Yesh Music, LLC and John Emanuele from the band, the American Dollar.
The lawsuit was uploaded to Scribd where the plaintiffs made claims that the music streaming service streamed 116 of the band's copyrighted songs without paying back any royalty payments. According to Complex, the documents also revealed Tidal reportedly used faulty numbers to make payments to artists and may have undercut the money they owed to artists by as much as 35%.  Sheesh!
You can check out the paperwork here.
TIDAL released a statement saying they don't owe Yesh Music anything and they may be misinformed about the royalty payment process. They have since removed all of their music from the app. The statement reads:
TIDAL is up to date on all royalties for the rights to the music stated in Yesh Music, LLC and John Emanuele's claim and they are misinformed as to who, if anyone, owes royalty payments to them. As Yesh Music, LLC admits in their claim, TIDAL has the rights to the Master Recordings through its distributor Tunecore and have paid Tunecore in full for such exploitations. Their dispute appears to be over the mechanical licenses, which we are also up to date on payments via Harry Fox Agency our administrator of mechanical royalties.

The entire catalog in question streamed fewer than 13,000 times on TIDAL and its predecessor over the past year. We have now removed all music associated with Yesh Music, LLC and John Emanuele from the service. This is the first we have heard of this dispute and Yesh Music, LLC should be engaging Harry Fox Agency if they believe they are owed the royalties claimed. They especially should not be naming S Carter Enterprises, LLC, which has nothing to do with Tidal. This claim serves as nothing other than a perfect example of why America needs Tort reform.
Well there's that.
Photos: Getty/Teyana's IG/Khaled's IG