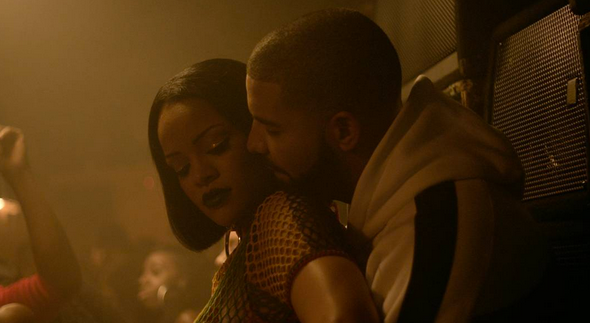 Rihanna is teasing her new video "Work" featuring Drake. Also, Lil Mama just dropped a new video for her track "Memes." Check 'em out inside….
Rihanna's new track "Work" has been the go-to dance-and-post track since it dropped. And now, the official video treatment is almost here.
The Pop princess unveiled a 30-second teaser where we see her twerking and grinding all up on her former rumored boo Drake. Nah kids, they aren't together….at least that's what RiRi claims.
In the Director X-directed clip, RiRi is bending it over and shaking her "ass"ets in the club with other partygoers vibing out to her party track. This is just a sneak peek until the full video is released on Monday. In the meantime, peep Rih and Drizzy getting close below:
By the way, Rihanna has cancelled TWO of her "ANTI World Tour" dates in the UK that were originally scheduled to go down in June. She pulled her performance at Sunderland and Cardiff blaming it on "logistical reasons." This news comes right after RiRi's reps announced the tour would be delayed by two weeks. Now, folks are wondering if she'll show up for her performance at the 2016 BRIT Awards on February 24th.
What's going on in the NAVY camp?
In another new video...
Following her social media inspired video "Sausage," Lil Mama is back with yet another social media inspired video. This time, she brings new visuals for her track "Memes," a cut from her Take Me Back EP.
The Malu-directed video opens with a clip from her now infamous "Breakfast Club" interview where she breaks down crying talking about her mother battling cancer. The picture of her crying set social media on fire with people sharing and posting tons of different memes making jokes at her expense. But, a little adversity doesn't stop Lil Mama. She just keeps coming back harder.
For the new visual, she raps over Notorious B.I.G.'s classic hit "Kick in the Door" as she serves boss woman fab. Decked out in a white fur, white suit and walking cane, she channels the late rapper as she spit some bars clapping back at everyone who counted her out.
Y'all aren't getting rid of her that easily. Check it above.