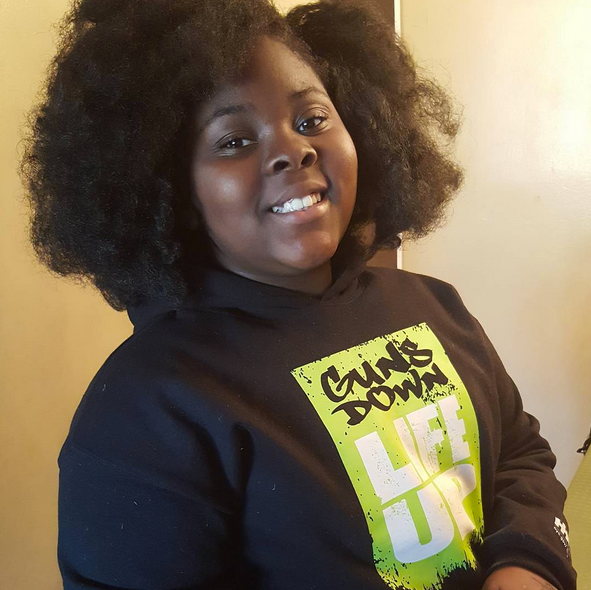 We love a good real life YBF story! 10-Year-old Ify Ufele started her own plus size clothing line for kids after being bullied about her size. And get this, she has already shown her designs at NYFW. Get the deets on this FAB fashionista and check out rapper Dee-1's new video about paying off his school loans inside….
At the tender age of 10, Egypt Ifynanya "Ify" Ufele can add designer to a resume she hasn't even began to work on. The Queens native pre-teen decided to launch her own line called Chubiiline, an all-size clothing brand for girls.
Ify used to be bullied by other kids over her weight, but she didn't let that get her down, turning a negative into a positive. She used it as ammunition to create her very own kids collection. And her new line has made it all the way to one of the biggest fashion events of the year: New York Fashion Week! How cool is that?
"People applaud me and tell me I'm good at fashion," Ify told the "TODAY" show this week. "I was bullied and they called me all kinds of names. One time I got stabbed by a pencil," she said.
Ugh!
Chubiiline is described as "bringing Africa to America, one design at a time," with a collection of brightly colored pieces any little girl would be happy to wear. She credits her grandmother for her expert seamstress skills, learning how to sew and cut patterns at the age of 7.
LOVES IT!
On top of showing her line at NYFW last September, she has also rubbed elbows with a few YBF celebs. She caught up with rapper Lil Mama, actor/singer Mack Wilds, "Love & Hip Hop: NYC" star Bianca Bonnie and "Black Ink" star Oh Sh*t during the #Ballin4Peace charity event at York College last week:
Congrats Ify!
If you're looking to cop one of her designs (or two), check out her website here.
In other real life YBF news....
We're sure many of you can relate to this story.
Meet teacher-turned-New Orleans-rapper Dee-1. He went to college, got his degree, and took a teaching job at a middle school in Baton Rouge. After college, he was drowning in student loan debt like most college graduates in America. But, that all changed after he inked a deal with RCA's Inspiration imprint.
Once they cut him a fat check, Dee-1 went and paid off all of his student loan debt and then made a song and video about it called "Sallie Mae Back."
We're not sure if this is some slick move by Sallie Mae/Navient to get their money back from the masses by using a catchy rapper and song...or if dude legit is happy about paying off his student loans. Either way, we like the message. Peep the visuals above.
Photos: @bullychasers