Former "That's So Raven" star Orlando Brown has found himself in trouble with the law yet again. We hear he was arrested (allegedly) for domestic violence, drug possession and other offenses, but Orlando claims it's NOT true. Decide who you believe inside….
Chile…this mugshot is MANY things.
Former Disney star Orlando Brown was reportedly arrested after allegedly beating his girlfriend in a police station parking lot. We're not making this up and we hope it's not true because this sounds quite ridiculous.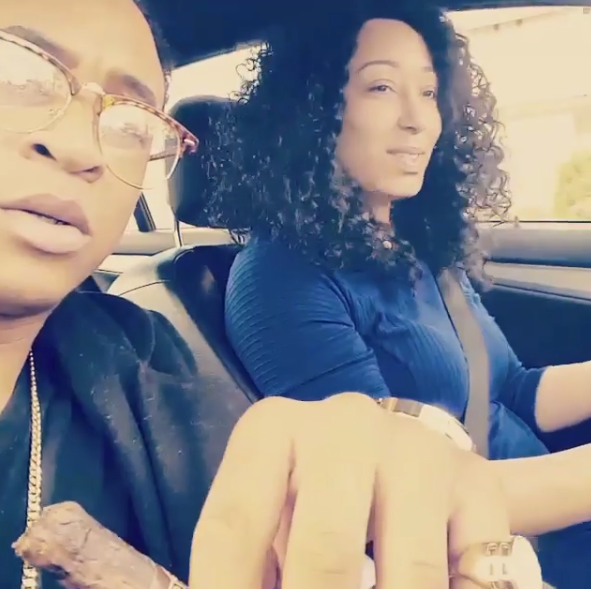 According to TMZ, the former "That's So Raven" star got into an argument with his girlfriend (above) in the parking lot of a police station last month in Torrance, CA. An eyewitness, who was using a nearby ATM machine, allegedly saw the altercation and called the police for help.
Once law enforcement arrived on the scene, Orlando allegedly refused to get out of his car. He was eventually coerced out of the vehicle where cops arrested him. At the jail, they did a search and allegedly found methamphetamine on him. It was also reported his girlfriend was not harmed.
The 28-year-old actor was charged with misdemeanor domestic battery and obstruction of justice. He was also hit with two felonies, drug possession with intent to sell, and having contraband in jail.
But…Orlando is calling it all BS!
Right after TMZ ran the story a few hours ago, Orlando hopped on his Instagram to clap back at the allegations saying:
Following that IG post, he put up a video of himself and his girlfriend riding around today where he asks her if he ever put his hands on her. Mind you, the arrest happened in January, so IF he did hit her and caused her to bruise, she likely would have healed by now. Check it:
Hmph.
While it's unclear at the moment exactly WHY Orlando was arrested, it's clear he was arrested for SOMETHING. And this isn't his first run-in with the law. He has quite the rap sheet.
In 2014, he was able to strike a plea deal for threatening to kill a woman and her daughter. In 2013, he was arrested for DUI. In 2012, he was arrested TWICE for violating his probation and for failing to appear in court. In 2011, he was busted for a DUI and in 2007 he was charged for marijuana possession.
Sheesh! Come on Eddie!
Photos: TMZ/Orlando's IG