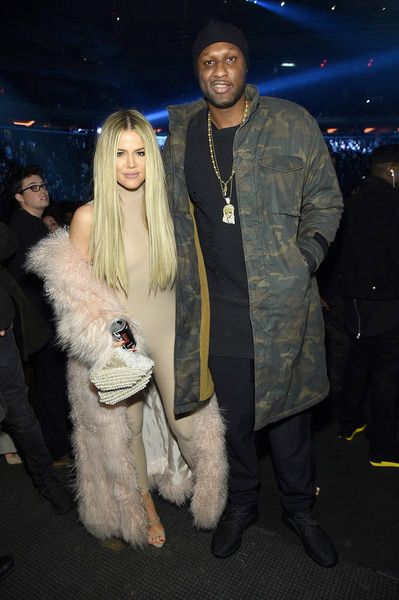 Lamar Odom traveled to NYC to attend Kanye West's Yeezy Season 3 debut during NYFW. The thing is, he didn't bother to stop by to see his OWN KIDS! And they're pissed. Deets inside...
We can file this one in the Wack A** Baby Daddy Files!  If these claims are true...
Following a drug overdose that nearly took his life back in October, Lamar Odom has been recovering from the scare and it appears he's almost back to a clean bill of health. He had to learn how to walk and talk again, but from the outside looking in, it appears he's progressing quite well.
Well enough to travel in an airplane from L.A. to New York.
The former NBA baller was front and center for Kanye West's Yeezy Season 3 debut at Madison Square Garden during NYFW last week. In fact, he walked in with Yeezy and was welcomed with applause. After his grand entrance, he took his seat next to his no-longer-estranged wife Khloe Kardashian and enjoyed the show with the Kardashian Klan.
But everyone isn't happy with Lamar.
According to US Weekly, his two children, 17-year-old daughter Destiny and 13-year-old son Lamar Jr., are majorly upset their father came to NYC and didn't come by to see them. A source tells the publication, "He didn't see his kids when he was in NYC and the kids were upset. They were supposed to come out and see him, but Lamar has been embarrassed to call them and they are angry."
Embarrassed to call your kids but not embarrassed enough to walk in front of 18,000 people? Whatevs. It's messed up he allegedly didn't bother to at least stop by to see his kids when they jetted to the west coast (with their mom) to be by his side after he was hospitalized for his drug overdose.
Photo: Getty