We've got a round up of candids featuring Idris Elba, Regina King, Serena Williams and EJ Johnson. Find out what they were up to inside…
Following his epic takeover at this year's SAG Awards, Idris Elba was spotted taking a smoke break while chatting on the phone outside of a hotel in L.A. yesterday.
The British star is fresh from winning two Screen Actors Guild Awards last Saturday. He was awarded Best Male Actor in a Supporting Role for the Netflix film Beasts of No Nation and Best Male Actor in a Television Movie or Mini Series for BBC America's "Luther."
While presenting, he took a jab at the #OscarsSoWhite fiasco welcoming everyone to diverse TV. Many YBF celebs nabbed awards during the ceremony.
The sexy actor hopped on his Instagram account today to send a special shoutout to all of his fans for their continued support and seemed eager to get back to the "work." He said,
"Back home! Feet planted back on the ground and head held high. Winning is GREAT but being happy and willing to work for the WINS is more important. Being grateful and humble is more important. Not sweating the small stuff and staying on the right side of positive, is more important. You sent me so many well wishes that I feel that WE won those awards together. There IS no show without the fans and there are no fans without the WORK. Thank YOU, YOU make it all worth it. Love. Idris."
Congrats again Idris!
O, hey there gorgeous!
EMMY winner Regina King was all about the leg action as she was spotted trekking it through L.A. after an appearance on "Jimmy Kimmel Live!" last night.
YAS! Work that dress Regina!
During her late night interview, the "American Crime" revealed she has never worked a regular job thanks to staying booked with new acting gigs. She also talked about rapper/actor Andre 3000 possibly using his name "Andre Benjamin" now that he's on his actor steez.
Check it:
Elsewhere...
After suffering an upset at this year's Australian Open, tennis superstar Serena Williams kept a low-profile as she headed inside The Nice Guy restaurant to dine with friends last night. 
While she played coy on her way in, she was anything but inside!
The 21-time Grand Slam winner shared a clip on SnapChat where she was dropping it low on the dance floor. Ok 'Rena! And guess who's track she was getting down to? Her former rumored boo Drake! "Hotline Bling" had Serena busting some serious moves on the dance floor. Check it:
Mmmhmm...we see you Serena.
Also dining at The Nice Guy....
#RickKids star EJ Johnson made his fabulous arrival at the venue last night.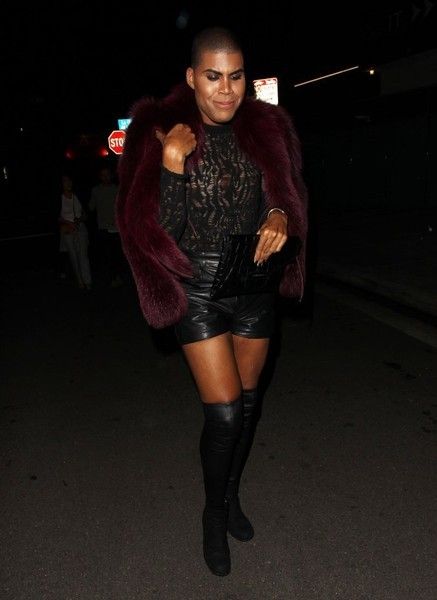 The fashionisto hit the sidewalk catway rocking a black lace shirt paired with black leather shorts, finishing his look with a pair of black knee-high boots and a deep burgundy cropped fur coat. Work it EJ!
Photos: Splash/Pacific Coast News/FameFlynet