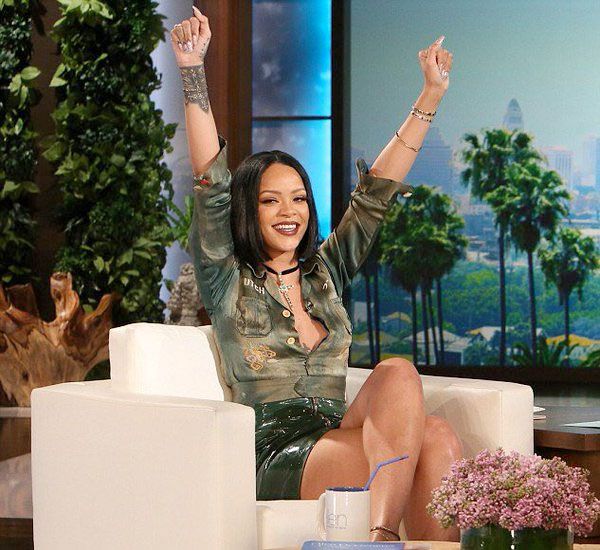 Rihanna stopped to chat it up with Ellen DeGeneres about her current relationship status, her relationship with Drake and reveals she sends nude selfies. Check out her appearance, plus Yo Gotti's video "Down In The DM" inside….
For her first televised appearance since dropping her ANTI album, Rihanna checks in with Ellen DeGeneres to chit chat about her love live (or lack thereof), reveals her must-have dressing room essentials, her relationship with rapper Drake and during a game of "Never Have I Ever," she discloses she sends nude selfies. Oh…ok RiRi.
The Pop princess, looking ridiculously hot in a green latex mini skirt and crop top, reveals she's currently single saying she's so busy these days, she doesn't have time to entertain a steady relationship or anything serious. So, although she and rapper Travis Scott were hanging out heavily in recent months (and were spottedkissing during a wild night out on the party scene), she's not dating him. Well there's that.
Ellen then grills her about her relationship with Young Money rapper Drake, who is featured on her new single "Work." The "B*tch Better Have My Money" singer is gearing up for her "ANTI World Tour," so Ellen asked if Drizzy would be tagging along with her since he lends a few bars on her new track. While Drake is not on the line-up to join RiRi on her tour, she says she would love to tour with him one and hopes to make it happen in the future.
Check it:
During a game of "Never Have I Ever" with Hollywood actor George Clooony, the Bajan beauty reveals that she has texted a nude selfie before. She didn't drop any names on who the recipients are, we can think of a few names that may have been lucky enough to receive a nude selfie from the international superstar.
Peep the funny clip below:
Hilar!
Rihanna is set to kick off the "ANTI World Tour" on February 26th at the Viejas Arena in San Diego. Better cop those tix if haven't yet.
In a new music video....
Down South rapper Yo Gotti has released the visuals to his hit track "Down in the DM," where he professes he's crushing hard on "Growing Up Hip Hop" star Angela Simmons.
In the clip, Gotti joins his homie at his wedding ceremony before he ties the knot with his soon-to-be wife. It flashes back to the night before where the fellas have some fun with a few strippers during his bachelor party all the while showing how tempting it is to slide in the direct messages of his Instagram account to talk dirty to a few of his followers. A host of celebs make cameos in the clip, including CeeLo Green, DJ Khaled, Machine Gun Kelly and more.
Check it above.
In other music news, Gotti released the track's remix featuring Nicki Minaj where she addresses her VMA beef with Miley Cyrus and name drops Beyonce.
Take a listen below:
The remix is featured on Gotti's new album The Art of the Hustleset to drop Feb. 19th.
Photos: Michael Rozman / Warner Bros