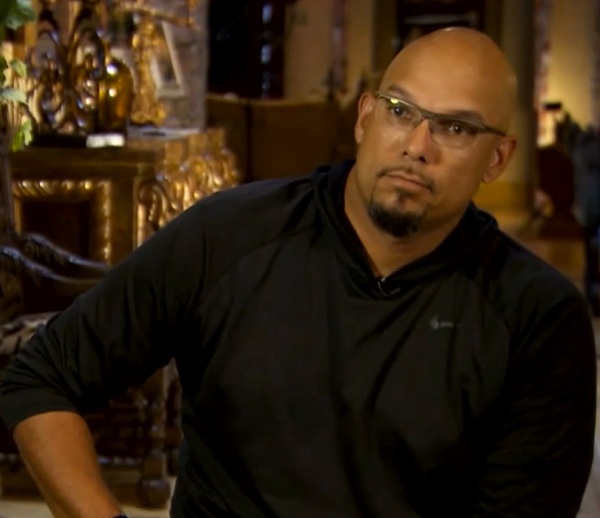 Halle Berry's ex-husband David Justice is opening up in a new interview about rumors that have been circulating for years abou Halle and domestic violence issues.  Now, he's demanding that the truth be told. Find out what he said inside….
Former Atlanta Braves star David Justice is fed up with the domestic violence rumors that have haunted him for years. And now, he wants his ex-wife Halle Berry to set the record straight once and for all.
In a brand new interview with Inside Edition, the Hollywood actress' former husband opens up for the first time in an interview about rumors that he was abusive to Halle during their relationship.
A little backstory….
Back in 2011, Halle revealed she lost 80% of her hearing after she was punched during a domestic dispute with an ex-boyfriend. She never dropped the name of the ex-boyfriend who hit her, but public speculation targeted David as the culprit.
You'll recall, shortly after Halle and Olivier Martinez announced they were divorcing, he hopped on Twitter to defend his reputation saying he's NOT the guy Halle was referring to. We've watched Halle endure several high-profile breakups, including breakups, including David, Christopher Williams, Wesley Snipes, Eric Benet, Gabriel Aubry and now Olivier Martinez.
He continued with his Twitter rant revealing actor Wesley Snipes was the cause of Halle losing her hearing.
Now, the 49-year-old former baseball player wants her to set the record straight to clear his name, especially since he has a wife (of 15 years) and children and he wants them to know he did not do it.
During the sitdown, he said Halle's silence has been damaging to his reputation and he wants the truth to come out. He said,
"If it was me, then say it. Say it, you see? But she can't say it because she knows it wasn't. So she'd rather not say it and then just let you go ahead and believe it."
That's fair. If he wasn't the guy who did it the least she could is say that it wasn't him without having to reveal the person who actually did it.
He then sent a message to the Oscar winning actress saying,
"It would have been cool if you came out a long time ago and at least let the people know it wasn't me. That would have been cool, but you didn't do it."
Check it:
David's full interview will air on Inside Edition.
EXTRAS:
1. Get excited! CBS have given the greenlight to a pilot order of "Training Day," a drama series reimagining of Antoine Fuqua's hit film, starring Denzel Washington. And Mr Fuqua will be directing. STORY
2. The Weeknd's third studio album Beauty Behind The Madness has gone double platinum. Congrats!