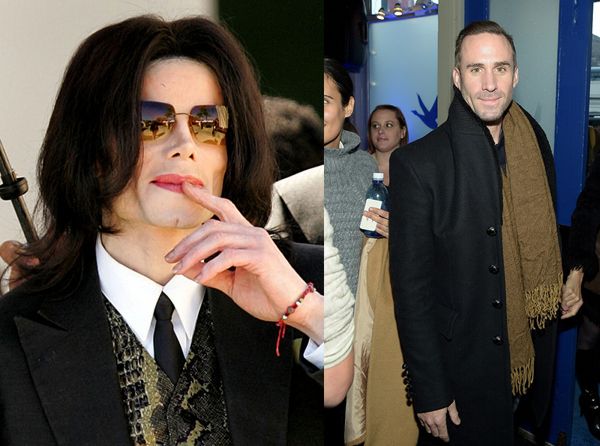 Chile, the Brits went and cast a white man to play Michael Jackson for an upcoming British tv series.  Get their unintentional shade inside, and Angela Bassett's epic response....
If you've seen Shakespeare in Love, you've seen Joseph Fiennes (who played Shakespeare) and your'e well aware that he's a white Britishman.  So why would he be cast as Michael Jackson in an upcoming British tv special?  Shade! 
Fiennes will play the late Michael Jackson in a half-hour comedy special set to air on Sky TV entitled "Elizabeth, Michael, and Marlon."
The show will also star Brian Cox as Marlon Brando and Stockard Channing as Elizabeth Taylor.  The premise: A comedy telling the story of how Michael, Marlon and Elizabeth all took a road trip together out of NYC to escape 9/11.  Huh?!
According to Vanity Fair, Elizabeth's friend Sam Kashner said in his book, Elizabeth Taylor's Closing Act, that Liz told him this car trip actually happened.  Apparently, Michael was having concerts at Madison Square Garden September 7th and September 10th, so he invited his friends Marlon and Liz to attend.  Here's what the publication says was in the book:
All three found themselves trapped in the city after the Twin Towers fell. Michael had gotten a call from friends in Saudi Arabia who warned that America was under attack. He hollered down the hallway of his hotel for everyone in his entourage, and for Brando, to leave immediately. Elizabeth was staying at another hotel, the St. Regis, a few blocks away. Now here's where the story gets complicated. In one version, these three towering icons of American pop culture planned their escape, afraid that they would be the next target. Michael and Brando had trouble leaving their hotel garage because fans kept banging on the car windows, following them down the street, screaming. Unable to fly, they drove out of the city.
Fast forward to this now becoming a tv special.  And Joseph has now been cast as Michael.
When news hit the net, actor Orlando Jones said he'd rather Angela play Liz, since color is obviously no barrier.  Her response: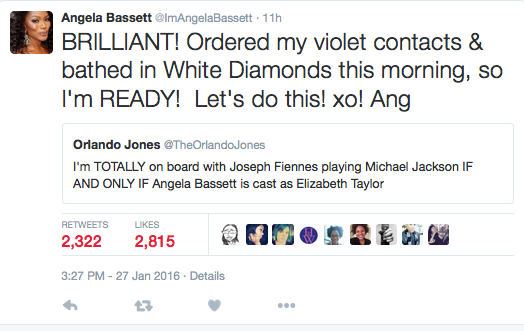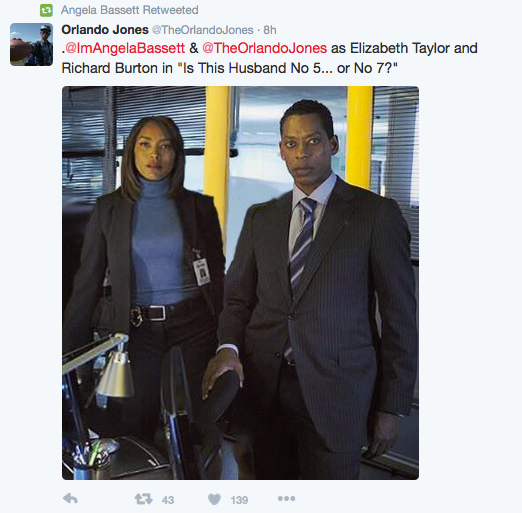 Hilar.
Photos: Getty/Twitter