Jagged Edge member Kyle Norman talks about WHY he choked his now wife Marikka, which eventually landed him behind bars. Find out what he said inside…
Nearly a year after being thrown in jail for physically assaulting his wife, Jagged Edge member Kyle Norman is opening up for the first time about that dreadful night that resulted in his now wife Marikka Maria suffering from black eyes, memory loss and more that landed her in the hospital.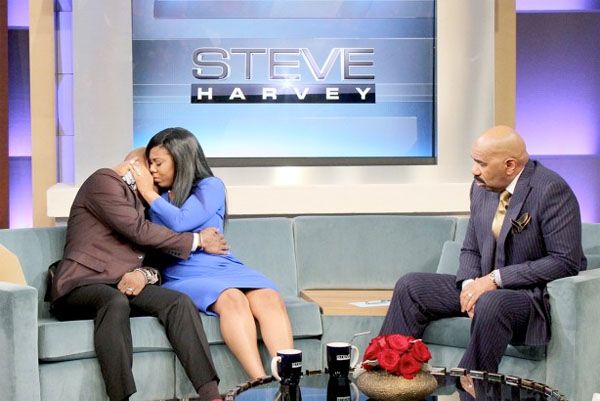 A little backstory….
Back in January 2015, Kyle was arrested and charged for aggravated assault on his then fiancée Marikka after an argument that went to far. According to reports, Marikka suffered a golf ball sized knot on her upper left forehead, a burst blood vessel in her eye, a cut to her nose and she had welts under her eyes after Kyle came home in a drunken rage. And that's not all.
The R&B crooner was so enraged that he wrapped his hands around her neck and chocked her while SHOVING her engagement ring down her throat! Yeah, it was bad.
About four months later, Kyle and Marikka decided to put the past behind them and eventually got married! He claimed he was a changed man who no longer drank or did drugs, and Marikka believed him.
Now, the married couple is opening up about the ordeal for the first time on a recent episode of the "Steve Harvey Show." On the show, Kyle reveals why he went crazy on his now wife. He said, "I was just out of my mind. I was delirious. I wish she just would have held me…and she didn't. So, I felt the world was against me."
Check it:
His wife Marikka then came out to explain why she decided to stay after being beat down like a random dude on the street. She explained, "You just have to forgive. This was just a situation with Kyle that I knew was not him. He always provided for me and cared for me. He was just out of his mind. You're not yourself." She went on to say the situation has caused a lot of turmoil in her life, including her relationship with her father. She said her father no longer deals with her because she took Kyle back.
Marikka then opens up about how her foster daughter was taken away from her the day the police showed up at her door to arrest her now husband. Then Kyle breaks down crying as he apologizes. Check it:
Marikka then asks people not to judge her:
Love is blind....
Photos: Steve Harvey Show