Grab your shades, your tea, and your pearls. Kanye West just created a total Twitter sh*tstorm by bringing hell fire to Wiz Khalifa's doorstep. All because he THOUGHT the rapper was coming for Kim Kardashian West. We've got EVERYTHING that just went down, including how Amber Rose was dragged into the mix and her EPIC response.
Keep up...
Y'all.  Kanye is officially off his rocker, and is seemingly proud of that ish.  He just displayed the most disrespectful twitter rage of all time.  He deleted the posts.  But once we've screenshot it, we've got the screenshots....FO EVA (*Cardi B voice*).
We told you earlier that Max B fan Wiz Khalifa tweeted his problem with Kanye renaming his album Waves.  Then, Kanye LET HIM HAVE IT.  Not exactly because of Wiz's issue with the album title name, but because his narcissism got in the way.  Wiz referenced KK (a type of weed) and 'Ye assumed it was a diss at Kim.
Here's how it all started:
Then Kanye twirled back to Twitter with this response: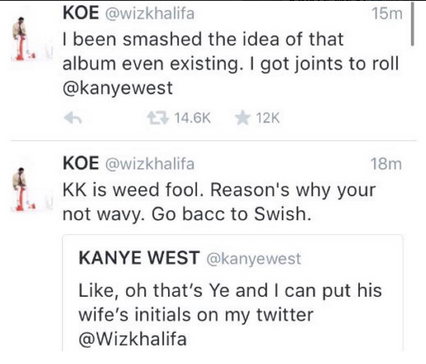 Sigh. 
'Ye was on a damn mission though, so he didn't stop there.  It's like he just decided to finally let out a dragging he's been holding in for Wiz ever since Wiz wifed his ex Amber Rose.
Catch it from the bottom to the top: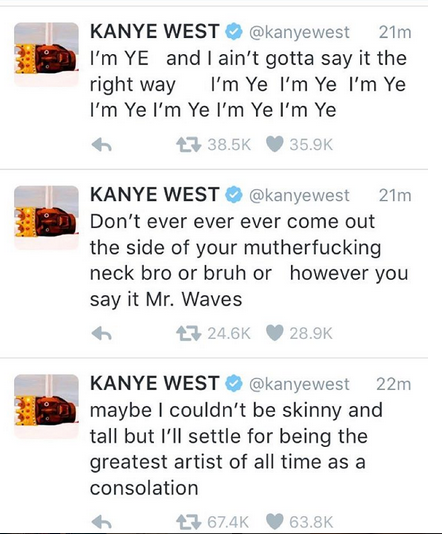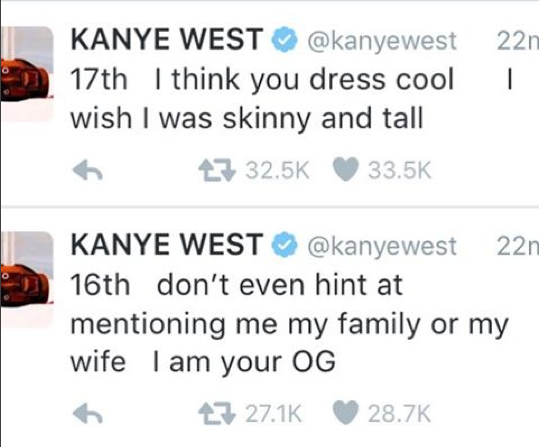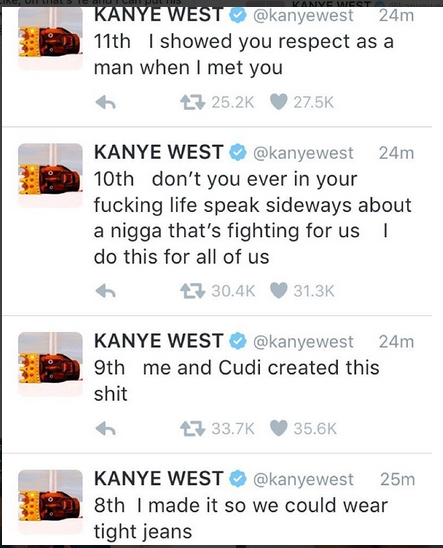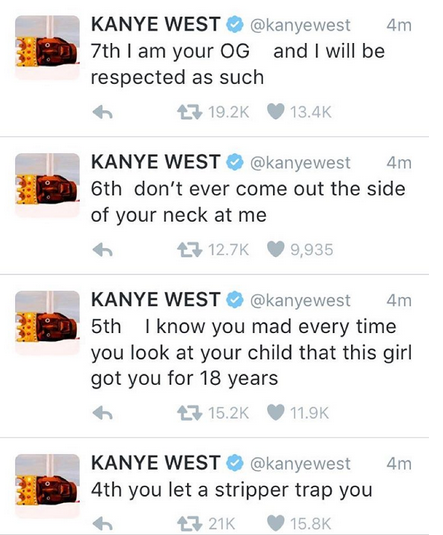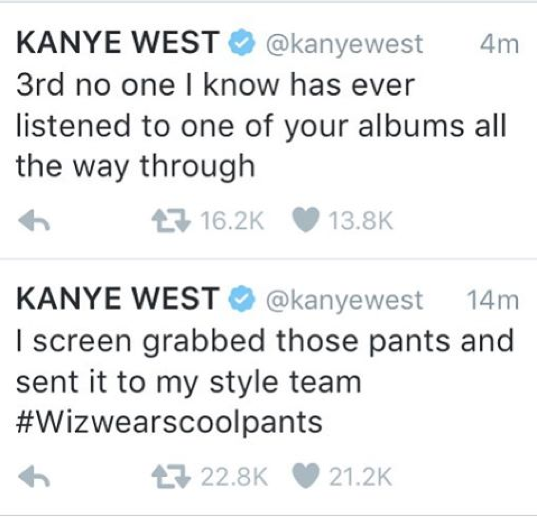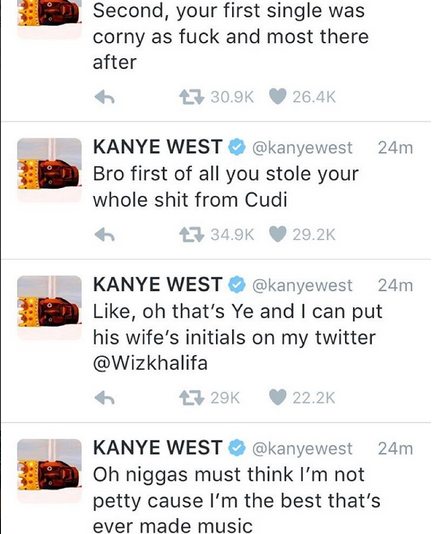 Nope, it's not over.  In true Gemini form, Kanye flipped the script and said he's all about peace, love and making this a gospel album.  Chile: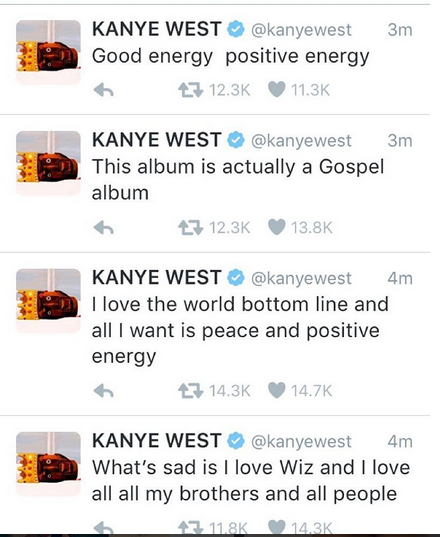 When he finally paused long enough to see Wiz wasn't even talking about his wife, Kanye tweeted: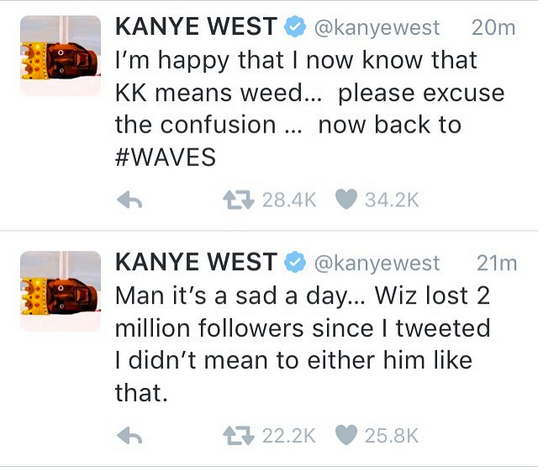 Kanye decided to use the very machine he claims to hate to drum up more publicity for his album dropping in a couple weeks.  And, once again, at his ex Amber Rose's expense.  Amber caught all that disrespectful shade toward her and her son Sebastian, so she responded like: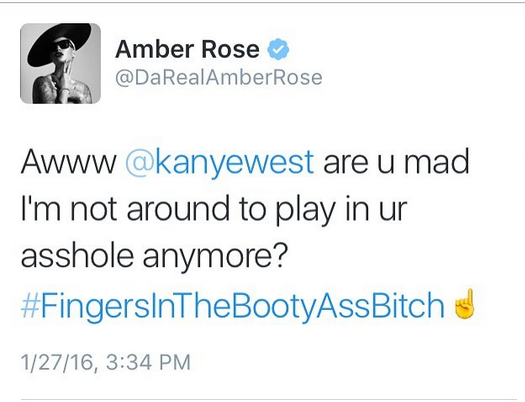 Chile...
WHY do folks keep trying to battle with Amber?  And WHY can't Kanye leave her be?
The "All Day" rapper went on a deleting spree and Amber said: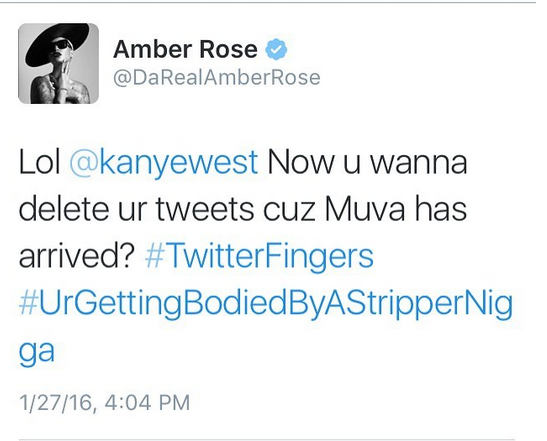 Meanwhile, comedian Lil Duval posted what we were all thinking: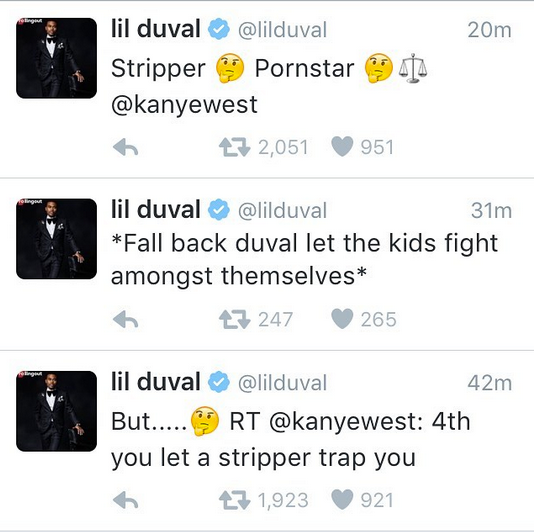 Because let's keep it 100.  The wife you worship, Kanye, sells the exact same T&A that strippers do.  Yet, she went even further and had sex on camera, and happily got paid for it for public consumption.  The only differences between your wife and your ex you KEEP trying to berate, belittle, and slut shame are their skin color and socioeconomic status.
By the way, Kim K.'s comment section is in shambles:
Stay tuned....
Photos: Twitter/Getty