Looks like Jay Z may be headed to court again now that the manufacturer for his Gold cologne filed an $18 million lawsuit. In other Roc Nation news, Rihanna's luxurious Dolce & Gabbana headphones have sold out just a day after she posted up a pic of herself wearing them. Get all the deets inside…
Hip Hop mogul Jay Z has a new lawsuit on his hands. And they're gunning for a cool $18 million.
So who's suing Hov?
Perfumania Holdings Inc./Parlux Fragrances, the manufacturer for Gold Jay Z, has pulled the trigger on a multi-million dollar lawsuit against Jay after, according to them, a deal went totally wrong. Apparently, Jay skipped out on doing promo for Gold Jay Z -- a fragrance that was launched in 2014 -- all the while collecting $2 million in royalties.
Per the licensing agreement, the "99 Problems" rapper was obligated to promote the fragrance on social media and make several promotional appearances, including an appearance on "Good Morning America."
Now, Perfumania Holdings/Palux Fragrances is making claims that due to Jay Z not promoting the cologne as he was contracted to do, it has caused sales to decline considerably.
Their lawsuit reads, "Sales of Gold Jay Z have declined considerably because of Jay Z's and his team's lack of interest in supporting and promoting his own brand."
The civil suit claims sales went from a projected $35 million down to $6.1 million due to Hov not properly promoting the fragrance. The suit goes on to say that the multi-Grammy winning artist did not make ONE single appearance to promote his cologne and he was also M.I.A. for five months for meetings about spinoff scents in 2014.
Now they want their money. The company is seeking $16 million in damages PLUS that $2 million in royalties.
As the saying goes…more money, more problems.
In other Roc Nation news....
That Rihanna reign just won't let up!
The unusually quiet (just lately) pop princess Rihanna shared a selfie on social media yesterday rocking a super luxe pair of Dolce & Gabbana headphones while listening to her upcoming ANTI album.
listening to ANTI pic.twitter.com/AgqlhU0GEz

— Rihanna (@rihanna) January 25, 2016
The extra fancy headphones cost a cool $8,895. Yes, you read that right. Well, if you were looking to cop your own pair, you're out of luck! The headphones have already SOLD OUT on the Italian fashion house's website less than 24 hours after RiRi posted up the flick. And here's the proof: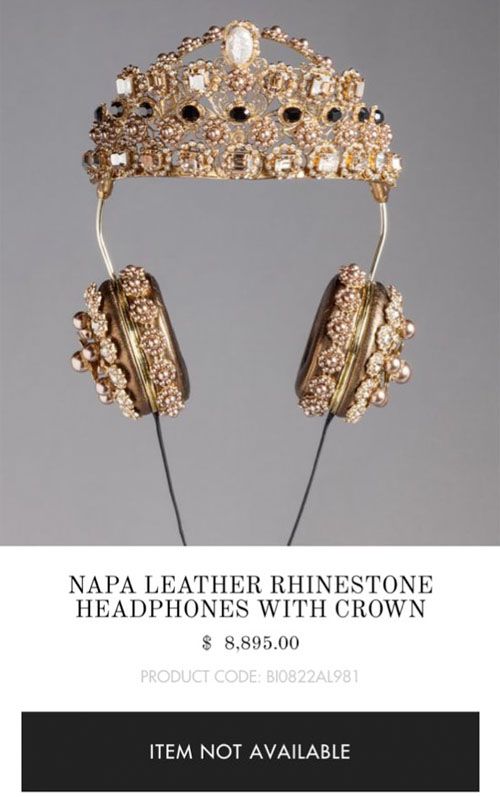 Recessession be damned!  Yep, they're gone! For now anyways. Just goes to show the power of promo when you get an international superstar to pub your product. Hmmm...maybe Hov should take a page out of RiRi's book to keep those lawsuits away.
Photo: Rihanna's IG/Dolce & Gabbana's Website