Blac Chyna and Rob Kardashian went from the bed to the gym. Get the latest on how Chyna is helping to whip Rob into shape and the shaaaaaade he threw at his own family inside…..
Blac Chyna had everyone talking after she posted a picture of man's heavily tatted arm wrapped around her neck on Instagram yesterday. We later learned the tats in the photo closely resemble tattoos on Rob Kardashian's arm. Now, the twosome are dropping more hints that they're getting better acquainted, much to the dislike of the Kardashian Klan.  Remember all the drama between Chyna and Kylie?
TMZ reported Chyna has been helping Rob get back into shape by sweating it out in gym together.
Now, we've stumbled upon this pic on Chyna's SnapChat account ourselves:
In the series of clips, Chyna films herself on an elliptical trainer and you can hear a male's voice in the background saying "C'mon man." It sounds like it could be Rob. And another hint that it's Rob? The man's feet in the picture have on a pair of Kanye West's BOOST sneakers.
Then on Instagram: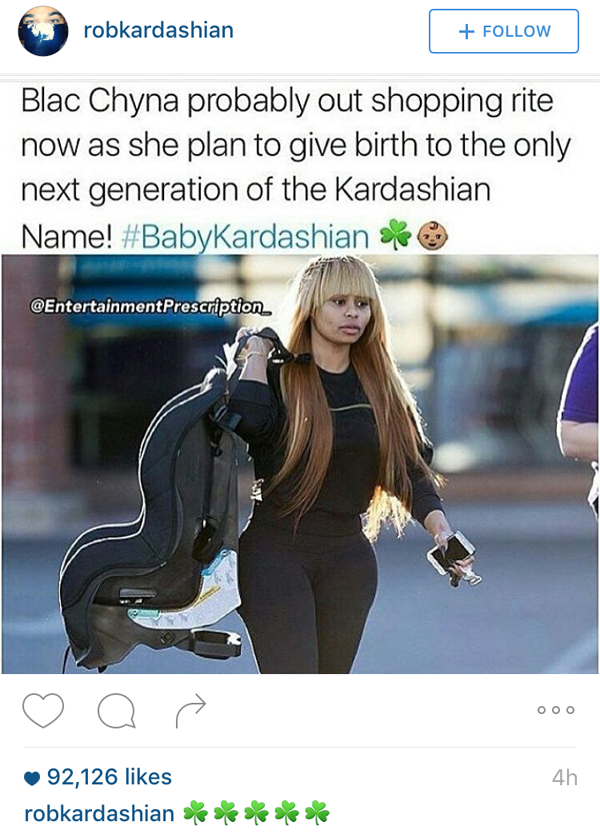 Rob posted up this hilarious meme of Blac Chyna holding a carseat jokingly alluding that she's pregnant with his baby with the words, "Blac Chyna probably out shopping rite now as she plan to give birth to the only next generation of the Kardashian name! #BabyKardashian" Ha!
He captioned the meme with a few four-leaf clovers, the same emoji Chyna used when she first posted the picture of Rob's arm around her neck. Hmph.
As expected, the Kardashian Klan is NOT happy about Rob's new fling. His big sister Khloe Kardashian took to her Twitter yesterday dropping subliminals (that she later came back and claimed had nothing to do with Rob). Then, Rob's younger sister Kylie Jenner, who's dating Chyna's baby daddy Tyga, joined in on the social media foolery posting (then deleting):
Mmhmm....
Oh...and then we noticed this:
In one of the newest photoshoot flicks on Chyna's IG account, we see the "Future" tattoo is still faintly on the side of her right hand.  Sighs to it all....
Photos: FameFlynet/Chyna's IG & Snap