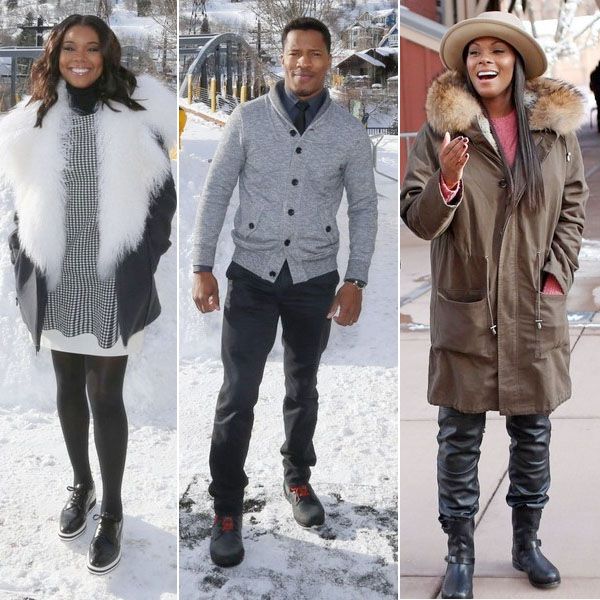 The 2016 Sundance Film Festival is currently underway and a few of your fave YBFers are continuing their rounds at the festival. Peep flicks of Gabrielle Union, Nate Parker, Tika Sumpter and more braving the snow in Utah inside. Plus, deets on Nate Parker's movie Birth of a Nation making history inside…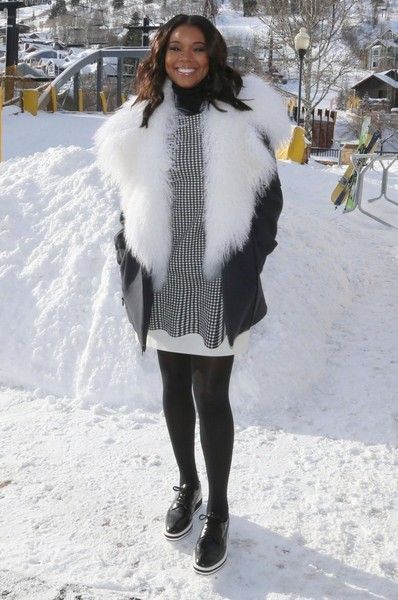 The snow isn't slowing down this year's Sundance Film Festival in Park City, Utah. Gabrielle Union, star of "Being Mary Jane," has been making her fashionable rounds at the film festival in a few different looks.  She's starring in the upcoming Nate Parker film The Birth of a Nation.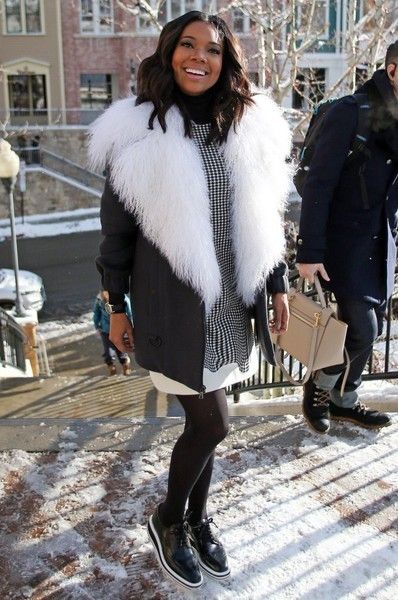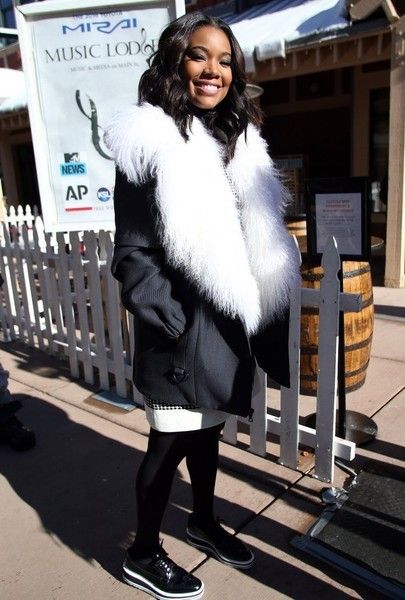 The 43-year-old actress was spotted out and about in Park City dripping in Prada in a cute monochrome dress, black stockings and flat black shoes. She topped her look off with a black and white fur trimmed coat and a fab nude bag.
As she trekked through the snow, she had plenty of help on hand to make sure she didn't take a tragic spill.
But she kept it cute in today's The Birth of a Nation cast portrait.
Last night: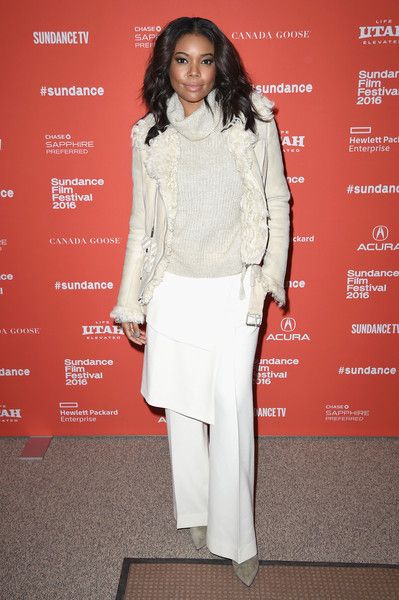 The YBF chick hit the carpet for The Birth Of A Nation premiere held at the Eccles Center Theatre. Gabby stars in the film that fellow YBF actor Nate Parker wrote, produced and directed.
Nate Parker, who portrays former slave Nat Turner that led the 1831 slave rebellion, got dapper in a black suit for the premiere. It was a BIG night for Nate. His film scored the BIGGEST deal in Sundance history.
Fox Spotlight dropped a record-breaking $17.5 million to acquire worldwide rights of the slave revolt drama. YAS!
It's being reported other big companies such as The Weinstein Company, Netflix, Paramount, and Sony were amongst the companies all trying to get their hands on the flick, despite big studios originally passing on the film. In our last sitdown with the actor, he told us about creating a film where he would be making his directorial debut.  Not only is he directing the film, he wrote the screenplay and will star as Nat Turner. 
Tyler Perry isn't the only one who can wear 200 hats at once.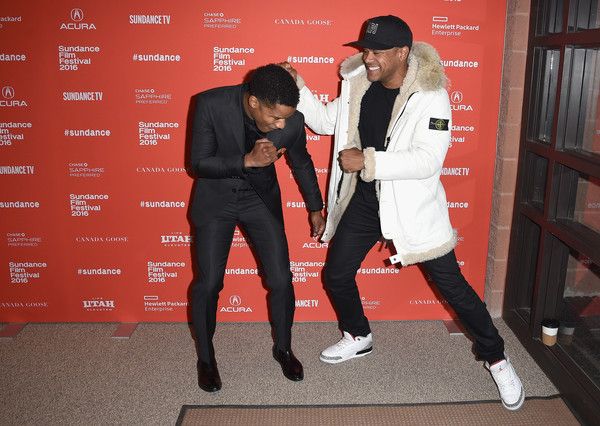 Get those coins Nate!
When she's not filming "Being Mary Jane," Gabby is on the set of a new Christmas flick titled, A Meyers Christmas.
R&B crooner Maxwell, chillin' in a pair of J's, hit the carpet snapping it up with Nate and Gabby before checking out the premiere.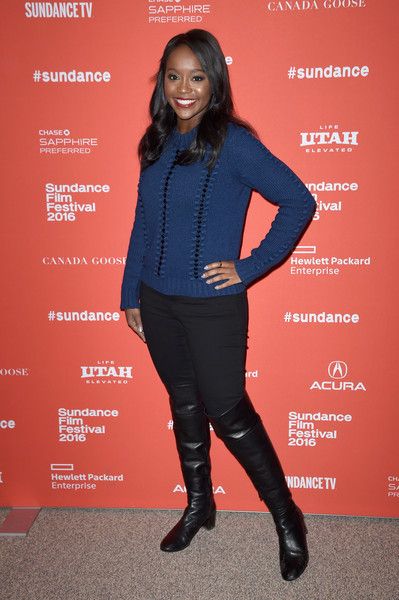 The Birth of a Nation star Aja Naomi King, who also stars on "How To Get Away With Murder," was in attendance to check out the audience's reactions.
At another screening....
EMMY nominated actor Danny Glover made his way to the Complete Unknown premiere, one of the many new films he's starring in.
Danny's co-star Condola Rashad, daughter of Phylicia Rashād, was also in the mix. We see she's getting her foot in the door and following her iconic mother's footsteps.  Have you also seen her on the new Showtime show "Billions"?  Fab!  And the show just got renewed for a second season.
The YBFers also snapped pics with the cast of the film.
Outside...
After the screening of Southside With You, Tika Sumpter, who plays Michelle Robinson (Obama) in the flick, was spotted all bundled up in her snow gear kiki'n it up with some friends outside. If you missed the first look at the film that will chronicle how POTUS nad FLOTUS met, check it out HERE.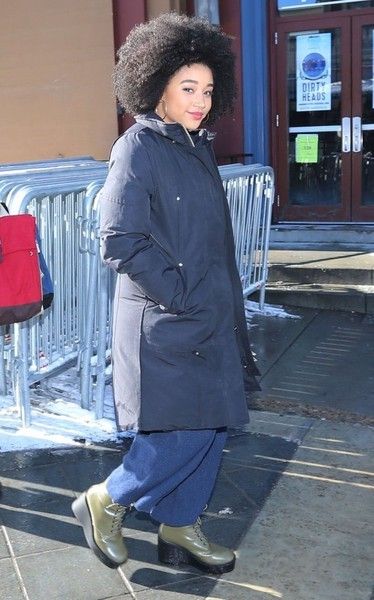 Hunger Games actress Amandla Stenberg was also spotted making her rounds at Sundance keeping warm in a long coat and blue trousers. Lovin' the afro.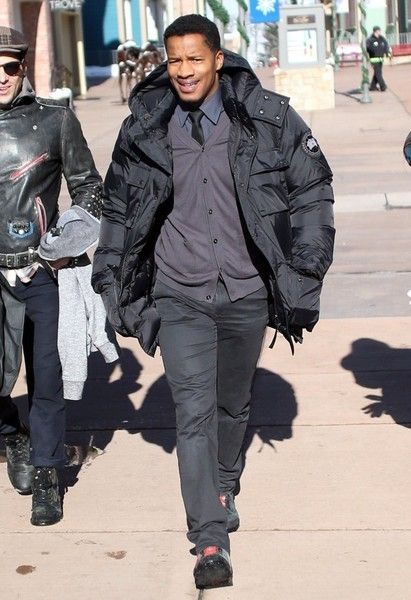 Photogs caught flicks of Nate and Mr. Glover as they trekked it through the snow to their next screening.  Congrats to Nate on being the IT GUY of Sundance 2016!
EXTRAS:
1. Straight Outta Compton actor Corey Hawkins has nabbed the male lead role in the newest "24" reboot. STORY
Photos: FameFlynet/Getty/@simonegrooming