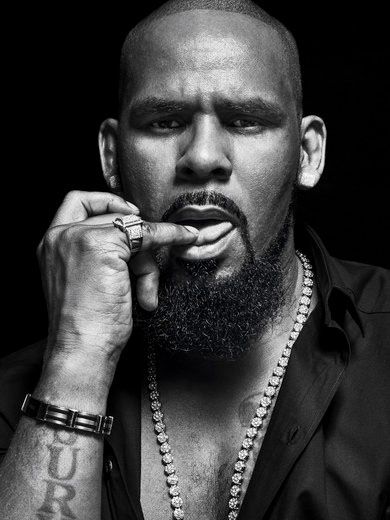 R. Kelly is opening up in a new interview with GQ where he talks about being sexually abused as child, his love for Aaliyah and he seemingly defends Bill Cosby. Get the highlights, plus deets on the "Steve Harvey Show" reaching record high in ratings inside….
R&B crooner R. Kelly opens up in a new interview with GQ where he touches on a few controversial topics such as being sexually abused by a family friend as a child, his very close relationship with late singer Aaliyah, his past child pornography charges and he seemingly defends Bill Cosy who's currently involved in a huge sex scandal. We can't believe he' saying all of this now, but apparently he wants to set the record straight.
In the extensive interview in GQ magazine's February issue, R. Kelly lets his guard down to talk about how a close family friend sexually abused him as a child.  This makes his defense of Mr. Cosby all the more odd. He recalls being abused "every other day, every other week" for multiple years growing up and if he feels she should be held accountable for her actions.
"As far as I can remember, about [age] 7 or 8 to maybe 14, 15, said Kelly. "Something like that." Looking back on it, does he wish she had been held accountable for what she did to him? "Back then, too young to judge," says Kelly. "As I'm older, I've only learned to forgive it. Was it wrong? Absolutely. But it's a family member that I love so I would definitely say no to that one. To be honest, even if my mom, I saw her kill somebody, I'm not gonna say, 'Well, yeah, she definitely should go to jail.' It's just something I wouldn't do." Part of Kelly's forgiveness comes from his belief that the abuse stemmed from "a generational curse, so to speak, going down through the family. Not just started with her doing that to me."
He later explains why he has decided to hold his judgment against Bill Cosby. Kellz said God would have to reveal to him that the multiple women who have come forward to accuse Bill of drugging and raping them are telling the truth, before he believes it.  Yes, he's serious.
"If God showed me that they were telling the truth, I would say that's wrong, said Kelly. "I don't care if it was a zillion years ago. But God would have to do that, because God is the only one can show me that. No man can tell me that. No woman can tell me that. And when you wait 70 years, 50 years, 40 years, to say something that simple, it's strange. You know why I say that is because it happened to me, and it wasn't true."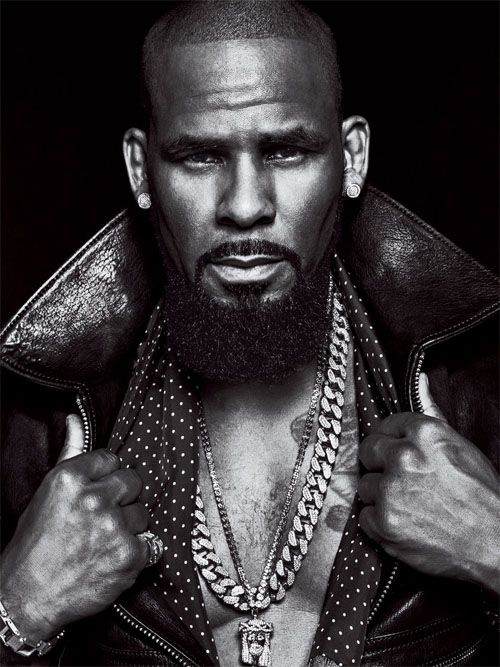 The Grammy Award winning artist then opens up a bit about his relationship with late R&B songstress Aaliyah. He said their relationship started as friends and grew into a very close relationship, admitting he was in love with her.
The "Ignition" singer was then asked about their rumored marriage where it has been reported Aaliyah was only 15 at the time. But, he still refuses to talk about it out of respect for the late singer and her parents. He said,
"Well, because of Aaliyah's passing, as I've always said, out of respect for her mother who's sick and her father who's passed, I will never have that conversation with anyone. Out of respect for Aaliyah, and her mother and father who has asked me not to personally. But I can tell you I loved her, I can tell you she loved me, we was very close. We were, you know, best best best best friends."
Regarding his past child pornography charges, the "Trapped In The Closet" singer says he wasn't found guilty of making child pornography and that should be the end of it! As he was pressed for more details, he decided not to say anything further in fear of being prosecuted again.
"When a person is found not guilty, they're found not guilty. And it doesn't matter if it's a murder case, it doesn't matter what case it is, when they're found not guilty, they're not guilty. And I think that a lot of haters out there wanted to see me go down." So when asked, point blank, if that was him in the video for which he was on trial for child pornography, Kelly pauses. "Because of my lawyers, to this day I cannot have those kind of conversations. Being advised by my lawyers in this." Even though the trial period is over…. Heath pushes. "Because they could come back to haunt me," says Kelly. "Things could come back and they can just restart all over again. And I have to protect myself."
You can read his full interview over at GQ. The February issue is already on newsstands in New York & L.A. and will be available nationally January 26th.  Hmph.
In TV news….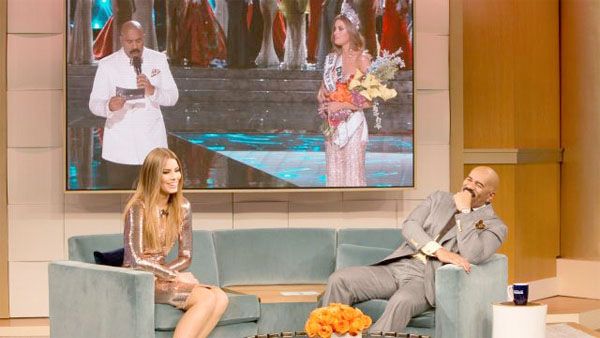 Steve Harvey, who recently celebrated a birthday, may have made pretty much the biggest live television faux pas. But, it's paying off for his daytime television show.
The "Steve Harvey Show" saw record high ratings when he invited Miss Universe Pia Wurtzbach and Miss Colombia Ariadna Gutierrez to the show to apologize and to explain how everything went down the night he named the WRONG Miss Universe last month. By the way, both ladies have forgiven him for his huge mistake.
Monday's show with Miss Universe, dubbed "Miss Universe: The Truth, Part I," catapulted his ratings, metering a 2.6 overnight household rating, hitting a record high for the 4-year-old series. According to Deadline, it was No. 1 in several major markets, including NYC, Chicago and Atlanta. Tuesday's episode may even top that once the official ratings are in. Nice!
Below are a few clips from Miss Colombia's appearance, including Steve's emotional breakdown:
By the way, Steve has already been invited back to host the next Miss Universe pageant in Belize.  He is part owner of the parent organization. Looks like Steve is still laughing all the way to the bank.
Photos: GQ/NBC