Angela Simmons is showing off that bangin' bod of hers in Haiti again. Meanwhile, Teyonah Parris is serving ultimate #hairgoals and effortlessly slaying the pages of Sharp magazine. Peep their hot shots inside…
When you're Hip Hop royalty, life includes working on your clothing lines then hopping on a plane to a tropical island for some fun in the sun. And that's exactly how Angela Simmons is living life at the current moment.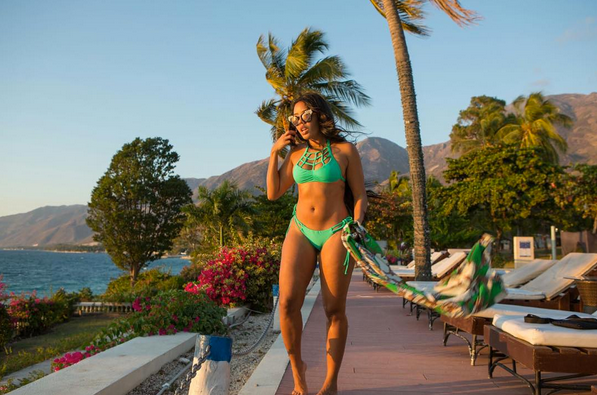 The "Growing Up Hip Hop" star is living it up on vacay in Haiti again. She's a frequent visitor on the island and it seems to be one of her favorite spots to travel to. She calls it her "happy place."
After touching down, the fashion maven slipped into a bright green bikini and had her personal photographer snap a few hot shots in front of a gorgeous backdrop.
Later in the evening, chick hopped in the pool to flex her model skills as her photographer snapped away.
We noticed in her captions on Instagram, she posted a few lovey dovey emojis when referencing her photographer Ted Joseph. Hmm...would this happen to be a #BAEcation perhaps? Just askin'....
In some more fab flicks....
HOW is Teyonah Parris so perfect?! The "Survivor's Remorse" star is serving for the gawds in a few pics for Sharp magazine.
These shots are the perfect mixture of sex appeal, sophistication and all out FABULOUSNESS! Her luscious locs, glowing skin and amazing bod have us wanting to try her beauty regimens so that we can attempt (notice we said attempt) to be as flawless as her. Loves it!
If you haven't yet, be sure to check out the YBF chick in Spike Lee's latest film Chi-raq.
Photos: Angela's IG/Teyonah's IG