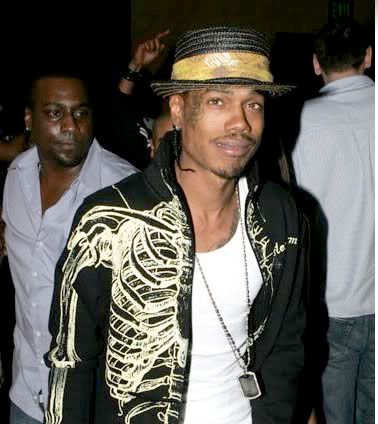 There are rumors floating around the Internet that claim DeVante is no longer affiliated with R&B group Jodeci, this according to R&B artist Dren Calisas. But maybe, it's not what it seems. Decide for yourself inside….
Word on the curb is that DeVante is NO longer going by the name "DeVante Swing of Jodeci" and that he's no longer affiliated with the group. Say what?! That's what R&B/soul musician Dren Calisas is saying.
Apparently, he has a new track with the (former?) Jodeci singer titled "Plastic." And when he released the cover art for the new track, he originally listed DeVante's name as "DeVante Swing of Jodeci," but he may not being going by that exact name these days. His exact words were that DeVante is "no longer affiliated with Jodeci or anyone affiliated with Jodeci." Oh?
He posted (and edited):
Hmm… did he mean his brother Dalvin too?
By the way, he has edited this status on his FB account. He changed it up simply calling it a typo: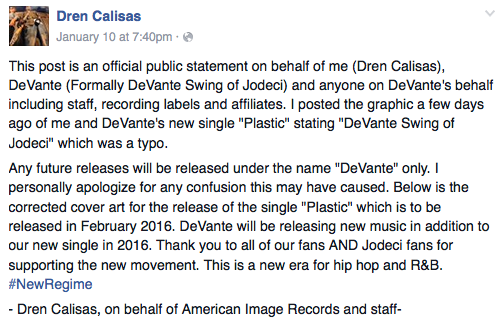 Dren claims he was told to make a public statement to clear up DeVante's name on the cover art and if he didn't, "they" would sue. We're not exactly sure who "they" are at the time. Dren then hopped back on Facebook to clear up the misunderstanding, claiming he just made a typo on the cover art and that it will be up to Jodeci to make an official announcement regarding its members.
He hopped back on his Facebook page today to clear his statement up saying:
It's interesting to note Jodeci was on the comeback trail after releasing a new song and video called"Every Moment" last year. They also released a new album titled The Past, The Present, The Future in March of last year. We're wondering if this guy Dren meant he couldn't LEGALLY use the name Jodeci on his projects. If so, that's really all that needed to be said.
TheYBF.com has reached out to Epic Records (who released Jodeci's last album) who tells us they know nothing of a name change.