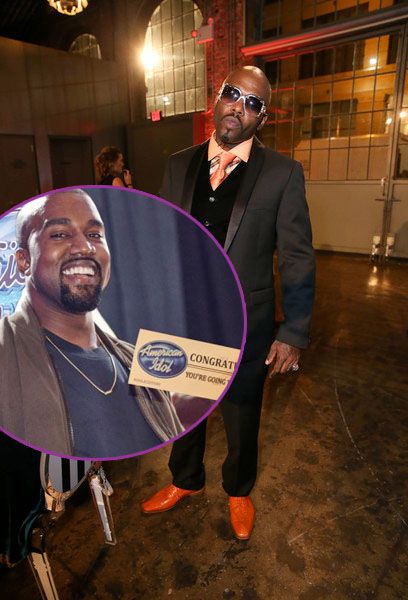 One thing is for sure: Treach is NOT a fan of Kanye West…or his wife. Find out how the legendary rapper went all the way on The Wests and check out Ye's "American Idol" audition we told you about inside…
Tell us how you really feel!
Rap icon Treach from Naughty By Nature is NOT here for Kanye West. And he also isn't here for Ye's wife Kim Kardashian. The Hip Hop legend made it known he is not a fan of Ye and could care less who has a problem with it.
So what's his beef?
Apparently, 'Ye was rumored to have made some comments about his good friend/late rap icon Tupac Shakur. Rumor has it, Kanye was overheard saying Tupac was the most overrated rapper in history. While there are no concrete receipts that the "Heartless" rapper actually made that statement, Treach doesn't seem to care. Tupac was a good friend of his and he's clearly going to defend his friend's honor no matter who it is.
So what does Treach do? He hops on Twitter to roast the "Bound 2" rapper AND his wife. Bloop!
Peep his tweets below:
Bammmmmm!! pic.twitter.com/iQSxBBPzKR

— Treach (@triggertreach) January 4, 2016
What Kim says after she takes her Stap On Dildo off after Hitting Kanye in the A$$!! pic.twitter.com/Kf7RI9WLD3

— Treach (@triggertreach) January 4, 2016
@triggertreach Fuck Kanye his Opinion & Kims Cothes he wears!!

— Treach (@triggertreach) January 5, 2016
Lordt!
It's interesting to note, the comments Kanye allegedly made hit the Internet back in 2014, supposedly on a satire-like website. With Treach gearing up for a tour with Naughty By Nature (kicking off Jan. 27th), his daughter Egypt starring on "Growing Up Hip Hop" and an appearance on the next episode of "Love & Hip Hop: New York," it makes you wonder if this is part of some type of PR campaign. Not saying he doesn't have a right to be upset with Ye if he genuinely feels Kanye disrespected his friend. It's just interesting he waited over a year to call him out.
In other Yeezy news...
We told you Kanye West popped up at the "American Idol" auditions for a surprise appearance as a contestant a few months ago.
Now, the clip of the Chi-town rapper has surfaced. The G.O.O.D. rapper performed an a capella rendition of his 2005 hit track "Gold Digger," likely a mini ode to judge Jennifer Lopez whose name is in the original lyrics. Check it out above.
Photos: Getty