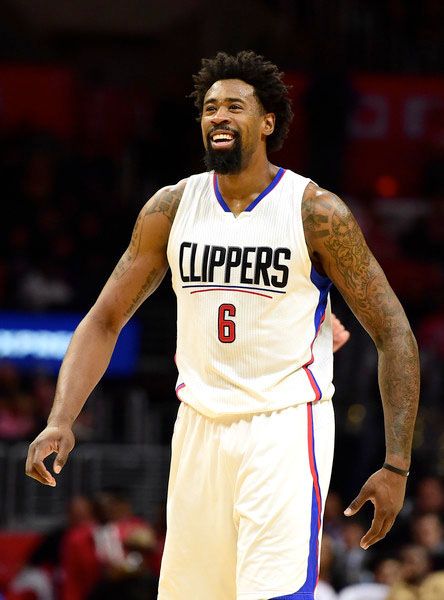 NBA baller DeAndre Jordan and singer Meghan Trainor were spotted leaving a L.A. nightclub…together. Hmmm…are they dating? Decide for yourself inside.
Also, check out A$AP Rocky on the cover of Forbes magazine's new 30 Under 30 issue.
It appears Los Angels Clippers player DeAndre Jordan may be dating a new chick. And she just so happens to be singer-songwriter Meghan Trainor.
No, we didn't see them tonguing each other down in the club or anything. But, photogs did catch the twosome leaving The Nice Guy in West Hollywood late Saturday night…together! They both made a swift exit from the venue and hopped in the same car before driving off. Check it:
So what happened to the model chick Amber Alvarez the NBA baller was allegedly dating over the summer? We're not sure. They could possibly still be an item…or not. We do know, IF Amber is still with DeAndre, he may have some explaining to do.
In other news...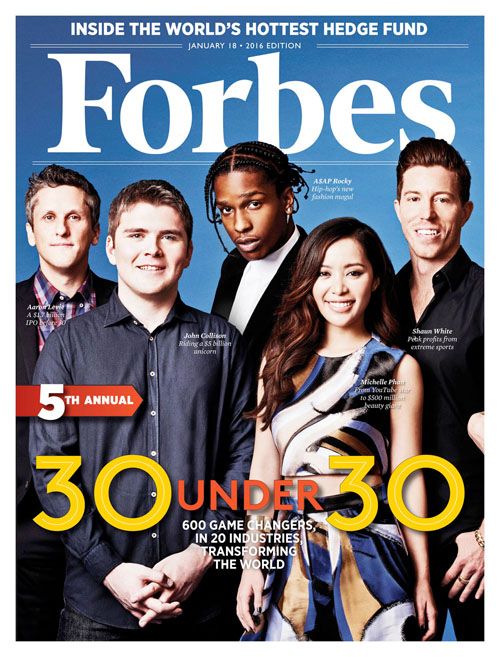 Well this is a surprise.
Rapper A$AP Rocky nabbed a spot on Forbes magazine's 30 Under 30 issue for his love of fashion and being a trendsetter in the fashion industry. The publication dubbed the Harlem native as a fashion mogul, securing a spot for him on the 30 Under 30 Fashion list.
While we knew he was a fashion lover, modeling for DKNY and flexing his dance moves with ex-fiancée Chanel Iman in VOGUE magazine, we didn't quite see him as a fashion mogul, per se. But, Forbes gave the young rapper the label, so that's saying something.
In the cover story, the young rap star chops it up about where his love for fashion came about, his plans for AWGE–the creative collective that's been his main focus of late–and comparisons between it and Kanye West's DONDA.
Below are the highlights:
ZOG: There's something to Harlem that style is a really important thing in a way that it isn't in other parts. People who aren't from New York don't get it. They don't understand why Harlem is different from Brooklyn. Harlem and Brooklyn couldn't be more different.

Rocky: When it comes to fashion and stuff, we're just nostalgic. Harlem, from the Renaissance, from music, everything cultural, I think it's impactful to an urban community on another level. … We had our own fashion sense. You've got music, you've got culture, you've got food. What I think is incredible about Harlem is that no matter who you are coming out of Harlem you just feel like somebody.

ZOG: You come from Harlem, you burst on the scene a couple years ago. You're the fashion guy. Tell me the concrete steps from being the fashion guy to creating AWGE … the Rocky DONDA?

Rocky: I wouldn't call it DONDA.

ZOG: What would you call it?

Rocky: I would compare it to companies such as Vice, Noisey, Fool's Gold, Roc Nation.

ZOG: More expansive than DONDA.

Rocky: I wouldn't say that, not at all. I'm going to say this: for me, DONDA didn't accomplish enough yet for me to compare … I wanted to develop something that reflected the world the way I saw it. I wanted to make something for lifestyle, to put people into a new lifestyle. I wanted to make some for culture, some for music, some for skating … How do you organize all that? About a year and a half, two years ago, I just came up with an idea of just being involved in something more than A$AP Rocky … I want to be in the field and be respected as a creator of original ideas.
You can read his full interview here.
Forbes chose 30 tastemakers under the age of 30 in 20 different sectors, resulting in a massive list of 600 of the brightest young entrepreneurs, breakout talents and change agents. Here's a list of just a few YBFers who landed in the 2016 class: Steph Curry, Star Wars star John Boyega, Cam Newton, Mo'ne Davis, Russell Westbrook, Russell Wilson, Bryshere "Yazz" Gray, O'Shea Jackson Jr, Jason Derulo, Fetty Wap, The Weeknd, and Schoolboy Q just to name a few.
The 30 Under 30 issue hits newsstands January 18th.
Photos: Getty/Forbes