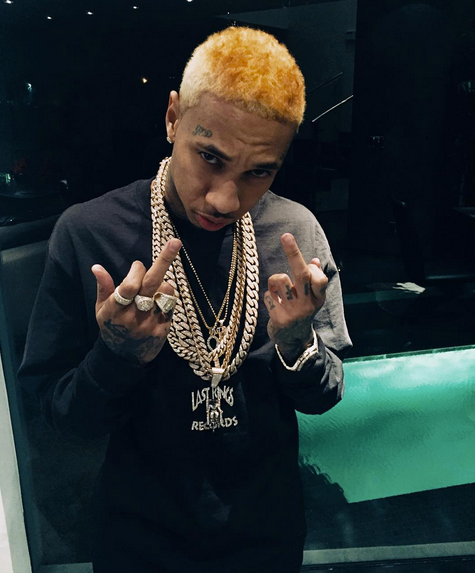 Tyga is up to his cradle robbing antics again...allegedly.  Find out what a 14-year-old model who has been linked to the rapper is saying today inside...
Chile....that OK Magazine story that surfaced recently saying Tyga and an underaged model were "hooking up" is causing waves today.  The young girl in question, Molly O'Malia, said she felt she was "forced" to come out and identify herself, even though OK! pixelated her picture.
Today, she did a press conference with legal eagle Gloria Allred to clear up some things.  Interestingly, one thing that WON'T be happening is a lawsuit, according to Gloria.  So why is Gloria involved and why is an entire press conference needed when a simple statement would have sufficed?  Well, Ms. Molly is also an aspiring singer.
Her story is that Ok! Magazine was incorrect in saying that she and Tyga hooked up.  She claims they haven't.  She also says the magazine is wrong about her pursuing him.  She claims it was actually the other way around.
Molly says Tyga reached out to her first on Instagram (of course).  She thought it was to discuss her music...so she responded and the two struck up a conversation.  Even though Tyga never mentioned her music in their initial convo, they continued to speak she says.
Molly claims Tyga relentlessly pursued her.  But she got freaked out when he asked to Facetime and stopped responding.
Molly doesn't deny the text messages that surfaced between them or his girlfriend's Kylie Jenner's alleged texts that surfaced in response to the situation.  She says she's upset that the magazine actually published her messages without her or her mother's consent, and she's unaware of how OK! received her, Kylie and Tyga's messages.  Hmph.
Check out the press conference today below.  Molly has set all her social networks to private (except her Snapchat) and Kylie, who was still with Tyga as of New Year's when they went skiing together, has made no mention of these new developments.
Tyga accused pursuing underaged girls again? Hmph.....