Now that Chris Brown is on his grown man wave, he's opening up in a new interview with VIBE magazine about some imitate details we didn't know about the R&B crooner. He's dishing deets on things that have gone on in his life and he's serving up his opinion about certain things.  Straight talk, no chaser. Get it inside….
As much as Chris Brown is in the headlines (and on the music charts) you would think we know all there is to know about the R&B crooner, who basically grew up in the music industry. But, there's a new never-before-seen side of Breezy that he's ready to introduce to the world.
He's a father now to a precious baby girl named Royalty, whom he named his recently released seventh studio album after. The 26-year-old is entering manhood and learning to navigate the world of fatherhood while the world watches his every move, ready to give their critique. And as he matures, he's learning how to let bygones be bygones and go with the flow so to speak.
The "Loyal" singer swore off interviews with VIBE magazine after they published a cover he wasn't pleased with. Now, he's ready to leave the past in the past and open up, unapologetically, about who he truly is at the core in a new interview with the magazine. Not only that, he sprinkles in a few gems about his personal as well that we never knew.
Here are 6 intimate details we learned about the VA native (including that chitlin music reference again).
1. He suspected Royalty was his before he knew for sure.
"I had thought about it. I had saw pictures, and I was like 'Damn.' So I asked, and [Nia] was like 'Nah, it's not you.' So I was like cool, I didn't think it was an issue. But when I found out, it was kind of like, 'Damn, she looks just like me.' And I didn't care about how me and her mother didn't have a relationship, I didn't care about any situation. I just wanted to see her. I just wanted to be able to have that opportunity, as something personal to me. I'm not gonna be upset, I'm not gonna be mad. I have to be honest with myself and pick the priorities over the situation. I had to make my priority my daughter."
2. He's not here to be anyone's role model, but he hopes to inspire.
"It's not my job to be your role model; my job is to be your inspiration. There's a difference," he says precisely, with a piercing gaze. "You can be that rose in the concrete, or you can be that underdog, or you can be that person that people already cast out, and still be able to maintain and live your life, understand change, and make a difference."
3. He describes "soul" music in a different way.
"Soul" is not reserved to one genre of music, one form of art or one situation. "When they say soul, they give it a collard greens, chitlins kind of feel, but it's different. What soul is, is that unconditional emotion you emit when you're at a concert, or when you're watching your favorite person do a TV show. Or if you got somebody that you love, you could be sitting there, and for no reason, you just smile. It might not even be a song, but just right now, something's telling me to give a great energy off, negative or positive. What that is, we don't identify it, but that's our soul."
4. He feels he's the typical young black male statistic and hates how black men are being treated in the world today.
"I'm the general statistic of the young black male: a father out of wedlock, tattoos, sags my pants, hangs with people that would be called outcasts, been to jail, has a criminal record."

But as the discussion shifts to the onslaught of police brutality against his not-famous peers, Brown's response is layered with conflicting sensibilities. On one hand, he's not responsible for speaking out against injustice because he isn't running for office. On the other, he separates his celebrity status from his personal thoughts and feelings. On yet another, he urges black people to "stick together" and laments the absence of "black leaders." Admittedly operating in an industry and society "convoluted as prisoners to our own materialism," Brown contends, "If I can complain about the diamonds not being bright enough on my chain or my ring, I should also be fighting just as hard to put somebody else in a house, helping somebody that's homeless, feeding somebody, showing my concerns."
5. He questioned God a lot when he was going through his issues.
At the height of his frustrations in life, Brown would ask Him age-old inquiries like, "Why won't you talk to me?" Having done most of his thinking about life's deepest questions in a jail cell, Brown now chooses to relish in gratitude. "I'm going to do what God allows. And if God don't want it, He'll put a stop to that motherf**ker right away. But right now, he's letting me get it off. I'm gonna utilize the time that He's given me to just inspire."
6. He admits he's a bit crazy at times.
But for clarity's sake, Brown warns not to take his newfound zen out of context. "See now, the zen gets confused when a motherf**ker might cuss somebody out. Nah, I'm 100-percent passionate, and at ease with the fact that I might be a little bit crazy."
You can read his full interview here.
Peep the rest of his spread below: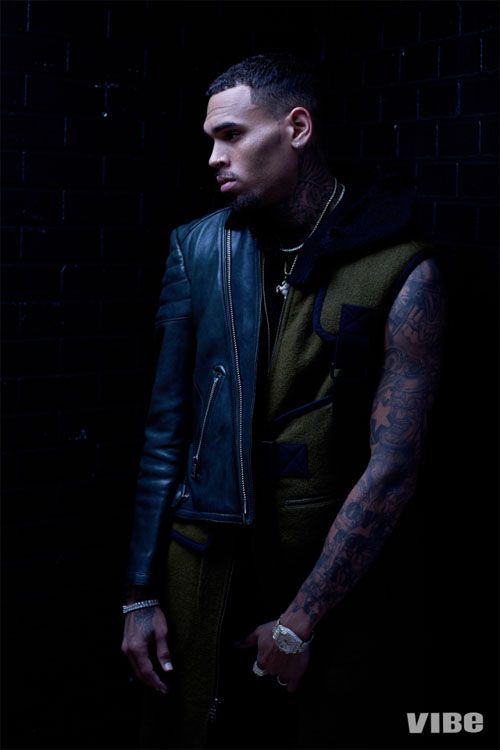 – Tom Ford military jacket

– Harold Kensington hooded extended cut off pullover

– Army green Philip Lim vest

– Zara jeans

– Supreme Jordans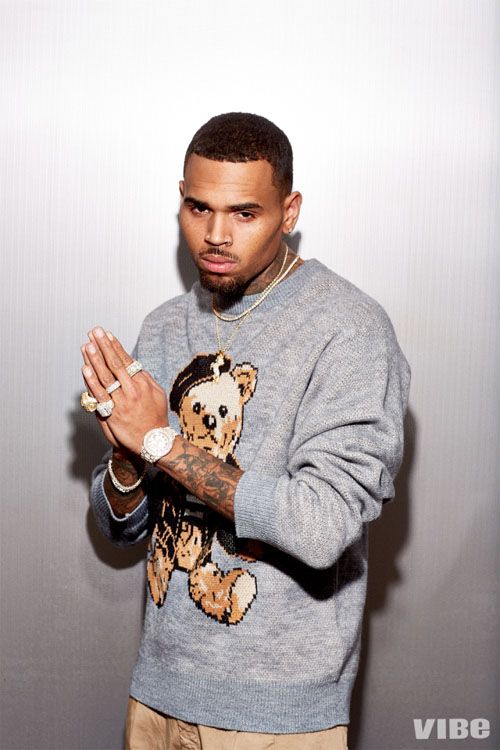 – Grey teddy bear Joy Rich crew sweater

– Zara cargo pants

– Limited edition pink New Balance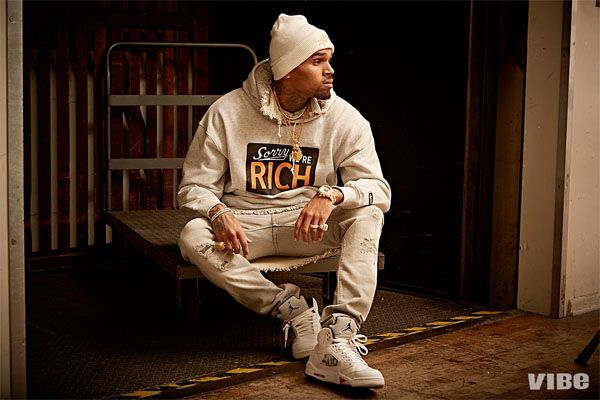 – Grey Harold Kensington hooded extended cut off pullover

– Joy Rich pullover

– Zara jeans

– Supreme Jordans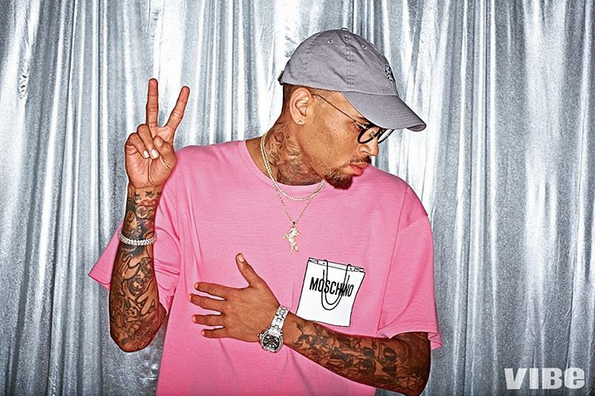 – Moschino shopping bag tee

– Zara pants

– Dots eyewear

– Vintage Stone Cold Steve Austin hat by All To Envy

*All jewelry is personally owned
Photos: VIBE/Peter Dokus