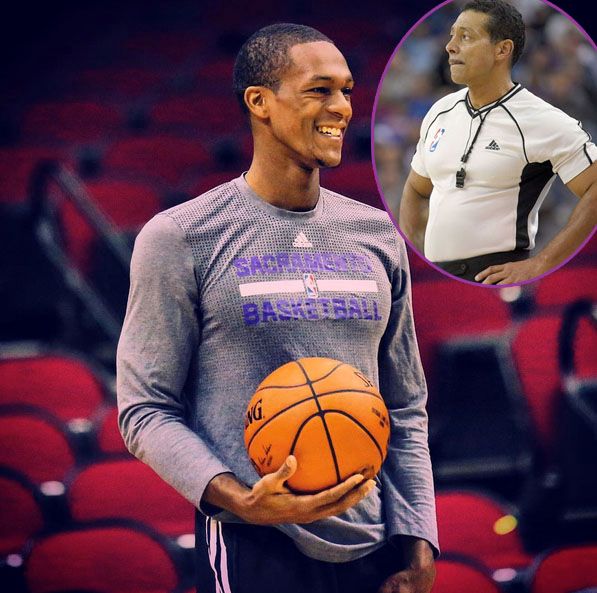 NBA baller Rajon Rondo has issued a public apology to the LGBT community after yelling anti-gay slurs at one of the NBA's top referees Bill Kennedy. Deets inside…
Sacramento Kings guard Rajon Rondo has issued a public apology to LGBT community for screaming and yelling anti-gay slurs at one of the NBA's top referees Bill Kennedy.  Actually, some folks say it wasn't an apology at all.
Rajon was suspended for one game after he was ejected for unleashing anti-gay slurs at Billy during the Celtics vs. Kings match-up at the Mexico City Arena on December 3rd. SIDENOTE: Rajon use to play for the Celtics for much of his career.  So this match-up was a heated and anticipated one.

According to reports, Rondo, who's making $9.5 million this season, is the third NBA player to be punished for the use of anti-gay slurs, but the first to be suspended. It's going to cost him a cool $86,300 in game salary for the suspension. Whoa!
Billy ejected Rajon with consecutive technical fouls and that's when Rajon totally lost it. He started screaming at Billy, "You're a motherf*ckin' f*ggot! You're a f*ckin' f*ggot, Billy!"
Yikes.
In a clip, you can see Rajon coming after Billy yelling once he ejected him. Then you see his teammates step in to pull him away. Check it:
Now Rajon wants to make things right (as best he can) and apologize. He took to his Twitter yesterday and said:
My actions during the game were out of frustration and emotion, period!

— Rajon Rondo (@RajonRondo) December 14, 2015 
They absolutely do not reflect my feelings toward the LGBT community. I did not mean to offend or disrespect anyone.

— Rajon Rondo (@RajonRondo) December 14, 2015
While he did explain, we noticed he didn't directly apologize to Billy. Hmph.
Following Rajon's anti-gay rant, Billy decided to come out as a gay man to encourage other men and women in sports who may struggle with their sexual orientation. Over the weekend he told Yahoo Sports,
"I am proud to be an NBA referee and I am proud to be a gay man. I am following in the footsteps of others who have self-identified in the hopes that will send a message to young men and women in sports that you must allow no one to make you feel ashamed of who you are."
NBA commissioner Adam Silver is in full support of Billy and issued a statement showing his support. He said,
"I wholeheartedly support Bill's decision to live his life proudly and openly. Throughout his 18-year career with the league, Bill has excelled as a referee because of his passion, dedication and courage. Those qualities will continue to serve him well both as a game official and as a positive influence for others. While our league has made great progress, our work continues to ensure that everyone is treated with respect and dignity."
So...about Rajon's suspension...do you think his 1-game suspension was harsh enough? Was his apology was sincere? Speak on it!
Photos: Getty/Rajon's IG