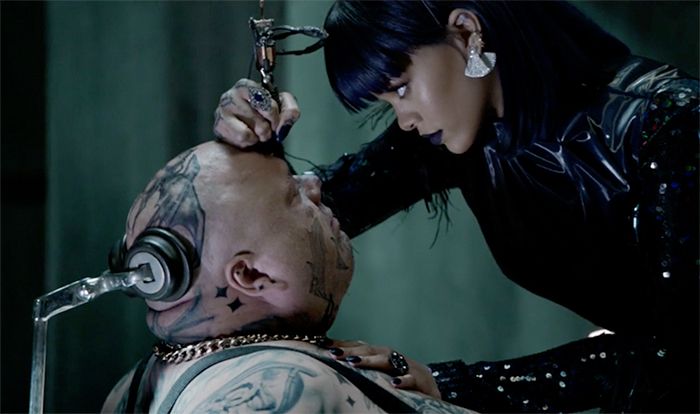 A week after opening Room 3 of ANTIdiaRy, Rihanna unlocks Room 4. Also, we have the first look at Toni Braxton's upcoming LIFETIME biopic. Check it out inside…
Are we closer to the release of Rihanna's ANTI album? We surely hope so.
The Pop princess just unlocked the 4th room in her ANTIdiaRy campaign series in partnership with Samsung. Rih has been teasing fans with the new series in anticipation of her 8th studio album. In the fourth installment, Rih is seen with a tattooing what appears to be a message in Braille on the forehead of a mysterious man. Blue paint oozes from his face and drips to the ground in the semi-gory clip.
Check it below:
What happens here lasts forever. Enter Room 4. https://t.co/fLTq2Ujh6Jhttps://t.co/xl7neQWPuf

— Samsung Mobile US (@SamsungMobileUS) December 8, 2015
Still no official date for the ANTI album, but one can only hope it will be here soon.
The "BBHMM" singer is gearing up for her ANTI World Tour with special guests The Weeknd& Big Sean for the European leg. Plus, her rumored boo Travis Scott will join her for the North American leg. Rihanna will start her world domination February 26, 2016 in San Diego at the Viejas Arena. Tickets are on sale now.
Also, Rihanna's Diamond Ball will go down tomorrow night in NYC with performances by Kevin Hart and Lionel Richie. We're sure it will be another star-studded affair for the books.
In movie news...
We told you Toni Braxton is turning her memoir Un-Break My Heart into a LIFETIME biopic.  Now, we have the first sneak peek at the young actress who will be playing the gorgeous R&B singer.
Newbie Lex Scott Davis will be playing the 90s superstar in the LIFETIME TV movie. And from the looks of it, she's accurately channeling Ms. Braxton. She looks good, let's hope she can deliver.
Here's the network's synopsis:
Based on Grammy® Award-winning singer Toni Braxton's popular memoir, Un-Break My Heart is the authorized life story of the wildly talented artist, who has fought through a severe chronic illness, financial troubles and divorce while navigating her son's autism and family struggles. Un-Break My Heart is the never-before-told story of the measures Braxton took to make herself and her family whole again, serving as an inspiration to people around the world. Braxton will executive produce the film, which begins production later this year. Un-Break My Heart is also executive produced by Craig Baumgarten (Twist of Faith), Erik Kritzer (The Runaround) and Marcus Grant, written by Susan McMartin (Mom, Two and a Half Men) and produced by Link Entertainment. Vondie Curtis Hall (Abducted: The Carlina White Story) will direct.
Here's a flick of the cast of Braxton sisters, including Tiffany Hines (Tamar Braxton, obviously), Skye P. Marshall (Towanda Braxton) and Courtney Scott Wright (Traci Braxton). No word on who is playing Trina and Mama Evelyn just yet.
Un-Break My Heart will premiere January 23, 2016 on LIFETIME.
Photos: LIFETIME