Tyra Banks is returning to TV and Trey Songz will be hitting the big screen again. Get the deets on the new show and film inside….
Tyra Banks, who celebrates a birthday today, will be returning to TV, but don't look for her to return to the "FABLife." Chick is gearing up to star in a new TV film.
A few weeks ago, the "ANTM" host announced she was leaving the low-rating ABC daytime show to focus on her cosmetics line TYRA Beauty.  Now she has signed on to reprise her role as Eve in the Disney Channel sequel, Life-Size, where she plays a real-life Barbie doll. She will also be executive producing the project which will likely air arond the Holidays in 2016.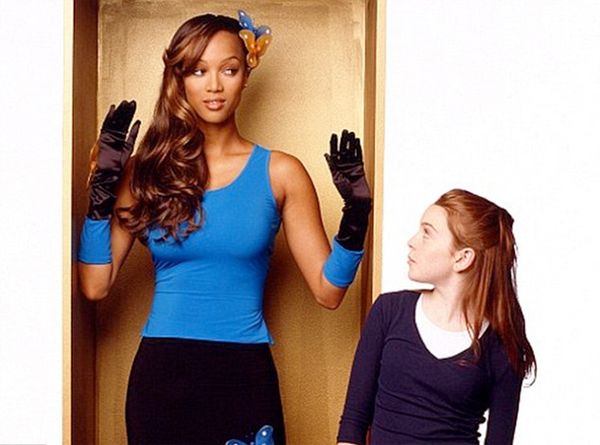 In the original flick (2000), 11-year-old Lindsey Lohan starred alongside the runway model in the family film. No word on who else may star in the sequel as production is in its early stages. Tyra dished to Variety,
"There is no one else that can play Eve but me, thank you very much!  I'm just joking with you, but yes, I am going to be Eve."
"We have not talked about casting at all, so I have no idea who is going to be the young person that will be the owner of Eve. We haven't gotten to that."
It's still unclear why Tyra abruptly left her talk show. Interestingly, the Variety article says she "majorly scaled back" her role on the talk show instead of saying she quit.  She was on the set of today's episode with Tracee Ellis Ross, but it's unclear when exactly it was taped.
Some sources say she left because they wouldn't promote her beauty line as much as she wanted. Others say she was promised more creative control and when she realized she didn't have as much control as she thought, she chucked deuces.
In a new film coming to the box office….
R&B crooner Trey Songz, who just celebrated his 31st birthday, will be flexing his acting chops on the big screen once again. After appearing in two blockbuster hits, Baggage Claim & Texas Chainsaw 3D, the "Bottoms Up" singer is gearing up to star in a new action thriller titled Brother's Blood.
Trigga is set to play a police officer who's on the hunt for a former friend terrorizing the city as he murders some of his childhood fans. Deadline reports:
Brother's Blood is set on the mean streets of a city in decay, where a recently released convict begins to take murderous revenge against his childhood friends, whom he believes let him take the fall for a crime they collectively committed. As the bodies start piling up, one of the friends (Songz), now a cop, will stop at nothing to put an end to the rampage and right the wrongs of their violent past.
Sounds like Mr. Steal Your Girl will be involved in some shoot-outs and police chases. Filming begins in January in New Orleans.
Congrats Trigga!
EXTRAS:
1. Chris Brown just dropped a cool $100K on 15 gold and diamond rings for himself and his homies who call themselves the Original Hood Bosses. Oh Breezy. STORY
Photos: Splash/Disney/Getty