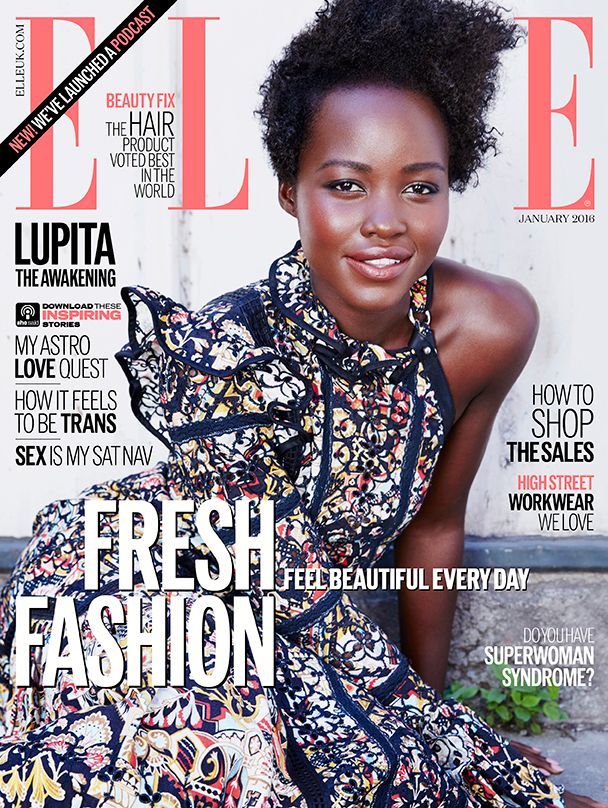 This YBF chick is ALWAYS a breath of fresh air!  Lupita Nyong'o is covering the January 2016 issue of ELLE UK.  Get all her fabness, plus her thoughts on diversity on TV & in film, inside...
She's been on the Star Wars promo trail fr a few weeks now, and she's been opening up like never before.  The Mexican-born Kenyan beauty nabbed yet another winter cover.  This time, it's for ELLE UK.
The fashion darling rocks natural curls (yes, it's likely a wig, but it is FAB) and a one shoulder Louis Vuitton multi-print dress for the breathtaking cover.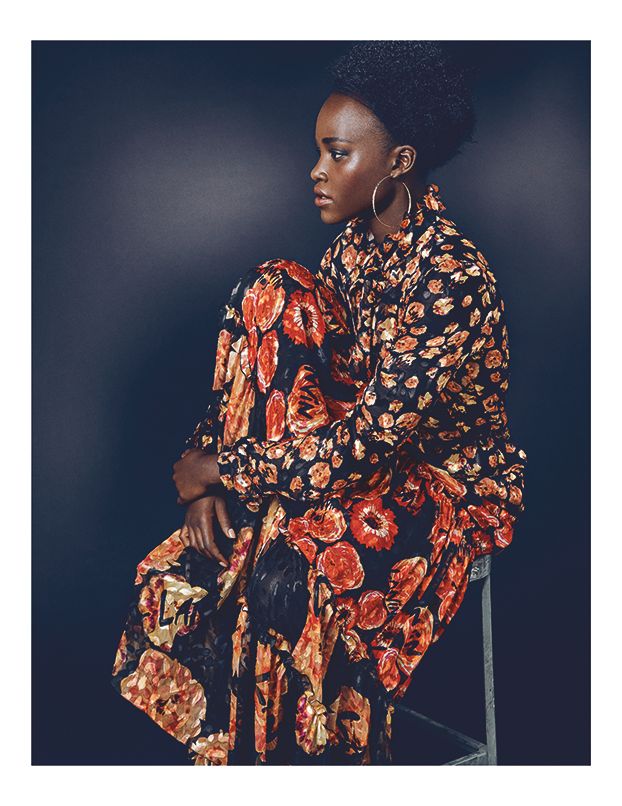 Inside, she snapped anoter photo worthy to be framed and hung inside of a museum. 
The upcoming Jungle Book and Broadway star has been busy working on her now completed Eclipsed production off Broadway, now, she's ready to be front and center again to promote her newest film Star Wars: The Force Awakens.
In the new issue of ELLE UK, Lupita gets real about why it's so important to have diversity on screen and how a lack of diversity affects the subconscious minds of children who don't necessarily fit the Western standard of beauty.  She also revealed how being marveled at simply because of her complexion created insecurities she has lived with since she was a little girl.
Here are the highlights:
Lupita on Star Wars:

'The opportunity to play a CGI character for me was the opportunity to not be limited by my physical circumstances. I could experience being bigger or smaller, something totally different to who I am. And of course it's in a galaxy far, far away.' 

Lupita on diversity:

'If you turn on the television and you are not represented on that television, you become invisible to yourself. And there was very little of myself that I saw on TV, or in the movies that I was watching, or in magazines that were lying around the salons or around the house. And so these are subconscious things. Yes, Western beauty standards are things that affect the entire world. And then what happens? You're a society that doesn't value darker skin.'

Lupita on insecurities:

'[Living in Mexico as a child] people would stop and take pictures of us just because we were black. And it was a time during that tricky adolescent phase when you're coming into yourself and you're trying to pave your own way but you're insecure about where you lie. It devastated me.'

Lupita on fame:

'I don't think being conspicuous is a state we're supposed to live in, or at least not permanently. I wish there was a dial we could turn up and down. And in a sense I can, by making very deliberate choices about what I do and when and how, and with whom.'

 
Get Lupita's full cover story -- styled by Anne Marie Curtis, and shot by Kai Z Feng -- in the new issue on stands now.
EXTRAS:
1.  A disheartening mass shooting has occurred in San Bernardino, CA.  Details are HERE.
2.  Jay Z's TIDAL names former Soundcloud exec Jeff Toeig new CEO. STORY