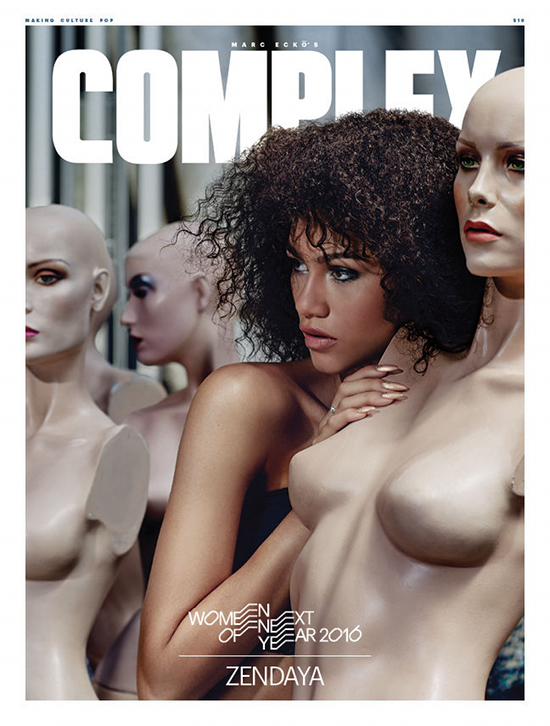 Zendaya opens up in the newest issue of COMPLEX magazine on why she decided to drop the lead role as Aaliyah in the LIFETIME biopic. Find out the real reason why she passed, why she compares herself to Tupac and more. Plus, we've got a hot new spread from Uzo Aduba in Brooklyn magazine. Get it all inside….
Disney superstar Zendaya has been crowned "Woman of Next Year" by COMPLEX. And rightfully so. The 19-year-old socially conscious beauty covers the December 2015/January 2016 issue where she opens up and reveals exactly why she decided to drop her role as Aaliyah in the LIFETIME biopic.
The wise YBF actress chatted about keeping it real as a "real model" like, as she explained, slain iconic rapper Tupac. She also dropped some gems on how to keep from falling in the "trap" most Disney kids fall into…i.e. Miley Cyrus. Chick definitely has her head on straight, which she credits to her parents.
Check out the highlights:
You almost starred in the Aaliyah biopic on Lifetime but backed out. Why?
I just didn't like the way things were going down. There were a lot of things that came to my attention that I didn't know about, about the family and production value. You just assume that things are taken care of when you step onto a project. But when you realize that things are just falling apart, you're like, "This is not what I signed up for, this is not what I thought it was. This is not what I think is worthy of her movie." It really ate me up inside. A lot of people thought that I knew that the family wasn't involved, and I didn't. I just auditioned like anyone else and got the job.
So you thought it wasn't honoring her in the right way?
Yeah, basically. I just thought that it was being rushed. I thought that there was nobody who really knew her on that project at all—literally no one. I can only know so much about someone from watching their interviews. I don't know what she was like in her kitchen talking to her mom. That would be rude of me to try to figure that out without knowing. If god forbid something were to happen to me, I wouldn't want my parents to have to deal with that. I just felt that it was inappropriate, so I didn't want to do it. You've got such a good head on your shoulders. The more I talk to you I'm like, I didn't know shit at your age. Everybody says that who talks to me. And honestly I don't know why I'm so deep. I don't know! Everybody says I'm like 19 going on 80, honest to god.
Do you actively think about being a role model?
Of course. I think it's a responsibility, but like Tupac Shakur, I'm a real model. Which means: I'm not pretending to be something that I'm not, because like he said, people are going to be disappointed when they find out who you are, because it's not going to be what you presented to the world. So just keep it real. I'm a good kid and that's all.
What are your thoughts on some of the Disney graduates, like Miley Cyrus? Because she went in completely the opposite direction.
I think again it's that real model, role model thing. A lot of them were forced into being role models and they had to pretend to be something that they didn't feel matched up with who they were. And that's because they started really, really young. So you've got to realize when you're really young you don't know who you are yet. And as soon as you figure it out, you've already been forced to become something that you didn't really know you signed up for. So it's like, I get it. There's a lot of pressure, so I completely understand. Everyone has their different ways of learning and growing and finding out who they are, and you can't fault people for that. Again, I think with all the prior Disney stars, at least you can say they are themselves now.
Do you think you'll have a Miley moment?
No. That's why I said, in order to avoid those problems just be yourself from the beginning and be honest with the world, because that's the only thing you can do. There will be no surprises.
You wore dreadlocks to the Oscars and Giuliana Rancic said that you looked like you smell like patchouli oil or weed. You responded on Instagram, writing that Rancic's remarks were "ignorant slurs" and "outrageously offensive." What's the response been since you called her out?
Honestly, only positive. It was a learning experience for myself and for everyone who read it. A lot of people don't realize that hair is a big thing for a lot of people, not just African-American women. It's something to be aware of and to be cautious of. So it was something that I really felt like I should speak on. There were so many women, of all races, that came up to me and were like, "I really love what you said," or "I had my daughter read that."
All my brothers and my dad at one point had dreadlocks. My little nieces have curly hair. And if they were to have someone say something demeaning about what they have and what they hold dear to them, then I would want them to at least have the pride within themselves to come up with a response that made sense and that they were proud of. Honestly, I think about my little nieces and my little nephews first. Because one day they're going to have Twitter and they're going to have Instagram, and I'm going to be like, "This is how you handle it, kids."
Another girl who comes to mind, because I think you guys are pretty similar, is Amandla Stenberg. I know you're friends.
Oh yeah, she's the bomb. Freaking Amandla, who's so smart and so wise. She's just a great young person who's trying to not only be aware of her surroundings, but also speak on it, which is really, really cool. There's a lot of really good stuff happening. Yara Shahidi, who's on Black-ish is so freaking cute and gorgeous.

 
YAS! Love her.
Peep the extra hot shots: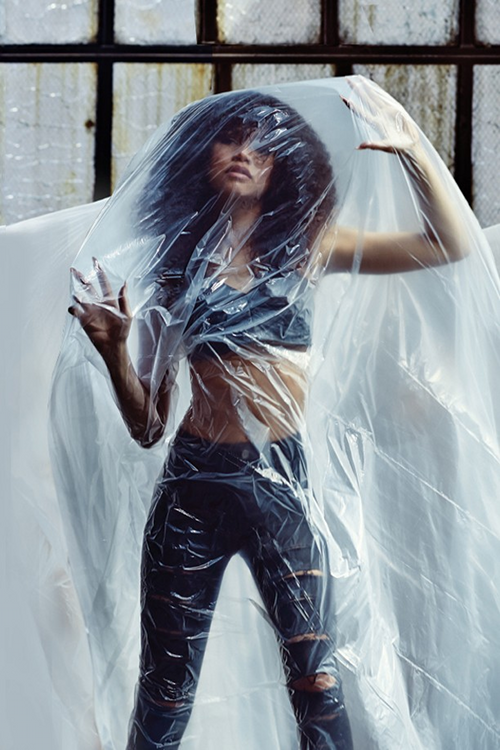 Slay 'Daya!
And peep more of her fabulousness in a behind-the-scenes clip below:
On another magazine front...
Two-time EMMY winner Uzo Aduba is serving up gorgeousness on the cover and inside the newest Brooklyn magazine issue. And we're obsessed with her look and the soft nude theme on her flawless brown skin.
In the interview the "Orange Is The New Black" starlet dished on how she almost quit acting, but how the Netflix original series totally changed her life, jumpstarting her career and catapulting her in the limelight.
And excerpt from the interview reads:
Indeed, it makes sense that the themes of compassion and care come up again and again when thinking about Aduba, because at the core of Aduba's artistry, there's a strong sense of love and empathy—and gratitude. "I want to tell the stories I've been missing," Aduba says. "I'm interested in portraying and representing people that are missing from the portrait of our lives. I meet and see people from all walks of life, and I wonder why they're missing from the framework of storytelling and the framework of our narratives."
You can read the rest of her interview here. In meantime, check out her chic spread below: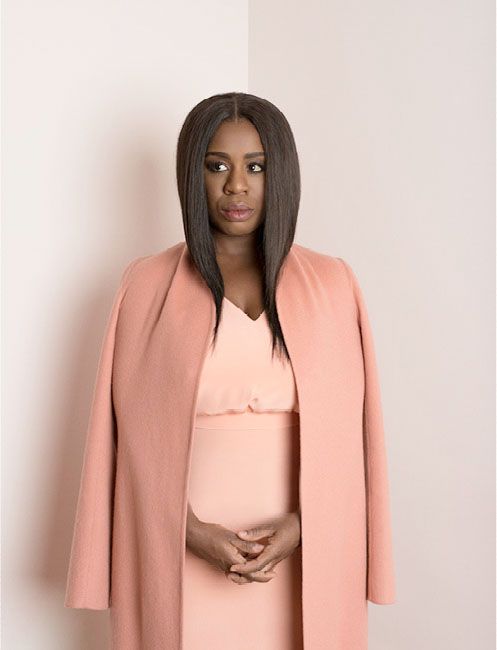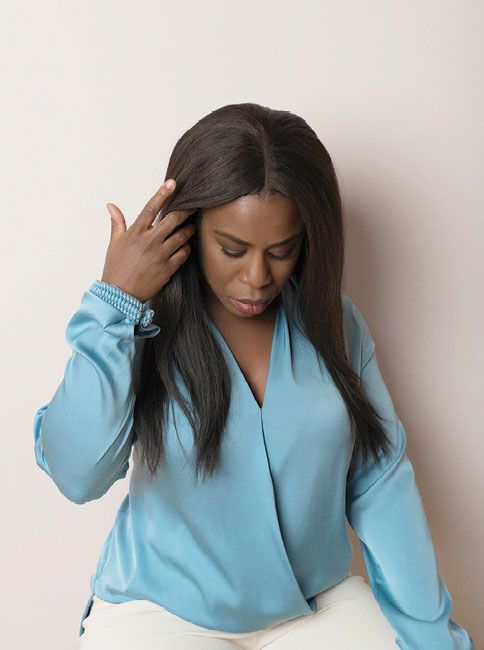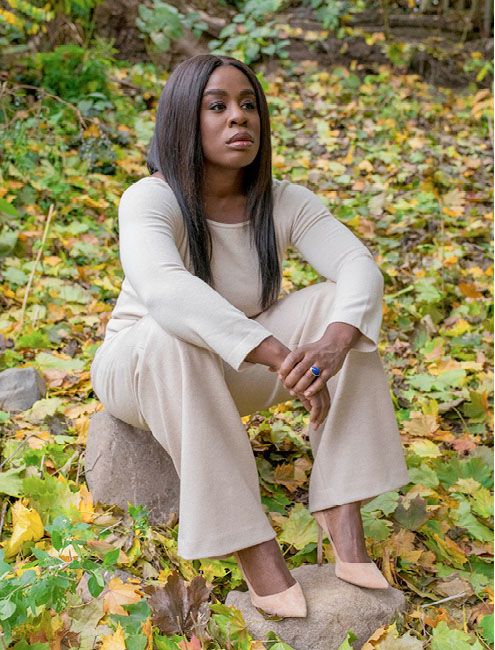 Gorge. 
Photos: COMPLEX/Brooklyn Magazine