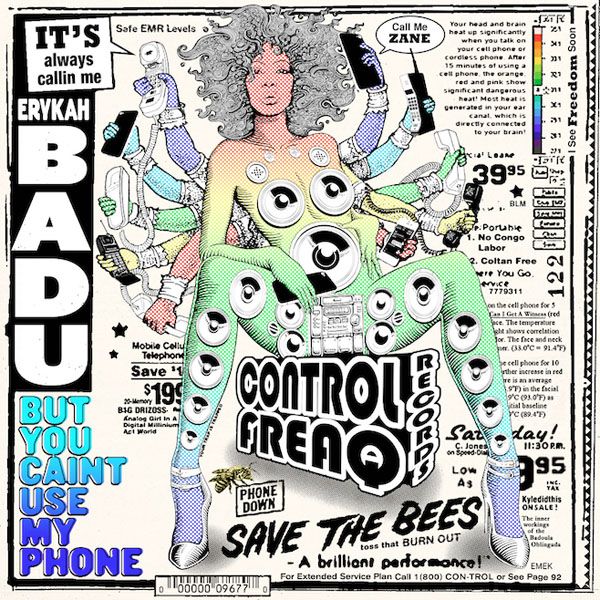 Erykah Badu has gifted her fans with a new mixtape for Black Friday and she joined forces with her baby daddy Andre 3000 and Drake for the musical project. Deets inside…
Erykah Badu is striking while the iron's hot after releasing her "Hotline Bling" remix joining forces with her baby daddy Andre 3000 on a new track titled "Hello." Instead of rapping, 3 Stacks is flexing his vocals with Erykah on the chorus and they sound amazing! Check it above.
The new track appears on the Soulful songstress' brand new mixtape titled, But You Caint Use My Phone, the follow-up to her 2010 New Amerykah Part Two: Return of the Ankh LP. The mixtape title is a reference to hit 1997 track "Tyrone," a favorite around these parts.
There's another special guest appearance on the new mixtape. Drake drops a few bars on "U Use to Call Me" and "What's Your Phone Number," following Erykah's remix to his hit track "Hotline Bling." So naturally, Drizzy would make an appearance.
Each song's title on the mixtape makes a reference to telephones and "our own reliance on staying inter-connected," according to a press release. Erykah's "Hotline Bling" remix is also on the mixtape titled "Cel U Lar Device" and her recently released track "Phone Down." According to Rolling Stone, Erykah hopped in the studio with producer Zach Witnessin to create a project filled with, which she has dubbed, "TRap&B" after her remix started gaining momentum. She wrote and recorded the entire project in 12 days. Nice.
Below is the full 11-track tracklist:
1. Caint Use My Phone Suite
2. Hi
3. Cell U Lar Device
4. Phone Down
5. U Use To Call Me feat. Drake
6. Mr. Telephone Man
7. U Don't Have To Call
8. Whats Yo Phone Number feat Drake / Telephone (Ghost of Screw Mix)
9. Dial'afreaq
10. I'll Call U Back
11. Hello feat. Andre 3000
You can download But You Caint Use My Phone exclusively via iTunes for one week, with streaming at Apple Music. If you don't have Apple Music, you can stream it here. Fans can download the entire project for a full release on December 4th.
Photo: Erykah's Twitter