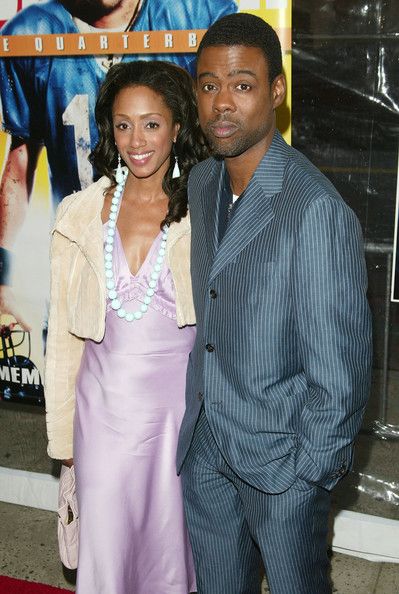 After Chris Rock revealed he hadn't seen -- in almost a year -- the youngest child who has been living in his household, eyebrows were raised.  Find out what the current custody situation is between Chris and estranged wife Malaak Rock as Malaak speaks up...
News about a child living with Chris and Malaak illegally hit the net this week once Chris filed custody docs questioning how Malaak brought the South African-born little girl into their home.  Seven-year-old Ntombi came to live with The Rocks right before her first birthday, and she's been raised as their third daughter ever since, this according to Malaak.
Around the same time as divorce docs were filed, South African officials opened an investigation to determine how the child went from their country to the U.S., when there was no evidence of a legal adoption.

As for why he went radio silent with Ntombi ... sources connected to Chris say he never signed legal docs to adopt her, and bringing her over to the U.S. was all Malaak's doing.
Now, Malaak is popping back.  And she's telling Chris he needs to pay child support for Ntombi and not try to get out of doing so.  He only claimed to have two children (their biological daughters) in his divorce docs.  Oh, and she has words about why she definitely needs spousal support as well.
People.com says:
...the pair continue to hash out the details of their divorce in court – including whether the comedian should support a child who, Malaak says in a new statement to PEOPLE, was raised as their own for years and was "cherished and adored."
The statement reads:
"Although Chris Rock is a celebrity, Malaak and the children are not. Protecting the privacy of her family remains of utmost importance to Malaak. She is saddened by recent tabloid media reports which are full of erroneous speculation and inaccuracies that are hurtful to three innocent young girls. While the adoption by Malaak is not yet finalized, it is actively in process under the rigorous guidelines and safeguards of international adoption policy. The child is in the country lawfully with the written consent of her birth parents, and while here, has been cherished and adored by the entire Rock family."
Then, there's this:
Compton-Rock also stated that the girl "has been raised by the parties as a member of the family and has been solely supported by the parties. She also stated that she continues to be the girl's primary caregiver.
In other words, you helped me raise this child as ours, so pay up.
As for spousal support, Chris says Malaak has the ability to work so he shouldn't have to pay her anything.  Malaak ain't having that.
People.com reveals:
In his original filing Rock states that his estranged wife "has the ability to work and contribute to her own support, as well as the support and other financial needs of the children."

However, in Compton-Rock's counterclaim, she states that she and the children were "fully supported financially by the Plaintiff [Rock] throughout the marriage. Defendant, with Plaintiff's support and encouragement, was a stay at home mother raising the parties' children and otherwise devoted her time to charitable and philanthropic endeavors."

She is requesting that Rock continue to support her and the kids "commensurate with the marital standard of living."
This is getting messy.  The estranged couple have a tentative custody trial set for next year.
Photo: Getty