Tracy Morgan opens up in a candid interview with GQ where he talks about his 2nd chance at life, dealing drugs in the past, how comedy saved his life and much more. Read the highlights and get the deets on Serena Williams mourning the death of a good friend inside….
After almost losing his life in fatal automobile accident on the New Jersey Turnpike over a year ago, funnyman Tracy Morgan is ready to get back to his first love and what he credits for saving his life: Comedy.
In a very emotional and candid interview, the 47-year-old comedian talks to GQ magazine inside of his brand-new $14 million house about everything he has been through since that unexpected night that took the life of his close friend and comedian James "Jimmy Mack" McNair.
Since the accident, Walmart stepped up and took full responsibility and agreed to pay Tracy an undisclosed amount to settle. ("Let's just say Walmart stepped up, for me and for Jimmy's kids, and I'm very happy.")
It has been a very long road to recovery, but thanks to his new wife Megan Wollover, his daughter Maven Morgan, comedy and "people who care," Tracy is ready to make his triumphant return. And BRING it like never before.
With his new lease on life, the former 30 Rock comedian opens up his drug dealing past and how grateful he is to have another chance at life. As he talks about his ordeal he ends up getting super emotional which almost had us in tears just reading it. But, he wouldn't be Tracy if he didn't have a few laughable moments sprinkled in between….like when he talked about getting his wife pregnant again. Ha!
Below are a few highlights from his honest interview:
GQ: So, how are you?
I'm here. There's a gift that God gave me to get me through all the ups and the downs in my life, and this tragic accident and all that. I've made people laugh along the way while I've recovered—little giggles, big laughs, outburst laughs—because that's my nature.
Did you learn something in the recovery process that hadn't occurred to you before?
Yeah: People care. People care a lot, that's what I learned. People care. There's so much negativity in the world that sometimes you feel like you could give up, and I had people who took care of me after the accident, and they never let me go. I feel it nowadays when I'm in the streets, when people say, "We love you. We miss you. We pray for you. We are so thankful that you're on your feet."
After days in a coma, what's the first thing you remember when you came out?
I don't remember none of that stuff.…
Nothing at all?
No, you don't want to. My brain doctors all say, "You don't want to remember that." It's something in your brain that is protecting you.
Your wife, Megan, made a mix that she played for you when you were in the coma—what was on it?
Everything. A lot of old-school R&B. "Do the Hustle." She said in my coma I did the hustle all night long with no bullshit going on, just the hustle all night long. It was all the music that I loved to listen to: Sly and the Family Stone; Michael Jackson, because I'm the biggest Michael Jackson fan; Prince, I'm the biggest Prince fan; Stephanie Mills; old-school hip-hop. She put the O'Jays on, and it just kept playing for two weeks straight. She's trying to bring her man back, to come home, and one day I came home.
And now you're married.
I've got a dime. Oh yeah, she's a dime, my wife is gorgeous, fucking dime piece. A million women in the world can't fuck with that—she ain't five pennies and a nickel, she ain't ten pennies. She's a fucking dime! And I know it. I've got a fetish for my wife. When I leave here, I'll go on and get her pregnant. You know me: I'm old-school. I don't use no rubbers, and I don't pull out. "Tracy, stop, pull out!" I said who, what, when, where, why, for…whoops! Now my daughter's here. Life is good, God is great. Can't turn that funny off, it is what it is.
When you first came out…
I wasn't in a good place. I didn't get into a good place until maybe ten months later. I started to remember and think and all of that stuff. They taught me how to walk again, and stand up and sit up again, and it was really painful for a long time. I did therapists, did cognitive what do they call it? Did cognitive therapy. Still doing it.… That therapy, the psychiatrist had to keep going back to see me. People look at you like you…excuse me… [He gets emotional.]
Yeah, no, it's scary....
I'm here. And—always been spiritual. Physical death is so permanent, so final, but when we are on a spiritual level, that means we transcend. Yoko Ono said it best when John Lennon died. She allowed herself to grieve. Grieve. Grieve a few months. I don't feel sorry for Jimmy. Jimmy was a good man—I know he home. We still dealing with this shit down here. Jimmy's home. Jimmy's with us. He wasn't a sorry person. He was a good man, I know he with God, I don't even worry about that.
But how did it become a thing, your profession? Because you were dealing, too, right?
Drugs. Say it. That's what I did, it was part of my life.
Were you a bad drug dealer?
Yeah.
Why?
I wasn't willing to go that far.
To the violent part of it?
I would rather have been ridiculed. But all the kids in my neighborhood were selling drugs. I'm part of the '80s generation, the lost generation. We dealt with crack, AIDS—so our generation is wiped out. Because of that, it was so easy, so accessible, everybody making tons of money off of it, and little did we know we destroyed our own community.
But you weren't afraid, going from the streets to the stage?
By the time I got to the workshop, I had a wife and kids. I got fired from every shitty job in New York, so I could joke about all that shit. I had no time to be afraid. I let other people be afraid.
But still, there must have been…
Look, I did all this shit without a GED. I loved dropping out of school. I dropped out of high school with four credits to go. I loved that shit. I wish I could go back and drop out again. I love it when a plan works, because everybody says, "You ain't going to be shit." Now look at me. I loved dropping out of high school. I might have been stuck in some fucked-up job. And I'm not lifting no heavy boxes for no-fucking-body! Fuck you, FedEx, and your fucking heavy boxes. Feel my hands, Mike! See how soft they are? You know why? Because all I do is count money and touch bitches. I'm just joking! I've been making people laugh my whole life. It's second nature.
Will the comedy be different?
I think it will be deeper, I think it is going to be funnier—but who knows? I want to see the funny for myself—let's check it out. Take it out for a test-drive. I'm going to take my sense of humor to the next level, my life. But right now, that's all I look forward to: that first laughter. Will Ferrell told me, "You know how much a polar bear weighs? Enough to break the ice." See, that's good. Break the ice, then buckle up, and let's enjoy the fucking ride. Buckle up, kids, it's about to get wild and woolly! I faced death and all that shit. It's my responsibility to come back and come back strong. It's going to take more than a Walmart truck to take that gift away. I can't wait to make you all laugh. Especially you, Mike. And I already did that today. So all is good.
You can read his full interview here. 
Check out a behind-the-scenes clip from the photoshoot below:
Whew! We love how Tracy can still find the funny even in the midst of his troubles. We wish him the best and can't wait until he makes his official return to comedy.
In sad news...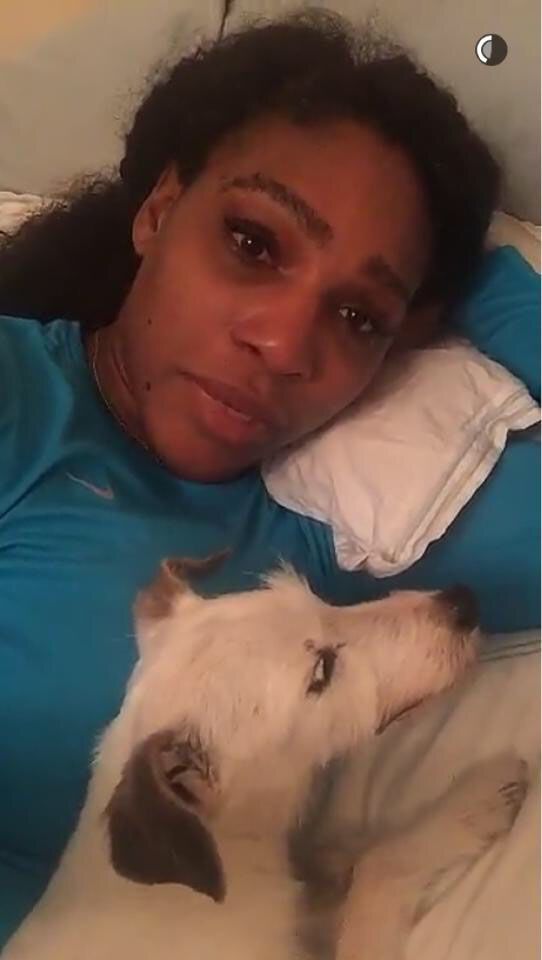 Tennis champion Serena Williams is mourning the death of a lifelong friend, her dog Jackie whom she had since she was 17.
The 34-year-old tennis superstar posted up a series of SnapChat videos yesterday crying while her pup Jackie laid beside her barely holding on. Unfortunately, little Jackie didn't make it. She then had to hop on a flight to Denmark while mourning the death of her precious pup. She posted a tribute to her fur baby on Instagram saying: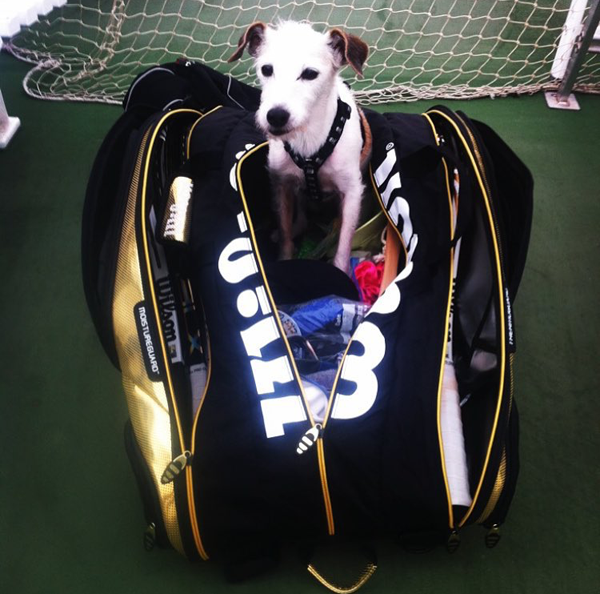 Aww. Our thoughts are with you 'Rena!
Photos: GQ/Serena's Snap & IG