We love a good sneak peek into the off camera lives of celebs.  We've got Kimora Lee Simmons explaining sex education to her teen daughter Ming Lee, Ayesha & Steph Curry being the cutest couple ever on the 'Gram....and Twitter, plus Tamar Braxton gives another update on her health and reconnects with her co-hosts.
When your mom stays on "extra" status, and has an impromptu sex education lesson to share, here's what that may look like.
15-Year-Old Ming Lee Simmons posted this IG video of her mom hilariously schooling Ming and her friends on safe sex.  Kimora tells them not to "pop their coochie like a rubber band" and to WRAP IT UP...all while holding up the Saran Wrap.  Ha!
Hey...you gotta be real with kids these days.
Speaking of keeping it real:
Warriors baller and NBA champ Steph Curry and his wife are back on the 'gram with Dub Smash.  This time they posted a super cute video of a play fight with the voice of tiny tots. 
If that doesn't make you fall in love with them, peep what Mrs. Curry slips in sometimes on Twitter.  We're not sure how this flew under the radar, but she's not always the Goody Goody folks may think she is: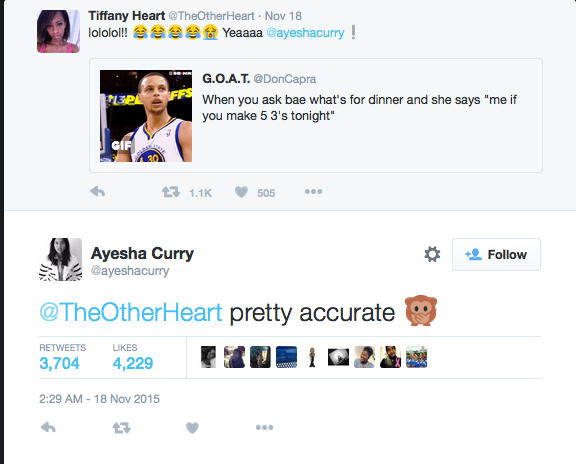 Yasssss get it!
And this one's not quite a home video, but it's a phone call from home.  Tamar Braxton's home:
Now that Tay Tay is out of the hospital and recovering at home from a major health situation, she called in to "The Real" for today's show to give her co-hosts an update.  Her good friend Tamera Mowry Housley seemingly teared up and the girls all gushed about how much they missed Tamar.  Sweet!
Check it above.
EXTRAS:
1.  Pepsi paid $20 mill for a 3-episode arc on "Empire."  That commercial Jussie Smollett shot on the show as Jamal...will air in real life too!  STORY
2.  Rihanna just launched an AntidiaRy mobile experience. STORY
Photos: Instagram