Kayne West and LaLa Anthony were spotted at the latest NY Knicks game against the Heat. See their pics inside as well as Kanye's recently released video for "Lost in the World" off the My Beautiful Dark Twisted Fantasy disc.  Also see Blake Griffin and DeAndre Jordan kick it in LA and another pic of Baby Bosh!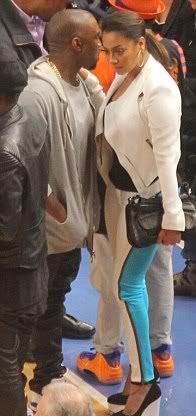 LaLa Anthony (who appeared on the "TODAY" show this morning) and Kanye West were among the celebs who watched the NY Knicks lose to the Miami Heat last night (87-70).
Kanye sat next to Ben Stiller as he "likely" compared the Knick City Dancers to the assets of lady friend Kim K.
Also, Kanye has released a video for "Lost in the World" which he shot with filmmaker Ruth Hogben.  The video breaks the boundaries of popular rap aesthetics while still celebrating the extraordinary talent that has made Kanye West a modern icon.  Watch it here:
And in Miami.......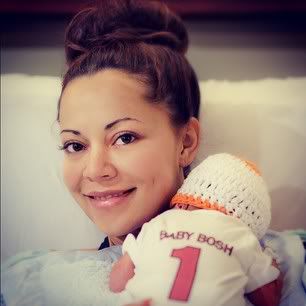 New mom Adrienne Bosh recently revealed a photo of her first child Baby Bosh with Miami Heat star Chris Bosh. 
And in LA......
Blake Griffin and his Clippers teammate DeAndre Jordan spent time together at the Century City mall in Santa Monica.
The pair was winding down after a lost to the Grizzlies (105-98).
BONUS:
NBA analyst Shaq aired a funny segment during a recent post-game show of girlfriend Hoopz doing backflips off his tummy!
EXTRAS:
1.  47-year-old Beastie Boys rapper Adam "MCA" Yauch has died after a long battle with cancer.  STORY