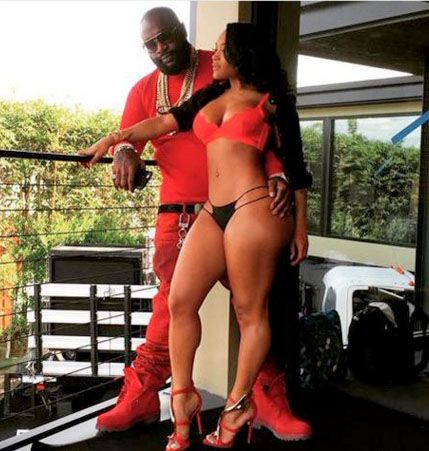 Two months after proposing with a huge diamond ring, new reports suggest Rick Ross and Lira Galore have called off their engagement just days after he's taken off house arrest. Deets inside…
Well…that certainly was a fast engagement if these new rumors have any truth to them. Rick Ross and his booty model chick Lira Galore have called it quits? That's what's going around the rumor mill.
Sources are telling TMZ that Rozay and Lira have called off their engagement after a huge fight. The MMG honcho popped the question to Lira (whom he affectionately calls Young Coco) back in September.
While it's unclear what the disagreement was about, Lira supposedly packed her ish and moved out of Ricky's mansion in Georgia.
Oh…and get this. On Friday, a judge took Rozay off of house arrest deeming the home confinement wasn't necessary since the alleged victim didn't live near him. You'll recall, Ricky has been on house arrest in the midst of his pistol-whipping case. He still has to notify a judge when he leaves the state, but he can pretty much travel with more wiggle room. Hmph. Interesting they allegedly break up right after he's off house arrest.
It was all good a few days ago (IF true):
And they just shot the visuals to his hit single "Sorry" (featuring Chris Brown) where Lira is a leading lady.
We've noticed Lira's SnapChat and IG has been plenty dry in the last day or so. She did hop on her Twitter today to clap back at rumors that she was dating her "bestie" Amber Rose's ex-Wiz Khalifa:
I NEVER even met Wiz Khalifa EVER Amber is 1 of my best friends & Ross has my Please stop with the fake stories & let me B happy Thx smh

— Lira Mercer (@Lira_Galore) November 3, 2015
No mention of the current status of her engagement though.
Meanwhile, Ricky has been posting videos on Snap having fun with his homies and promoting his new album on Instagram..
Speaking of his new album...
The MMG honcho has officially announced the release date of his newest album, the follow-up to his 2014 LP Mastermind. Rozay fans can expect his eighth studio album Black Market to drop December 4th just in time to stuff in a stocking for Christmas.
Photos: Ricky's Snap/Lira's Snap