Zendaya is slaying the newest cover of FLARE magazine where she talks about her evolving style, feminism and being a "real" model. Come inside for the interview highlights and fabulous spread….
Zendaya is a chick who walks in her own truth and it's just one of the many reason we're obsessed with the YBF starlet. The high school graduate wears many hats, including actress, singer, dancer AND fashionista. In fact, her trendy fashions and eclectic style choices have sparked controversyand praise from all over. And now, she's dishing the deets on why she switches her look at the drop of a dime.
For FLARE magazine's December 2015 issue, 'Daya (as we like to call her) strikes a signature model pose in a Marc Jacobs dress and boots, Kenneth Jay lane earrings, and jewelry from Jennifer Fisher. She serves the perfect amount of sass and girl power for the cover.
Inside, the 19-year-old opens up about why she chooses to wear certain pieces, why it's important to keep her style evolving and the effect she seeks from her fans when she wear certain pieces. She told the magazine,
"A big reason I play with beauty and hair is that it's important to show different kinds of beauty when I'm on the red carpet. I don't want to be just one-dimensional or relatable to one type of person. I want a different woman to be like, That's like me! That's like my hair! or That's so my style! If I went out there and was just like, pretty, all the time, doing the same thing, it can be cool, but you're also catering to one type of person, and what about all those other kinds of beautiful out there?"
Zendaya is no stranger to speaking her mind, but she does so in the most eloquent way possible. She will fiercly put a person or company in their place (she had to check a magazine for altering her pics recently) as she stands up for black women everywhere. When asked about what feminism means, she shared her thoughts saying,
"A feminist is a person who believes in the power of women just as much as they believe in the power of anyone else. It's equality, it's fairness, and I think it's a great thing to be a part of."
We've always been a fan of Zendaya since she first popped up on the scene. Along with us, she has tons of fans (30 million on her social media accounts collectively) who adore her, many of them who are pre-teens and teens. And she's well aware of her audience. Unlike some celebs, she doesn't mind being a template for other young kids to look up to…just don't call her a role model, she's a "real" model. She explains,
"In the words of Tupac Shakur: I am a real model because I'm not playing a role and I'm not pretending to be some good kid that's perfect," she says. "It just happens that I'm a good kid, and I don't do bad stuff and I like to be positive because that's just how I was raised. I think if I were faking it, then you would've seen me break character a long time ago."
Loves it.
Check out the rest of her spread below: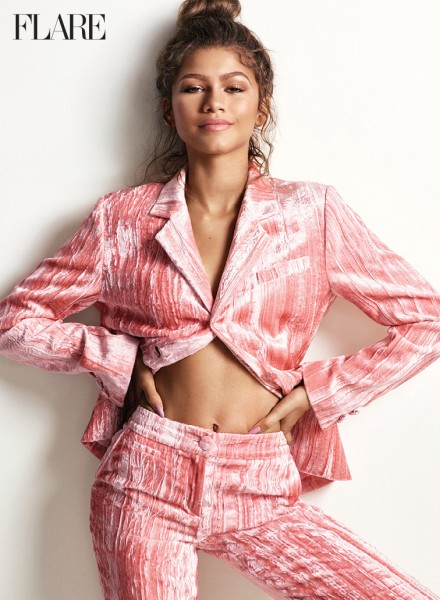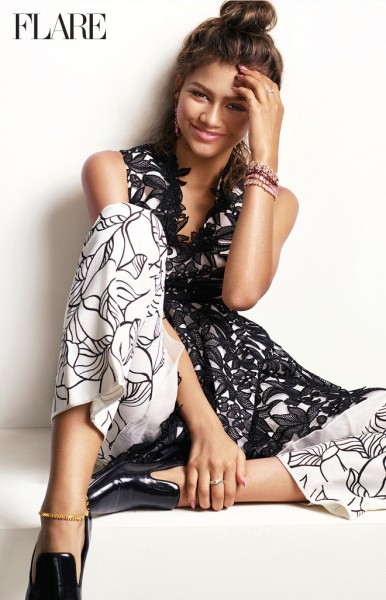 Gorge.
Peep this behind the scenes clip of Zendaya on the set of her shoot below:
Photos: Nino Muñoz/FLARE magazine