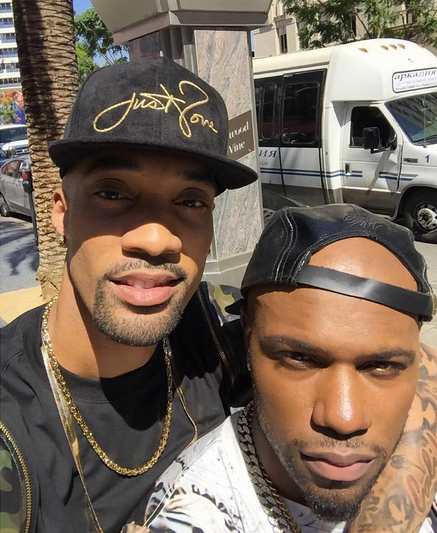 Reality stars Miles Brock and Milan Christopher aren't playing nice...so Miles landed in jail after a huge blowout. Deets inside….
It appears "Love & Hip Hop Hollywood" couple Miles Brock and Milan Christopher aren't a couple any more…at least for now. And their disagreements have landed one of them behind bars.
According to TMZ, Miles was arrested Halloween night after allegedly attacking him the day before. Milan claims on Friday he and Miles bumped into each other at a party. Apparently there was some bad blood between the two because they began arguing. Milan claims Miles got so upset that went to the police to file a police report.
The next day, Milan spotted Miles in Times Square (was he following him? how does one just "spot" someone in busy ass Times Square?) and flagged down a cop where he was arrested for assault. Sighs…
Sad it came to this, because it was all good two weeks ago when they appeared on the "Wendy Williams Show" together:
The timing of it all just seems very coincidental being that Miles was on Power 105's The Breakfast Club this morning. We realize the interview was taped earlier, but it's very interesting that it aired this morning around the same time news broke about his arrest.
Anywho, Miles (aka Siir Brock) sat down to chop it up with the radio hosts where he talked about why he thinks homosexuality will never be accepted in the Hip Hop community, why he decided to come out to his ex-girlfriend on national TV and dished details on his first gay experience.
During the interview, Miles also talked about his rollercoaster relationship with his on-again off-again boyfriend Milan. He (and his sister) said Milan seems to be very thirsty for attention. When asked if they were still together, Miles said, "Umm..we going through...You know how reality TV shows do to relationships."
He said he NEVER cheated on Milan, but said fame has changed him.
Check it:
In other news...
Remember the boxer from Philly named Yusaf Mack who said he was drugged before starring in a gay porn video with two men? Well, he's backtracking now, likely after it was reported the the adult film company would sue him.
In an open letter/state, Yusaf reveals he was never drugged and that he was fully aware of everything he was doing.  So, he lied.
In fact, the father of 10 admits he's bisexual and then apologizes for living a double life. When we first reported the story, it was reported he was set to be married to a woman.  But in his open letter, he addresses her as his ex-fiancee, so it doesn't appear he'll be marrying her after all.  Shocker.
Read his full statement below:
"This is an issued public apology from my heart. I want to address a few situations with the first being the false claims I made about being drugged during the Dog Pound adult film. I have never spoke negatively about the company that produced the film although the claim to have been given a drug by someone during set was a lie. I was completely aware and fully conscious during the film.

The second situation, which further explain the first, concerns my lifestyle. I did participate in the adult film because at the time I needed money but also because I am a bisexual man. Meaning I enjoy safely being intimate with whomever I choose.

Lastly I would like to address the reason I lied. My life was completely destroyed once it had been outed that I participated in a gay film. I selfishly tried to cover the truth and remain in denial, rather than accept the fact that I was leading a double life secretly.

After reflecting on the mess I had made I realized that I hurt a lot of my loved ones and the people, my fam, fans, I cared about the most were left disappointed and confused. It was unfair and time to come clean. I want to say sorry to my children and my ex fiancé, I am so sorry that I was a coward and hid a huge part of my life from you all. To the ones that were once my friends and now feel disgust, I'm sorry, but this is my life. I'm not looking for sympathy or even understanding, I've kept this secret for a long time. It is time to move forward and this is me walking in my truth.

There are other men and women that are set up in the similar situations and I just hope I can be inspiration to be just be you. The extreme taboo and harsh criticism of living a same sex lifestyle, especially as an African American male, makes it hard to be completely honest and comfortable within yourself. But I had to remember that I am a champ & I can fight and will fight through this. I am more than my sexual orientation. To all of my supporters I thank you dearly. For all other media outlets please contact my consultant Anthony Cherry."
Well there you have it.
Photo: Miles' IG