Actor Harold Perrineau has penned an open letter, begging internet trolls to stop slamming his biracial daughter over her casting in the upcoming film Jem and the Holograms.  Read it inside....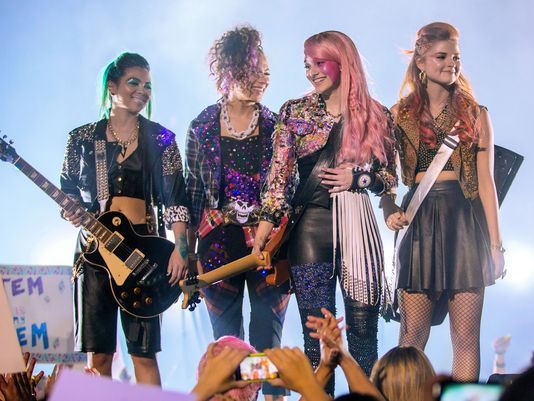 Black actors can't win.  Some are "too" black.  Some are not black enough.  Or in the case of John Boyega, who is starring in the new Star Wars trailer, folks are mad that a black actor landed "that" type of role in the first place.  Now, there's a new controversy....involving a cartoon turned live action movie. 
Back in the 80s, there was a fun little cartoon named  "Jem and the Holograms." Jem was a bad chick.  She had pink hair, magic earrings, a talking car, a bad ass boyfriend AND she fought crime and solved mysteries.  She was the Rihanna of the 80s.  And to top it off....she had a black best friend named Shana.  Shana was a brown-skinned YBF chick who rocked purple hair.....long before Nicki Minaj or Lil Kim. And dare we say it.....she rocked her purple hair "natural."  No perm, no weave, no processing. 
Shana set trends in 1985. And she was good on the dums.  Saturday mornings....we lived for a Shana drum solo.  Respect the queen!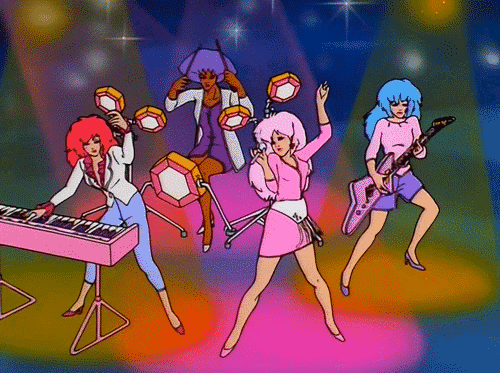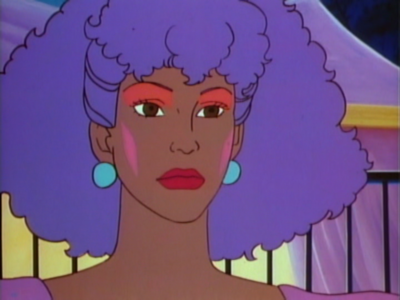 Now it's 2015 and let's be honest....Hollywood loves women of color, especially when they are racially ambiguous. That fact has its pros and cons. Get into the cast photo atop.  Could you easily spot Shana?   Hell no.  The Internet (including us) took notice and went in......
Now, actor Harold Perrineau (Best Man, Lost), the father of Aurora Perrineau, (the new Shana) is defending her casting against folks saying she isn't Black enough.  We're not hating on Aurora....but damn.  One of the main reasons YBF kids (like we used to be) LOVED Shanna was because she looked so much like us with an edge we could only fantasize about.  Nevertheless......she did audition, she did earn the role and folks need to stop dragging her.  Her dad told The Wrap,
"The reason I'm so angry right now (and I'm sure that many people will be able to understand this) is that I feel like my daughter — MY CHILD — is being attacked. She is being harshly and unfairly judged during a time when she should be relishing her accomplishments. You see my daughter, Aurora Perrineau, decided to become an actor like her old man.

And while I know the many pitfalls that she may encounter, my wife and I have tried to shield her as much as we can. We've taught her to work hard and to respect her gifts by training and making her art important to her. We've taught her to respect herself and others. The road of the artist is long and arduous.

When she was cast in the film "Jem and the Holograms," something she worked extremely hard on, she suddenly became the target of a lot of people's anger. Aurora is the product of a Caucasian mother and a black father and is therefore not qualified or not "black" enough to play a black character from an animated series, according to some people. Her blackness or lack thereof is so offensive to some that they've written articles about it. They've gone onto social media and spewed their vitriol directly at her. Some went so far as to suggest that she "kill herself" for taking the role. All, without ever seeing her work in the role. All this anger based solely on the color of her skin.


Dr. King's "I have a dream" speech continues to play in my head. "I have a dream that my four little children will one day grow up in a nation where they will not be judged by the color of their skin, but by the content of their character." Guess that day still has not come.
As you can guess, this all makes me pretty F*#%#n mad but, now I can see pretty far beyond my face. I can see a much bigger picture and it leads me to ask myself: "What is it I want to create here?"


I create for a living and that's my sword against injustice. How am I going to use that sword in this instance? Do I create more division by arguing with people that have the same problems as I do? Arguing that my daughter is "black enough?" Well … That seems silly to me."
Feel free to read his entire letter here. 
Again.....we don't want to throw Aurora under the bus, but it's sorta like  (don't kill us) casting Zoe Saldana as Nina Simone.  We're happy that a woman of color is winning tho...
Thoughts?
Photos via Getty