Jaden Smith's older girlfriend Sarah Synder has a trashy persona.  So THIS is who Jaden chooses as his girlfriend? Sighs…
More deets inside….
17-year-old Jaden Smith may need to be sat down by his parents (or someone he respects) to talk to him about his taste in women. We told you a few weeks ago that he has a new girlfriend, a 19 (possibly 21)-year-old named Sarah Snyder. The twosome seem madly in "puppy" love, getting kissy on the front row during a show at NYFW and being spotted getting cozy with one another around NYC together. But, it appears this Sarah isn't the "ideal" girlfriend.
We told you previously the chick was reportedly arrested for allegedly stealing a $16,000 Hermes bag from a high-end boutique in Katonah, New York back in February of this year. She was arrested in June of this year for the theft and we showed you her mugshot. She's reportedly facing one count of third-degree grand larceny, a class D felony.
Now….fast forward to this week when the chick got a t-shirt made with her mugshot on the front. But get this, she decides to WEAR the shirt to a court appearance in connection with the Hermes bag theft! She showed up at a courthouse in Bedford, New York on Wednesday looking like this: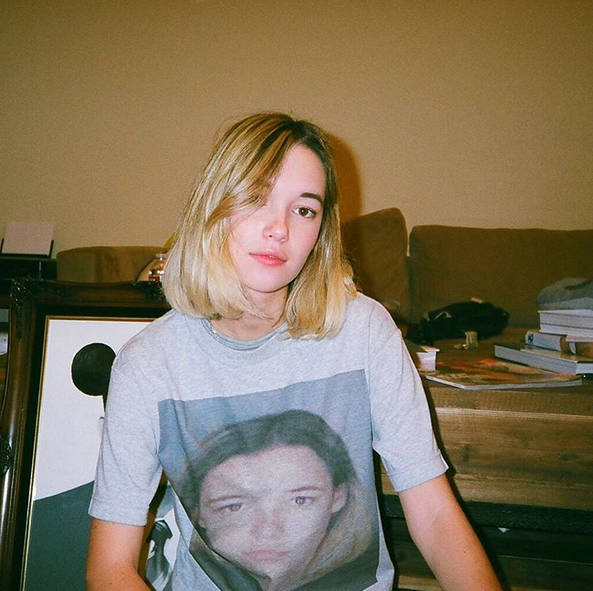 She posted the picture above with the caption "56 nights," in reference to Future's mixtape following his DJ, DJ Esco, spending 56 nights in jail in Dubai for possession of marijuana. Guess she's a Future fan. But, what does Jaden think about this?
Entertainment Tonight caught up with Sarah's attorney, Robert Schuster, to find out why she wore the trashy t-shirt to court and he said,
"My clients are free to express themselves in any way that they choose, and I do not advise them one way or the other on availing themselves of their First Amendment privileges."
These KIDS and their entitlement.
Her attorney claims his client, who often posts risque pics on social media, is innocent because she wasn't even in New York at the time of the alleged theft and that she deserves an apology. Hmph.
Hmm...we certainly wonder what Will & Jada Pinkett Smith think about all of this. And we wonder if Jada even knows what's going on since she's busy hitting up shows at Paris Fashion Week.
Things that make you go HMMM....
BONUS:
Jaden's dad Will Smith dusted off the mic to hop on a new track with a Colombian dance group. Big Will hopped on the remix of Bomba Estéreo's "Fiesta" after hearing the track during a trip to Colombia. He got in contact with the group, asked to hop on the song and viola!
Take a listen above.
Photos: Sarah's IG