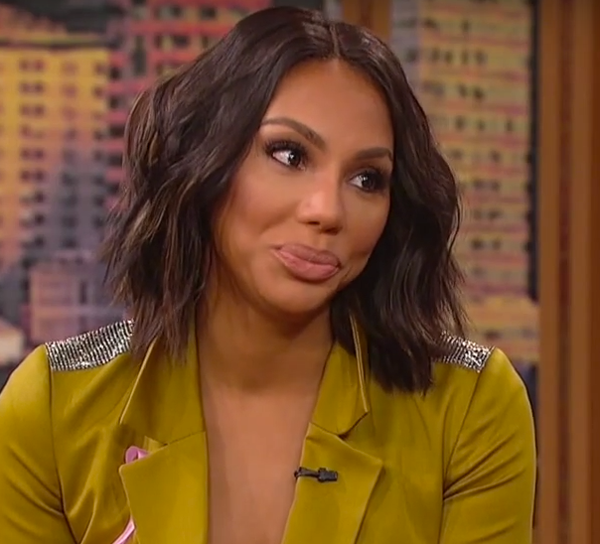 Tamar Braxton appeared on "The Wendy Williams" show today to chop it up about her super busy life. Find out what she said about wanting another baby, why she decided to do "Dancing With The Stars," and the inspiration behind her new album Calling All Hearts inside….
What ISN'T Tamar Braxton doing these days? On top of being a mother & a wife, chick co-hosts daytime talk show "The Real," is a contestant on "Dancing With Stars," has two reality show AND is a recording artist who tours…often. In fact, she's gearing up to tour with Mary J. Blige (for a few dates) this fall. Where does she find the time?
This morning, the singer/reality star appeared on "The Wendy Williams" show-- in a Leka NYC skirt and Celine blazer with Louboutin heels -- in an almost tearful sitdown where she talked about everything she has going on in her life. First on the agenda was her 2-year-old son Logan. With everything being so hectic in her life right now, she said she likes to bring Logan along with her to keep him close. She called him a "pre-school drop out." Ha!
When asked if she is considering having another child, she hinted at entertaining the idea. She said,
"At first I was like 'Girl No!' But now I feel like he needs a playmate or something because I grew up with a big family. But when I ask him, 'Logan, don't you want a little brother or sister?' and he'll say 'No, no, no!"
Cute.
"Slay Tay," her new nickname given by "The Real" co-hosts, is tearing up the dance floor on the dance competition show, currently ranked in 2nd place. She calls her partner Val Chmerkovskiy her creative director because, on top of creating their dance routines, he also picks out all of her outfits, hair and makeup. She called him "the white, skinny version of Vince." Ha!
She said she was flattered when she got the call to be on the show, but was hesitant to accept because she can't dance! She revealed,
"The only thing I can do is twerk. So I was like 'Oh, girl, you 38 you can't just put your hands on your knees every time you hear a record. It's not age appropriate [laughs] But, now I can do the Cha-Cha and now I'm learning the Rumba. It was hard."
And there are no days off when you're a contestant on "DWTS." Val came to NYC with her as she does promo for her upcoming album Calling All Hearts.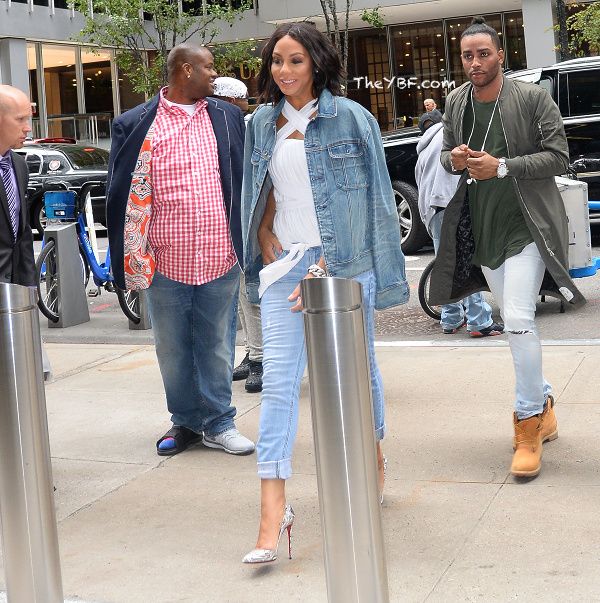 Speaking of her new album, Tamar (pictured above to her next promo stops today) talked about the inspiration behind her newest musical offering, which drops tomorrow (Oct. 2nd). She said this album is about her past failed relationships. She revealed her husband Vince Herbert doesn't have a problem with her singing about her failed relationships because he knows she has a past (and he does too). She spilled, "I kissed ogres and frogs and all types of monsters, so it was important for me to talk about it. And honestly, I didn't realize I had a lot to let go."
So with everything going on…will Tamar still be doing reality television? "Absolutely," she said. In fact, a new season of "Tamar & Vince" premieres December 10th at 9/8c.
Following her sitdown, she returned to the stage to perform her newest single "Circles."
Peep her full interview below:
In the clip below, she's dishing on a few of her favorite things, including her fave wig. Check it:
And here's a short clip of Tamar and Vince exiting the studio:
Photos: Wendy/Tamar's IG