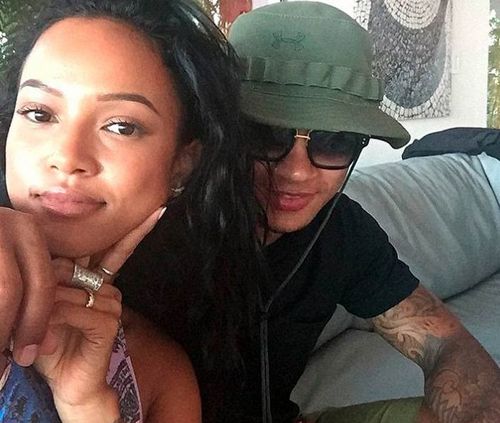 It's been a busy few days in London & Manchester for Karrueche Tran.  From hanging out with a $40 million Manchester United soccer player to getting blasted for hosting a party at a club accused of racial discrimination.....we've got it all inside...
Single lady Karrueche seems to be having a great time playing the field.  That includes soccer fields. 
This week, while in the UK hosting a couple club appearances, Kae was also spotted chillin' in Manchester and London with soccer star Memphis Depay.  [Check that pic HERE.]
The Manchester United baller just signed a $40 million contract this past May, and he and Kae even snapped a pic together the following month (above) while hanging out in Miami.
Fast forward to a few days ago when Karrueche flew into his city.  She's been shopping it up and partying.  She even hit up his game the other day....and watched from a VIP box:
Mmmhmmm. 
It's not all fun and games for Kae though.  When she hosted at celeb hotspot DSTRKT nightclub in London Tuesday night, she was met by protesters outside the club.
Why?  Because a media sh*tstorm about alleged racial discrimination tactics by the club had just surfaced online Monday.  Folks were pissed to see Karrueche still doing her hosting gig (which she was likely contractually bound to attend).
Protestors held up banners with the hashtag #DoILookDstrkt?
Here's the backstory: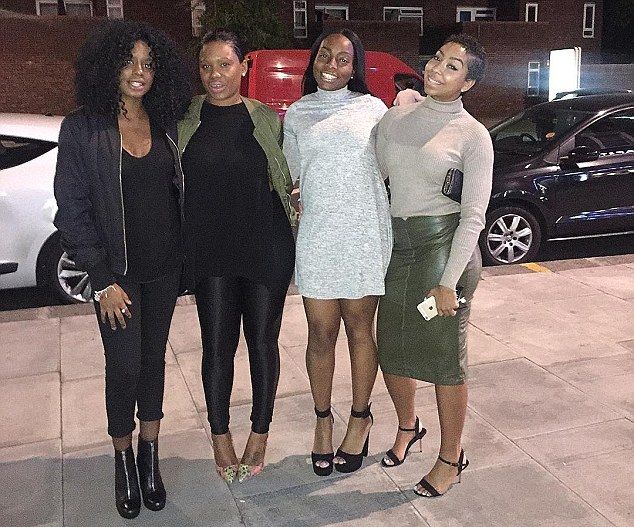 A woman named Lin Mei (far right) claims two of her friends, Reisha and Tasha, were asked to stand across the road upon arriving at Dstrkt so the manager could look at them properly.
She says before they got there, she spoke to the promoter about bringing her friends along with her.  And he sent this text message in response.  She claims he also said that if they are black girls, they need to be of a "certain caliber":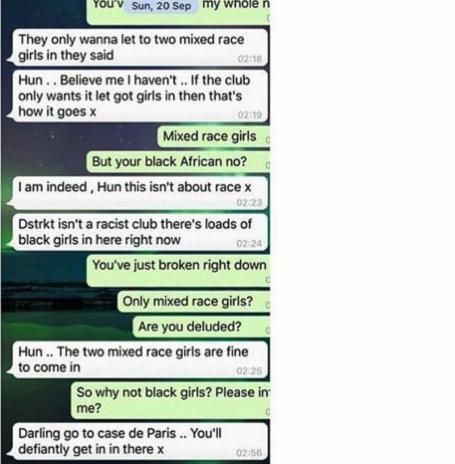 Lin says the promoter made it clear -- once they arrived - that he only wanted non black, non overweight women.  Mixed race women were also OK.
Lin posted all the alleged foolery from the club on social media, then her friend Zakiya Miller (far left on above pic) gave an interview to The Voice.  Here's her story:
"Prior to us actually getting to the club, the [promoter] wanted pictures of the girls that my friend was going to bring. He basically said, if she was going to bring black girls then they've got to be of 'a certain caliber'. She sent him pictures of me and another girl that was coming and I guess he gave his approval."

After arriving at approximately 10.15pm, the young women were subjected to the scrutiny of an ambiguous door policy.
They claim a club employee at the door disappeared into the venue – where they have a video monitor – to verify whether someone can be 'admitted' into the club.
Miller continued: "The promoter went to the door girl and asked why she wasn't letting us in and she just said, 'I don't think they're good looking enough'."
In an exchange of messages with the DSTRKT promoter, the women say they were explicitly told they were declined entry because one of the girls was "too dark" and another was "overweight".
The panicked promoter reached out to one member of the group after the media storm unraveled yesterday:
"Are [you] trying to make me [lose my job]!? If your two girls are [too] overweight to get in the club that's how it is. What the hell are you doing?"
Gross tactics by the club, if true.
Needless to say, Karrueche was dragged on social media and outside the club for still patronizing the establishment.  
Her publicist JRyan Lacour responded with the below pics and statement:
And the plot thickens I tell myself I will not speak anymore on the situation but I find it very funny and hypocritical for a person to start a protest and say it's because of racism when they were one in the club with multiple black people few weeks back and two criticizing dark-skinned people on their blog sorry honey but lets call a spade a spade people This Is The Girl That said that she was discriminated against because she was black and here she is in the same club a few weeks back and to the right of her is her blog where she talks about how dark skinned people are not for her #LONDON #nofucksgiven don't come for us we actually do research
Others chimed in saying the messages on the right were simply Lin Mei bantering and joking with a male friend about the matter and she was not being literal.  The London nightclub has yet to put out an official statement.
Photos/Video: Instagram/Facebook