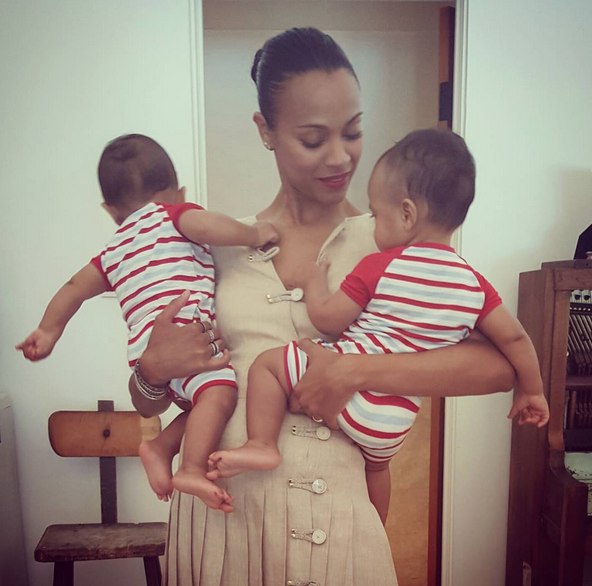 Zoe Saldana is opening up about her twins' difficult birth and the toll it took on her family. Find out what she revealed inside and see Viola Davis' response to the actress who shaded her on Twitter.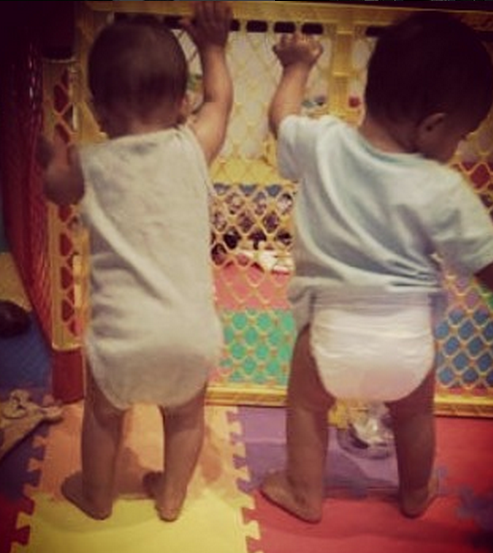 In a new interview with PEOPLE, internationally-acclaimed actress Zoe Saldana talks about her involvement with Brave Beginnings, a nonprofit that works to ensure hospitals have the life-saving equipment needed to help premature babies thrive. If you're wondering what inspired Zoe link up with the organization, it was her own personal experience with her twins Cy and Bowie (now 10 months old).
In case you weren't aware, Cy and Bowie were born prematurely and it really took a toll on Zoe and her husband Marco. In the candid interview, Zoe said,
"When I was in the neonatal intensive care unit with my two sons, I became like every parent that was on that floor. My husband and I were at the mercy of our nurses and doctors — our children's lives depended on their every move."
Dealing with a premature birth is intense, Zoe revealed. It takes a lot of love, attention, equipment and commitment from ALL involved (parents, doctors and nurses).
"When children are born prematurely, they don't just need to be held, they need assistance breathing, feeding and going to the bathroom. They also need incubators to protect them while they're forming immune systems."
"This equipment can mean the difference between life and death for a child, that's just the truth. If a child can't breathe and doesn't have the equipment to help him breathe we can't help him with our own hands."
Zoe teamed up with Brave Beginnings topromote the belief that every child born in the U.S. should have access to the type of lifesaving quality of care that her sons received.
"I went through it. I was there. I was a parent and my children were the ones that benefited from having excellent services from the hospital. And I want that for every parent. I want that for every child."
If you're inspired by Zoe's story and want to join in visit Brave Beginnings.

In other news...
Shortly after Viola Davis (shown above with husband Julius Tennon) made history as the first Black actress to take home the Emmy for Lead Actress in A Dramatic Series, "General Hospital star" Nancy Lee Grahn made some shocking comments on Twitter that pissed a lot of folks off.
It's unclear why folks keep attempting to come for Viola, but they do.
Nancy felt like the Emmy award show was not a "venue for racial opportunity" and Viola shouldn't have inserted "race" into her acceptance speech. Remember the Harriet Tubman quote? 
While Black Twitter and many others have spoken their piece about the situation, Viola stayed mum...until now.   She kept it very classy.
She told the NY Times,
"If there has been any backlash, it's that all people want to feel included in a speech. I know there has been some backlash with an actress who didn't feel she was included."
While the NY Times reporter tried to get a little messy and make Viola cut deeper, she replied"...I don't know that I want to say more about that." 

Back to Nancy, since Twitter took her down and ripped her a new one, she has apologized to readers and to Viola in a public statement saying,
"I said something stupid. I apologize. 30 yrs an advocate 4 human rights & now I'm a racist. Color me heartbroken. Twitter can bring out the best & sadly tonight the worst of us. I never meant to diminish her accomplishment. I wish I could get her roles. She is a goddess. I want equality 4 ALL women, not just actors. I apologize 2 anyone who I offended. I'm [a woman's] advocate since I became one. After reading responses, I hear u and my tweet was badly phrased."
Something tells us she still doesn't get it....
NEWS:
1. Sad Story: Reports of 10 dead at Umpqua Community College STORY 
Photos via Zoe's IG/Getty