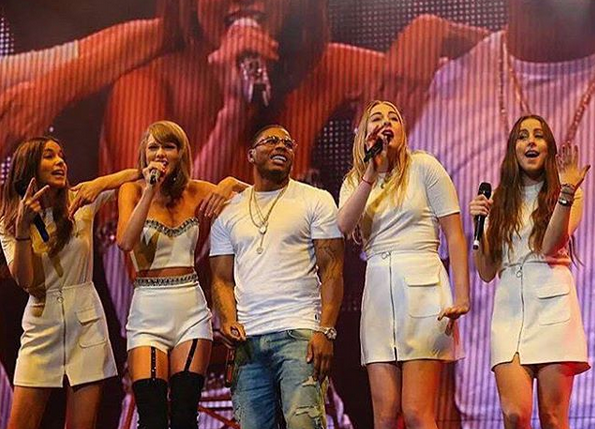 Yep, this again.  Rapper Nelly performed with Taylor Swift during her 1989 World Tour along with the group Haim.  See pics and video inside and find out about the upcoming Barclays Concert featuring Jay, Bey and Nicki Minaj.
Taylor Swift is criss-crossing North America with her 1989 World Tour and in case you didn't know, she likes to spice it up for the kids by bringing out some of her favorite artists.  This week, she landed in St. Louis.  Take a guess on who she invited on her stage...Nelly.  And the suburban kids went in!  When he hit that stage and performed "Hot In Herre" with Taylor's besties (the band HAIM), it was pure pandemonium.
And to top it all off, HAIM and Taylor Swift made up a dance in their dressing room which they performed on stage. Of course.   Nelly also performed his latest, "The Fix" and Taylor sang the hook. 
Check out "Hot In Here" by Nelly, featuring HAIM and Taylor Swift:
In other concert news....
Recently, as one of Jay Z's Twitter followers, we celebrated with him when his TIDAL group cross the threshold and claims 1 million subscribers.  "Subscriber" success has been a long time coming for the rapper and it finally looks like things are turning around.  
To celebrate the success, Jay and his celebrity friends are throwing a concert!  Obvi.  It's gonna be called Tidal X: 1020 and will take place on Oct. 20th at Brooklyn's Barclays Center.
Do you want to know who is on-board? Jay Z, Beyonce, Prince, Nicki Minaj, Usher, Justine Skye, Lil Wayne, T.I., Fabolous, Thomas Rhett, Damien Marley, Indochine, and Hit-Boy.
But is it free to fans? No. Is it free to subscribers?Nope. Tickets will be available today for Tidal subscribers, with a general on-sale beginning Friday at 12PM ET. Prices for tickets range from $74 through $244.
Get Money is the motto.
Photos via Taylor Swift's IG/HAIM IG/Beyonce IG