Did you know Fetty Wap rocks hair extensions? Did you know the hair he used is actually off the head of a woman from his neighborhood? Well it is. Find out why he decided to get extensions, plus how Drake hopped on his track "My Way," and why Kanye West didn't drop a verse for the "Trap Queen" remix and more inside….
Rapper Fetty Wap is hot in these streets right now, burning up the radio and music charts with hits like "Trap Queen" and the Drake assisted "My Way." He also released his self-titled debut album last week where he was gearing up to hop on the promo trail to promote his LP. But, unfortunately, tragedy struck.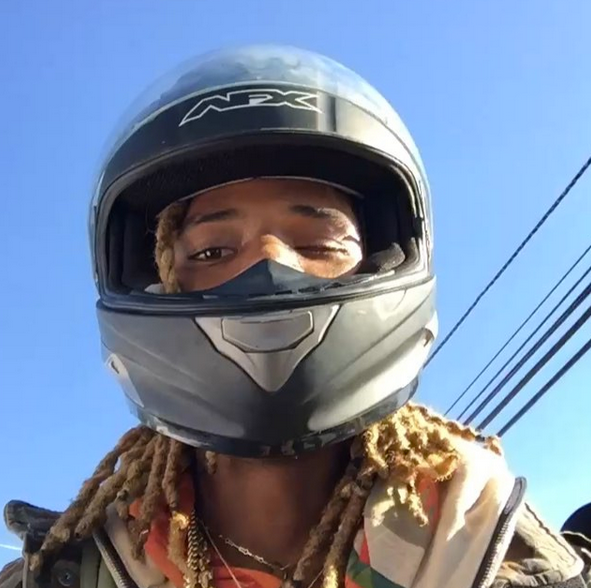 If you haven't heard, the Patterson native was involved in an accident on Saturday where he was hit by an automobile while riding his motorcycle (which he as a license for by the way). Pictures of Fetty laid out on the ground quickly spread around social media. Soon after, his DJ posted a pic to assure everyone he was doing fine.
But before he was involved in the incident, he stopped by Power 105 to chop it up with "The Breakfast Club" about his new found stardom, what life is like living with one eye and, one topic that caught our attention, his hair!
During the interview Fetty revealed he rocks hair extensions. And they're not any old hair extensions. For his blonde dreads, the New Jersey rapper used hair from a woman in his neighborhood that he says inspires him to be better. He dished to the radio hosts,
"She was a real powerful woman to me. She was always uplifting kids in the area and bringing them school supplies. To be honest with you, every since I [got my extensions] I just been making different type of songs. I don't know how to explain it."
So how did Fetty actually get her hair?
"Naw she ain't pass away. She just cut her hair off. After she cut it off, I told my cousin 'I'm about to get extensions. I don't care. Now my hair has grown into it."
Interesting.
Later in the interview, Fetty talked about why Kanye West didn't hop on the remix of "Trap Queen" ("I don't know what happened with that"), how he got a verse from Drake on "My Way" ("He Facetime'd me asking to get on the track"), whether he's going on tour with Taylor Swift ("That's not true"), how he made out of the mean streets of Patterson, NJ and more. Check it below:
Speaking of Fetty's motorcycle incident....
Yesterday, Fetty Wap took to his Instagram to give and update on his recovery after his bike accident this weekend. Check it above. Get well soon Fetty!
Photos: Fetty's IG