Miko Grimes, the wife of Miami Dolphins cornerback Brent Grimes, found herself in an unfortunate situation yesterday, resulting in her being pinned down to the ground as handcuffs were thrown on her wrists. Find out how she got there inside….
The very outspoken wife of Miami Dolphins cornerback Brent Grimes found herself in a world of trouble with police yesterday, resulting in her arrest.
Miko Grimes, a local radio sports talk show host and obviously die-hard Dolphins fan, was arrested Sunday before the Dolphins hit the gridiron against the Buffalo Bills (FYI--the Bills murdered the Dolphins, 41-14). According to the Sun Sentinel, Miko was put under arrest after attempting to walk through an area the police had restricted for crowd control.
Now…according to witnesses on the scene, Miko was supposedly told several times to NOT walk through the area, but she kept going anyway. That's when cops swooped in and tried to subdue her. Unfortunately, that's when it got even crazier.
An officer grabbed her by the arm where she then snatched away from his grip and started yelling obscenities. Then, officers reportedly tried to subdue her when she resisted and while doing so, she allegedly head butted an officer. During the altercation she was threatened to be tased with a taser, where she finally calmed down.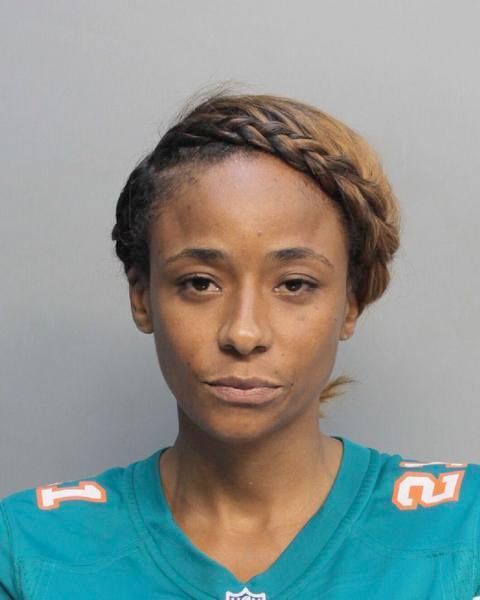 Miko was charged with battery on a law enforcement officer and resisting with violence. She was taken down to the Miami-Dade County jail where she was booked and later released on bond. While in jail, she was treated for injuries to her right arm, knee and forearm.
Below is the arrest footage (WARNING: NSFW):
It was all good moments before the altercation. Here's her last post on social media before the arrest:
You'll recall, Miko is the WAG that BLASTED the NFL earlier this year on her Twitter account, accusing the league of being anti-family misogynists and greedy execes who violate their own concussion rules. Hmph.
We're sure she'll have PLENTY to say once she gets a chance.
Photo: Sun Sentinel