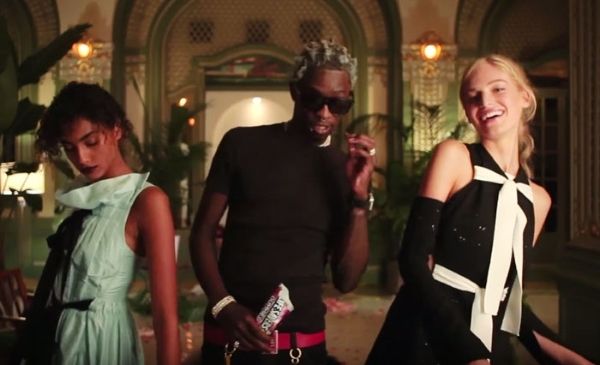 Fashion forward rapper Young Thug teamed up with VOGUE to show off 2015 fashions from Fendi, Alexander Wang and a slew of others.  He also had a gaggle of supermodels on hand.  Watch the clip inside....
Under the direction of Cass Bird, Fashion Editor Jorden Bickham and Director of Photography Joe Victorine VOGUE magazine enlisted the help of (supposed) fashion-forward rapper Young Thug and a group of models (including Irina Shayk, Bella Hadid, and Emily Ratajkowski) for a new project.  The crew showed off some of the hottest fashions from New York Fashion Week Spring 2016.
It all went down at the Ladies' Tea Room in the Prince George Ballroom on the final day of NYFW. And Young Thug brought his hoverboard. They are dancing and modeling to the tune of Jamie xx, Thug, and Popcaan's track "I Know There's Gonna Be (Good Times)."
FYI - Young Thug's latest mixtape, Slime Season, is available now but his long-awaited debut album Hy!£UN35 (translation: Hi!Tunes) is still waiting for a release date.
Photo: VOGUE