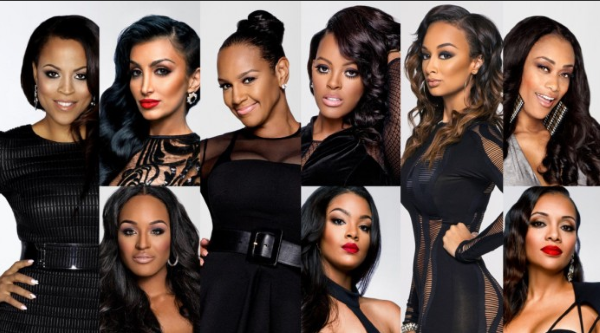 Good news for "BBWLA" fans, VH1 has greenlit the series for a 5th season.  Get the good news inside and watch a controversial scene from the E! series "WAGS" inside where one of the WAGS is told by her NFL player boyfriend that it's her JOB to cater to him....
We're not sure who's still watching, but apparently a good number of y'all are.
Although the "BBW" LA-franchise has never reached the social media popularity of the Miami installment, it's still been a solid ratings winner for VH1 on Sunday evenings.  And with the addition of two Miami chicks (Shaunie O'Neal & Tami Roman) and some new energy (Mehgan James, Patrice Curry), the show has found a sweet spot that seems to make the execs at VH1 happy.
All the drinking tossing and weave-pulling antics of the cast got them a 5th season!  Lord help us all.
VH1 made the announcement via Deadline who touted the show's strong performance (Basketball Wives: LA has propelled the cable network to the No. 1 spot on average in the Sunday 9 PM time period with women 18-34) for the renewal.
If you'd like a reminder about why they are number one, watch Malaysia threaten to swing on Tami here:
 The fourth season finale airs Sunday, October 4 at 9 PM, followed by the Reunion Special on Sunday, October 11 at 9 PM on VH1.
Over in the lives of other wives and girlfriends of professional athletes:
Have you been watching the E! show WAGS about the girlfriends and wives of men in professional sports? If not....we've got a clip that might make you tune on in next week. Meet Shaun Phillips, an NFL player and free agent. His girlfriend of three years Natalie Halcro, a fashion and beauty blogger who is trying to turn her Instagram popularity into something else, is on the show.  They butt heads because she wants a "career."
In a clip from this week, Shaun and Natalie have a serious talk about their future where Shaun.  It all comes after he takes her house hunting for a multi-million dollar abode and gives her an ultimatum about moving in with him.  He says,
"You're gonna have to make a choice. You're gonna have to choose to support me and we start a family, or stay here and maybe choose your career over having a family and having me."
Basically....I'm your priority. It's ME and nothing else.  And yes, he also says chauvinistic remarks that Natalie says she's been noticing lately. Is Shaun out of line?
WAGS is on Tuesday at 10 p.m., only on E!
 Photo via VH1