Tyrese posted some selfies with Oprah Winfrey to celebrate his new OWN show. See the pics inside and also see Tiny's kids getting baptized.
R&B singer Tyrese (and his mentor Rev. Run) did some celebrating this week.  First off, Tyrese's short film "Shame" will premiere at the 19th Annual Urbanworld Film Festival, presented by BET Networks on September 26th.
As we told you earlier, it was written by Tyrese and co-stars Jennifer Hudson. "Shame" is directed by Paul Hunter and produced by Academy Award winner Denzel Washington.
Here's the synopsis:
In the short film, "up-and-coming soul singer Lionel Jacobs (Gibson) is working the nightclub scene, trying to climb to the top of the charts while married to his background singer Bobbi Ann (Jennifer Hudson). He wants to do right by his wife and their children but, his struggle with drugs and alcohol test the strength of his fidelity and their relationship."
In a press release about the debut, Tyrese said,
"I'm honored to serve as the ambassador of the 2015 Urbanworld Film Festival and to premiere my short film Shame in such a creative and exciting environment. I strive to create art across all mediums that supports and showcases our diverse landscape and Urbanworld is the perfect partner as they actively and significantly do the same. I'm thrilled to join the filmmakers showcasing their projects at the festival as we inspire, encourage and excite others through film."
And that's not all he has to celebrate....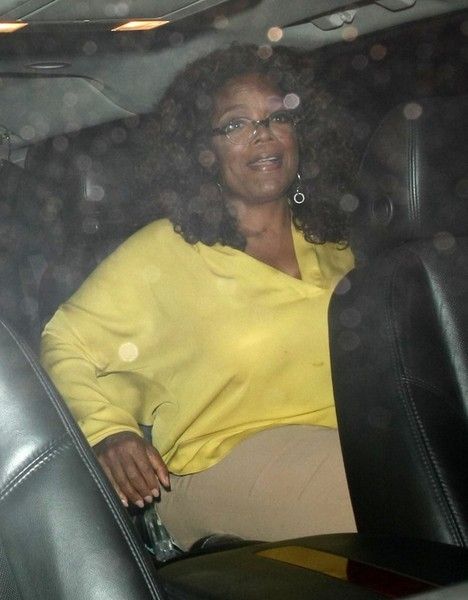 He and Rev. Run have a new show coming to OWN.  A few weeks ago, we told you that Ty and Rev. Run were bringing their 2013 New York Times bestseller "Manology," to the OWN Network as an eight-episode weekly primetime talk show set to debut early 2016.
In the photos above (the first is a selfie, the other is Oprah leaving dinner at Craig's last nigh) Tyrese met with Oprah to talk about the show for three hours.  He gave a complete run-down via Instagram.
"Mother O!!!! Life changing day..... 3 hour meeting in the room with literally one of my favorite people on human feet - literally - I am so emotionally overwhelmed I feel like I wanna go home and sleep for a well 1/2 I tried my best to keep my composure in the same room...... And not over talk - I'm so grateful that OUR new show has a home..... It feels like a homecoming - thank you angel heart @Oprah and your team at OWN for showing up for us - you guys have been amazing thus far!! I feel so much energy and passion it's unreal..... I just hung up with @RevWon and told him..... We're about to FLY!!!!!!!!

We no longer have to be curious of what PLUTO looks like.... Cause we're headed there FAST!!!!!!!! #OprahSelfieSwag get some!!!!! I wanna remind you ALL that God has revealed to me that THIS is the SEASON for GOOD PEOPLE TO WIN!!!! Stay encouraged God knows your heart it's OUR season!!!"
So.....it looks like the official title of the show is "It's Not You...It's Men." Well this should be interesting...
Congrats!
In other news...
While their dad T.I. was busy talking about the Trap House while promoting his album Da' Nic, his kids were creepin' with the deacon and getting baptized. 
While T.I. was busy resurrecting his alter-ego Tip (the ATL trap king) his wife Tiny was helping her kids get saved. 
Major, King and Zonnique went "to da water" yesterday under the watchful eye of their spiritual leader Reverend Edwards.  Tiny captioned "majorgirl3 of my LuvBugs @king_harris_8 #MyMajorBaby & @starquality Got Baptize yesterday! How amazing is that! No force all on their own. What a Blessing!! Thx a lot Rev Edwards #FamilyFirst #FamilyHustle #ComingSoon."
Congrats to the Harris family.  Maybe "Tip" can get "saved" so T.I. and Tiny can record a gospel-duet album for next year's MegaFest?!
Photos via Tyrese's Instagram/Tiny's Instagram