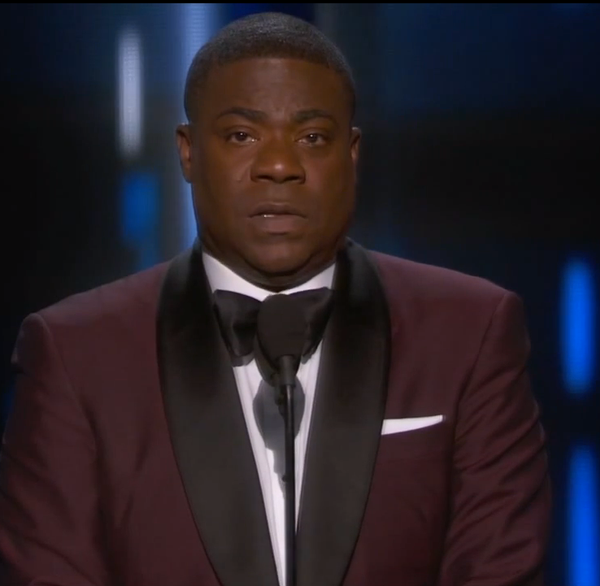 In case you missed this year's EMMY Awards, we've rounded up all of the moments you need to know. From Tracy Morgan's return, to history making wins from some uber fab YBF actresses, we have it all. Check 'em inside….
For those of you who didn't watch the 2015 EMMY Awards last night, here's what you need to know to participate in convos at work, at the grocery store and while making your rounds.
Comedian Tracy Morgan was one of the major highlights of evening making his triumphant return to the limelight after being seriously injured. It was his first appearance at a Hollywood event since being involved in a tragic (and fatal) highway accident, which left him in a coma for 8 days.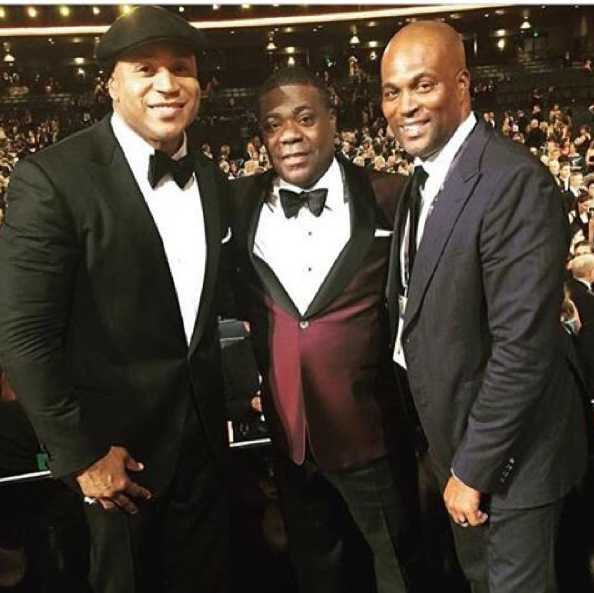 As the evening's final presenter, Tracy was tapped to present the nominees for Best Drama. He spoke about his road to recovery and even through in a few jokes, of course! He said, The comic told the crowd, "Last year, Jimmy Kimmel said on stage, 'I'll see you next year,' Thanks to my doctors and my beautiful wife, I'm here standing on my own two feet." He then said,"When I finally regained consciousness, I was just ecstatic to learn that I wasn't the one who messed up."
Peep his presentation below:
 
Tracy will return to the small screen to host "Saturday Night Live" on October 17th.
"How to Get Away With Murder" lead actress Viola Davis became the first Black actress to ever win a Primetime Emmy Award for Outstanding Lead Actress in a Drama Series. With a very heartfelt and tear-jerking speech that began with a quote from Harriet Tubman, Viola praised her Hollywood sisters in the struggle (Halle Berry, Gabrielle Union, Meagan Good, Taraji P. Henson, Nicole Beharie) before adding, "The only thing that separates women of color from anyone is opportunity." YAS!
"Orange is the New Black" actress Uzo Aduba came back to this year's EMMYs to nab yet another golden statue. She won for Outstanding Supporting Actress in a Drama Series last night. In addition to being a two-time winner, she's in the history books as the first actress to win for same role in both the Comedy and Drama categories. Werk!
"American Crime" star Regina King was also amongst the #BlackGirlsRock crew last night. She nabbed an EMMY for Outstanding Supporting Actress In A Limited Series/Movie. She will join the ranks of Oliva Cole who won the award in 1977 for her work in Roots, followed by Ester Rolle in 1979, Ruby Dee in 1991 and Cicely Tyson in 1994. Congrats!
 
While our girl Taraji P. Henson didn't win an EMMY last night, she certainly nabbed the "Best Supportive Home Girl" award. Taraji showed major support when the other YBF chicks hit the stage to accept their awards. And that's just one of the reasons we love her so. Check it above.
Meanwhile... 
"Scandal" star Kerry Washington was brought to tears during Viola's touching acceptance speech.
Below are a few fun selfies captured backstage and pre-EMMY festivities: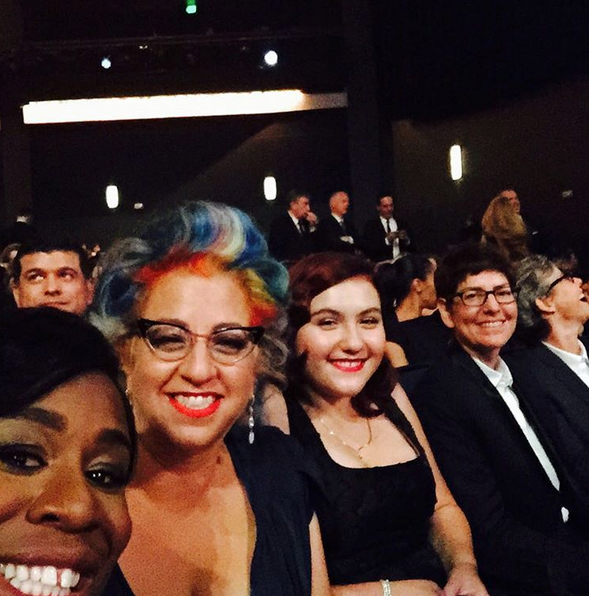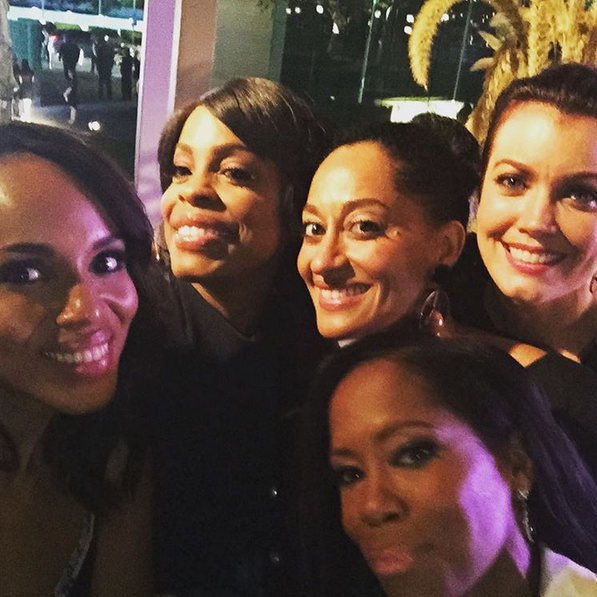 Fab times!
Photos: Uzo's IG/Kerry's IG/@TheYBFDaily