Waka Flocka found himself in some hot water after his latest interview....and he is definitely not backing down for what he said about the transgender community.  Get the latest inside, plus Patti LaBelle popping off on a fan who tried to take over her stage....
So, during Wacka Flocka's Breakfast Club interview yesterday, he pissed off a few people.  While the rapper was chatting about his feelings about Caitlin Jenner and social issues, such as the LGBT rights, he voiced his opinion loudly and clearly.
To put it simply, Wacka isn't here for media hailing a transgender person as a hero.  He also doesn't believe God co-signs on a man deciding "to become" a woman, and vice versa.
His exact quote:
"You know what the world is today? Women are afraid to be a wife and young males are afraid to be men," Waka said, then condemning the media for promoting alternative lifestyles to impressionable young people. "It's not cool … they're not marketing families and husbands and wives. They're marketing young girls, transgenders … it's evil."
Yes...women are "afraid to be a wife."  So all the millions of women buying up any and everything stamped as a relationship manual that tells you how to get a man to marry you...is all a farce? 
But we digress...
Waka continued:
"I ain't got nothing against Bruce Jenner. But you are who God made you, not who you became. That's how I feel.
He also said that people who transition from one gender to another are "rebuking God."
And there's more. Waka stated:
"God ain't put those feelings in you, man. That's giving into the devil playing tricks on their minds."
We wonder if God put the feelings in him to do drugs and ho around....you know, like he raps about songs.
When folks started dragging him on the net, Waka started RT'ing his supporters.  And said all of this in response (read from the last tweet to the top tweet):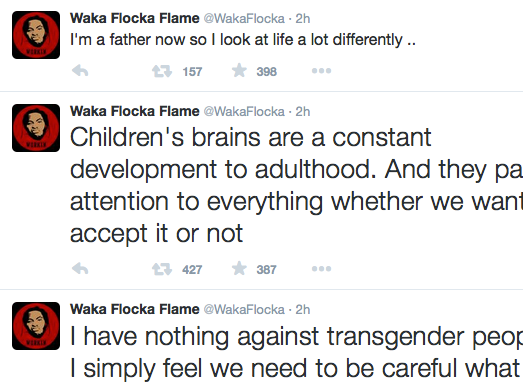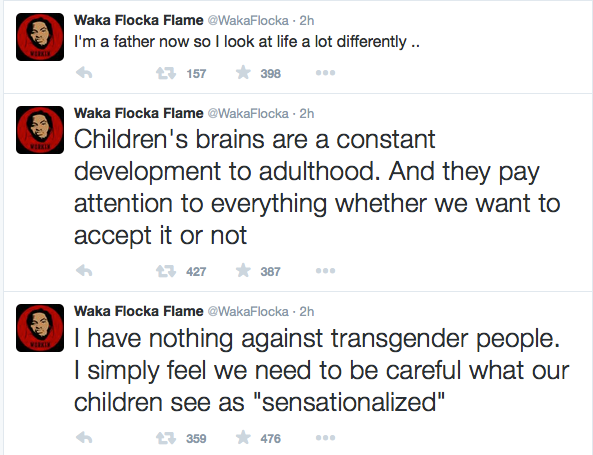 And just so we won't be accused of taking things out of context, here's his full interview below:
In other news:
Patti LaBelle was ON ONE last night.  Don't ever come on her stage and begin strip teasing as if she's Nicki Minaj or Miley Cyrus or somebody.
The 71-year-old legendary diva was in Vancouver last night when she called up a male fan to join her on stage during "Lady Marmalade."  Ish went south when he started getting way too frisky.
Patti checked him telling him what she was NOT going to deal with.  When he continued, she HIT him and yelled, "Get off my damn stage!"  Then security came in and wrecked shop.
Ha!  She's notorious for ish like this.  And we love it.
Check out the video below:
Patti's IG/Waka's IG