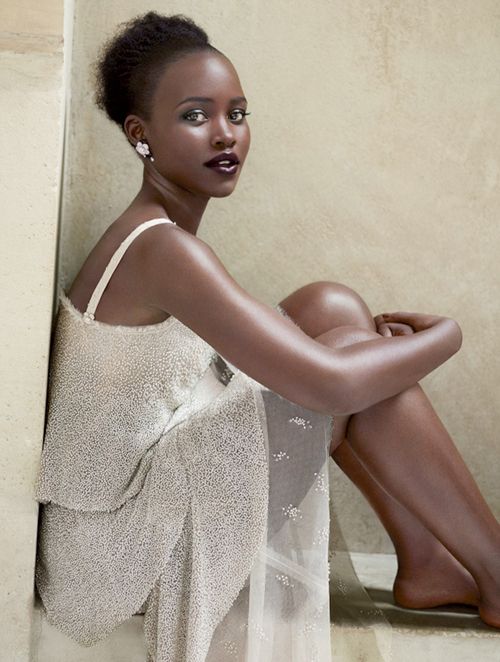 Not only did VOGUE choose Lupita Nygong'o to slay their October 2015 issue, they also picked her brain with 73 questions giving us even more reasons to love her. Find out a few of her many talents, some of her favorite things and check out the newly released The Jungle Book trailer starring the Kenyan beauty inside….
Today, the stunning Lupita Nyong'o became the second black woman to cover the fashion bible in two consecutive months. And now, the Kenyan beauty is dishing to VOGUE magazine in a cute video interview on a few of her hidden talents, favorite things and the greatest learning experience of her life.
In the clip, we learn Lupita's favorite beverage is pineapple juice (she said she would love to share a glass with Misty Copeland), her favorite Disney character is Pocahontas and her favorite band of all time is none other than the Temptations.
The 12 Years a Slave actress' favorite living musician is John Legend and her favorite late musician is the legendary Nina Simone. If she were to ever get a tattoo, she would ink an infinity symbol between her fingers. And if she weren't an Oscar winning actress, she would be servicing folks with massages as a massage therapist. She loves a wide brimmed hat and her spirit animal is a meerkat.  Ha!
At the age of 32, the Hollywood starlet said her greatest learning experience of her life was moving to Mexico at the age of 16, without her parents. She fluently answered questions in Swahili and Spanish, and she even started hula hooping in a dress AND heels while answering VOGUE's questions.  The chick's got talent.
Werk!
Check it below:
By the way:
Lupita Nyong'o is starring in the 1967 Disney remake The Jungle Book, alongside Idris Elba. The new trailer was just released…and it is EVERYTHING.
While Lupita isn't seen in this particular clip, the graphics are incredible. Lupita will voice Raksha ("The Demon"), who is Mowgli's adoptive wolf mother in the film. Sounds interesting. We will definitely be checking this out once it's released. Peep the trailer above.
The Jungle Book will be released in theaters in April 15, 2016
 
Photo: VOGUE