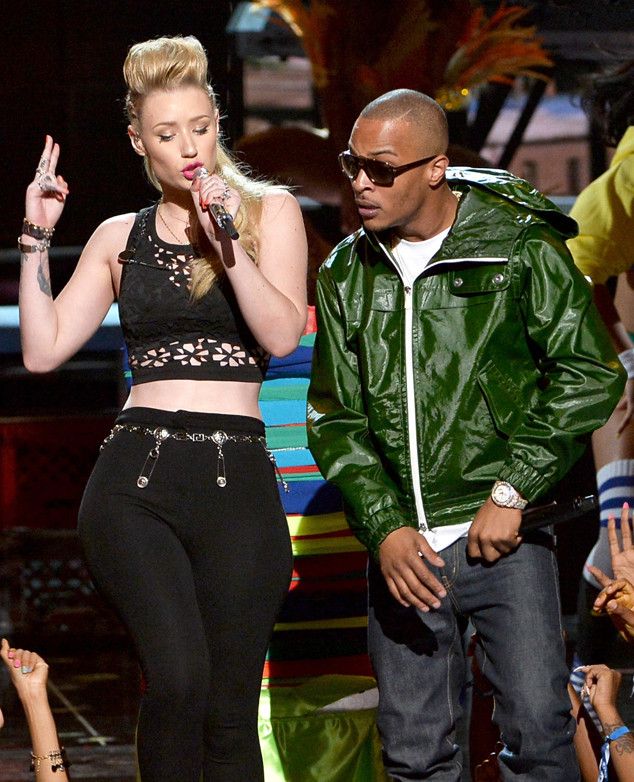 Rapper T.I. seems to have cut ties with former protege Iggy Azalea...but it's news to her.  Find out what he said about moving on from their relationship and then see her "shocked" response.
There's some weird -ish going down in the music business right now.  Back in 2013, rapper T.I. would constantly put his neck and reputation on the line to protect his prized-white protege Iggy Azalea...but the tide has turned.   ATTN: Azealia Banks....Iggy just lost her biggest Pit Bull! 
Here's how it started....
T.I. (who has a new album to promote, The Dime Trap) headed over to Hot 97 where he chopped it up with Ebro about his current non-relationship with Iggy.  It seems as though they haven't communicated in MONTHS.  It was news to us.  We began to wonder...does this mean Iggy is one her way out of the music business?  NOPE.  She recently tweeted...
Back to Tip......
When he got into the Iggy discussion, he revealed that things started going down hill after Azealia Banks feud, which was then followed by Iggy getting "checked" by Q-Tip on Twitter. 
"After I kind of had smoothed it over, like okay, 'What is really meant to be said here is...' Then, after it was cool, you know what I mean, everything was cool, And then they kind of came back and undid what I had just [orchestrated]."
So.....he's saying he would cover Iggy's ass and then she'd get back on Twitter and say some more dumb stuff.  So he had to step away from the situation.....
"I really do feel that they just needed a little more time to adjust, which I feel they can do. They have the talent, they have the charisma… They have all the tools necessary to move beyond those situations."
Even still...he does understand the pressure she is/was under.
"It's hard to be the new kid and the butt of the jokes. It came at a time where culturally in this nation -- and she's not from here -- we were looking for a source to place some pent-up aggression. Some stuff they [Team Iggy] brought upon themselves. In some cases it kind of was just the easiest place to put some pent-up aggression." Watch it below.
 
The foolery starts at (2:16):
And it doesn't stop there.  In a new interview with Billboard, T.I. went on to further clarify stepping away from Iggy but added that her career and brand can recover. "I think that's her decision if she allows it to be damaged. Her actions will determine how much it will be damaged. The ball is still in her court."
But here's the thing, this is all new news to Iggy.  She says that she is still signed to Tip and he shouldn't have aired their dirty laundry without speaking to her first.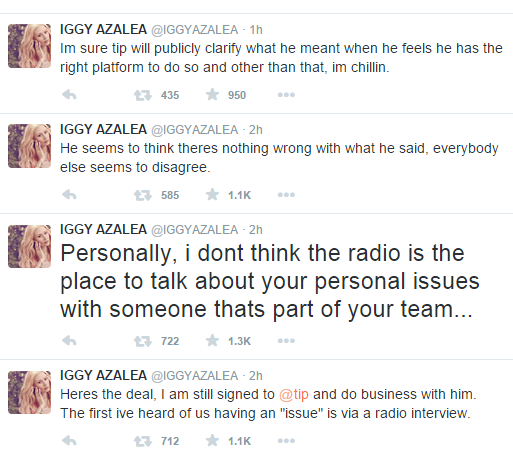 So......here's what we've figured out.  Iggy is STILL in the music business and has new music dropping.  While Tip isn't directly involved, he still gets a percentage of her success and sales.  Also, we hear have not spoken in months and neither of them can explain where they currently stand with one another.  
Let's see if he gets an invite to the Iggy/Nick wedding...
Photo via Getty/Iggy's Twitter